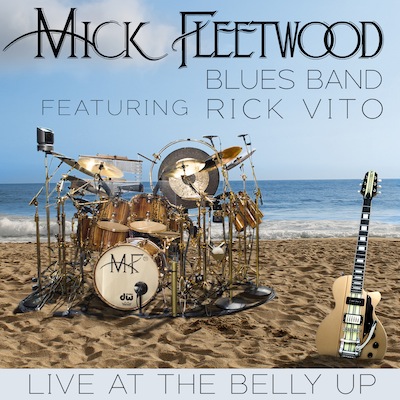 by Derek Malone
One doesn't normally think of a drummer as a natural leader for a blues band, but Mick Fleetwood is no ordinary drummer. For the past decade or so, he has filled the interstices between massive world tours with Fleetwood Mac and playing clubs and small theaters, with this little labor-of-love quartet, The Mick Fleetwood Blues Band. As he often says, he just likes to play. Their latest recording, Live the at the Belly Up, was released in October of 2016.
The band's line-up has never changed. Rick Vito on lead vocals and guitar, Lenny Castellanos on bass, and Mark Johnstone on keyboards. But Vito is really Fleetwood's central collaborator here. A Peter Green disciple, fellow veteran of John Mayall & the Bluesbreakers, and longtime session player and solo artist, he briefly replaced Lindsey Buckingham in Fleetwood Mac for the 1987 Tango in the Night tour and beyond, along with guitarist Billy Burnette (apparently, it took two to fill the master's shoes.)
Their previous live recording, Blue Again, earned a Grammy nomination in 2010 for Best Traditional Blues Album. Not bad for a sporadic side project.
The repertoire is a return to Fleetwood's roots: most of the songs are from the 60's blues-rock catalogue of Peter Green's Fleetwood Mac (along with a few Rick Vito originals that sound as if they are cut from the same cloth) sans Buckingham-Nicks–ancient history in pop music years. Raunchy tunes such as "Shake Your Moneymaker" seem quaint, the original pimpish connotation of the lyrics almost forgotten. That said, Mick Fleetwood's playing seems pretty damn spry for a once hard-drinking, near- septuagenarian that has "sobered up" by way of fine wine.
Clocking in at just over two hours, this new concert plays like an unedited, well-recorded bootleg. And I do mean unedited. There are 17 tracks, most of them well over five minutes long, with all the longueurs between songs left intact; the lulls after the applause, the musicians fiddling around with their equipment, and all the stage banter that is there to give the band a rest from their fatigue and time to mop the sweat from their brows under the guise of really connecting with an audience personally–musicians come to treasure such respites. At one point, Fleetwood even relates an odd antidote about his dental surgery. I think all of this is part of the album's charm though. It's best to just put it on, have a few drinks, and let it wash over you. Don't concern yourself with the pace.
It opens with Peter Green's "Looking for Somebody" and continues with a rather uniform consistency of material throughout, including a thirteen-minute plus rendition of Fleetwood Mac's "Black Magic Woman," a song later popularized and improved upon by Santana. (Face it: it's much better with a Latin feel.)
On first listen, tropes such as "not reinventing the wheel" and "less is more" popped into my head. Later, I was not surprised to learn that the band uses these exact expressions in interviews to describe their musical ethos–but they also say in so many words that conforming to such genre strictures allows them greater feeling and freedom of expression in playing. Therein lies the paradox. These are songs to be performed and improvised with, and heard live. It makes perfect sense that they have not re-recorded them in the studio. Perhaps their essence would then be lost.
As front-man, Rick Vito's vocals are workmanlike, undistinguished from many other white men singing the blues, but he is an exceptional slide guitar player with a great tone reminiscent of Chicago blues players of old, and he uses pricey, boutique versions of cheap vintage Supro guitars and amps to achieve the effect. At times, the twang and dreamy tremolo transported me to a bibulous Polynesian restaurant of the mind, a couple of Mai Tais in.
Fleetwood trucks along with the standard shuffles and simple grooves of the often-thankless job of the blues drummer, but also colors outside of the lines quite a bit with raucous fills on his large, quasi-prog rock kit. He often strikes a crash cymbal fitted with rivets, the kind used in jazz, that sustain a nice sizzling sound over the length of a measure or so. Similarly, he repeatedly sweeps a row of chimes, to mystical effect, one that never got old for me. That such nuances can be heard is an indication of the intimacy of the venue and decidedly low volume of the proceedings. Each shick of the high-hat can be heard when he steps on the pedal. He also switches up his tone with occasional brush work and mallet playing. At one point in the show he uses a cocktail kit, a tiny contraption that is played while standing.
For me, the standout track is "Passage East/World Turning," an epic jam in which Vito really hits his stride. It's the most energetic number, with the catchiest chorus, and it features a drum solo by Fleetwood before returning to form.
As a rule, most drum solos become boring quickly, particularly ones by the most technically proficient players for some reason. Fleetwood was never a virtuoso, but he clearly takes a childlike joy in orchestrating around his kit and put putting the high-pitched octobans to use. All throughout he howls with glee and shouts gibberish to the crowd as he plays, revealing a zaniness of personality in sharp contrast to the well-mannered, aristocratic mien he exudes in interviews. He has always done this. Legend has it that this shtick developed when he was still learning the instrument; the vocalization helped him keep time. Whatever the case may be, the sense of fun is infectious.
Fittingly, things come to end with a lush and soulful rendition of Peter Green's instrumental "Albatross," Fleetwood Mac's first UK hit. The title refers not to an obstacle or a cause of stress but to the bird, perhaps symbolizing the freedom that playing the blues can be for some people.
Live at the Belly Up (feat. Rick Vito)
The Mick Fleetwood Blues Band is available on:
Amazon: http://amzn.to/2lTdwsL
iTunes: goo.gl/x6BjBo