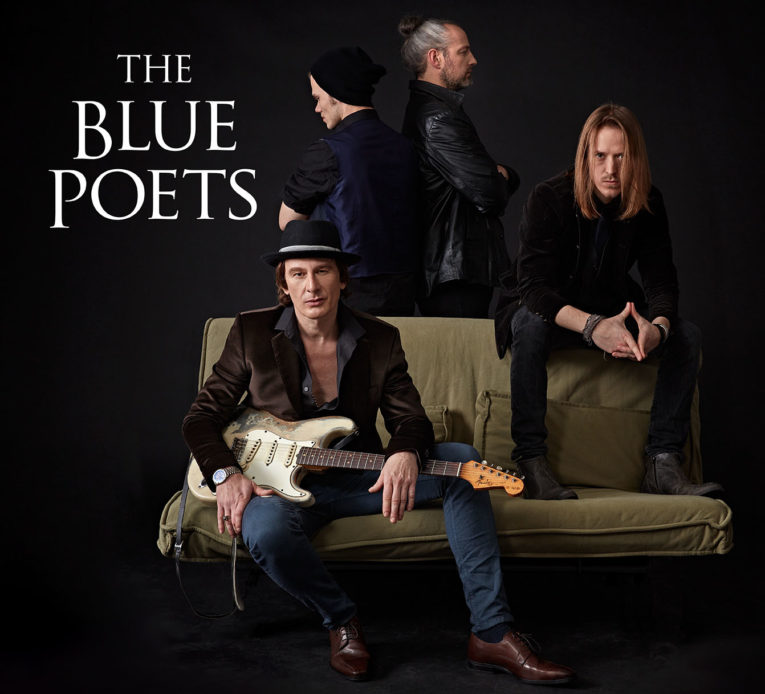 by Martine Ehrenclou
This is not your average blues-rock band. Led by Marcus Deml, winner of American Guitar Player Magazine's "Guitar Hero Award," the Blue Poets' self-titled album celebrates outstanding musicianship and a modern interpretation of 70's flavored, blues-infused rock.
Known for his band, Errorhead, and as an in-demand session musician, Marcus Deml put together the Blue Poets in 2015 and founded his own record label, Triple Coil Music. Released in late 2016, Deml also produced the album and wrote all of the 11 songs except for the cover of the Cream classic, "Sunshine of Your Love." According to Deml, "All of the tracks were recorded live with no tricks, no corrections, and no computers." What you get is authentic sound. And quite the sound it is.
If you haven't heard of the Blue Poets, you're in for a real treat. Based in Hamburg, Germany, this is one badass band. Fronted by Australian born vocalist, Gordon Grey, his expressive rock vocals range from searing to simmering–all with beautiful tone.
Instead of beginning with the first track, I'm highlighting the last, "With Your Eyes." Sometimes albums peter out by the last track. Not with the Blue Poets. "With Your Eyes" might just be the best ballad out of all 11 tracks. It begins with just Deml on guitar and Grey on vocals and then ascends into a truly beautiful rock ballad, complete with bass and drums. With sultry, rock star vocals from Grey, it's sure to be a hit, if it isn't already.
The opening track, "Goodbye," is a high-energy rock song that's surely lures listeners into the Blue Poets' groove. It gets a running start with a catchy opening guitar riff and bass line and includes inspired guitar solos by Deml. However, I don't think it showcases the band's real talents that are inherent in the rest of the tracks. But it's a good, rocking tune that'll get you going.
"Sad, Sad, Sad," the third track on the album, is an arresting blues shuffle a la Brian Seltzer. All the musicians shine on this tune. Deml's guitar solo is superb. This song is a slight departure from the rest of the album but its upbeat tempo and sense of fun serve to break up the tenor of this harder blues-rock album.
"Alien Angel" is a bluesy rock ballad that starts with Deml's stunning guitar solo. The tone is all about the player and Deml has it mastered. You can tell when a guitarist just has "it." They don't rely on guitar tricks to dazzle or speed to impress. Marcus Deml has full command of that guitar, complete with space in between the notes.
I have to mention Gordon Grey's vocals on "Alien Angel." He hits his stride on this tune, getting behind the lyrics with a powerful delivery, knowing when to back off with a softer tone to offset the more muscular sections of the song. This track runs a close second to my personal favorite, "With Your Eyes."
"Sunshine of Your Love" is a beautiful interpretation of the Cream classic, but is still faithful to the original. The knockout guitar and bass riffs give way to Grey's bluesy take on the melody. It's an interesting rendition of the original.
The Blue Poets have a true grasp on the power of combining subtlety with full out head-banging rock. They exercise that skill consistently on this album. They work it in on "Sunshine of Your Love." Check out the guitar solo on this song too.
"Shallow Words" opens with a funky bass run that kicks off the song. The bass player, Markus Setzer and drummer Felix Dehmel, collaborate well together. This band is tight.
"For a God" is another standout track. The melody and story line are haunting. It's one of the heavier tunes on the album. The musical composition and lyrics create quite the impact considering our current world events. The raw emotion conveyed by Deml and Grey, and the band itself, is striking.
Now you're killing
For a god
That only you know
On your way to paradise
There's blood on the streets
And all the people cry
They're all asking you
Why, why, oh why.
The tenth track, "Truth," lightens the mood with a rocking, Texas blues shuffle that will please many Stevie Ray Vaughan fans. It's one of the other standout tracks for sure.
You can bet the Blue Poets are well on their way with this kind of musicianship, vocals and great songs. I look forward to hearing a lot more from them. They are currently on tour in Europe. I sincerely hope they will tour the U.S.
The Blue Poets Online
I welcome your comments below!