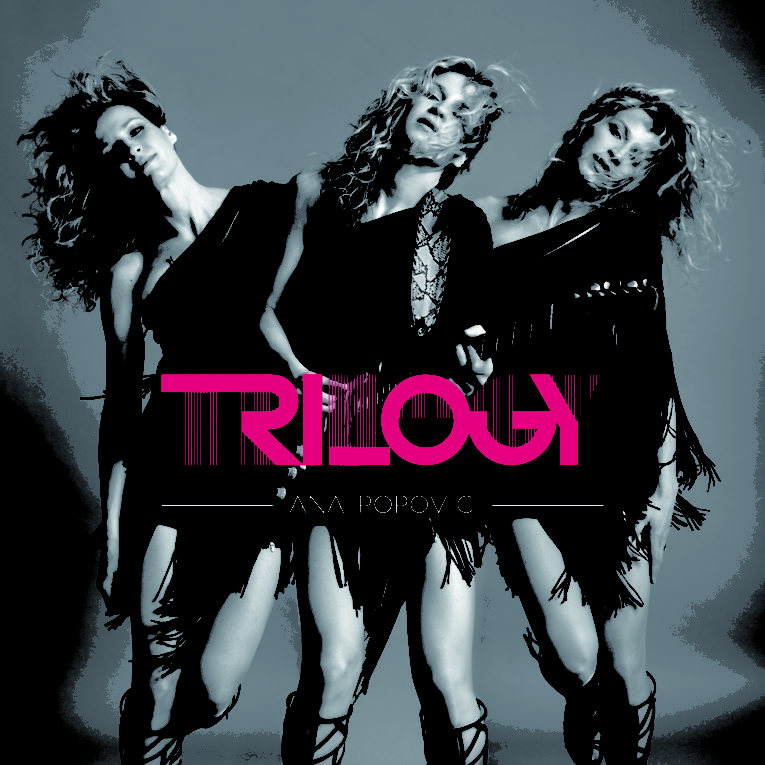 by Derek Malone
A three-record studio album is quite an ambitious project. Some might call it hubris, but for better or worse, at least for me, a large quantity of Trilogy by Ana Popovic is an absolute attempt at high quality–it stands to reason that you really have to believe you're good to ask for so much of an audience's time.
I remember reading once that Pink Floyd's, The Wall, was originally conceived as a three-record set, but that it was scaled down to two LPs due to costs and a multitude of other difficulties. Subsequently much of the unused material was later refashioned for 1983's, The Final Cut, and some was used for Roger Water's first solo album. Anyway, The Wall proved to be epic enough, just the same. Still, the three-record concept has always intrigued me in theory ever since.
Serbian-born blues rock singer-guitarist, Ana Popovic, actually spent the better part of a year in New Orleans, Memphis, Nashville, Zebra Hill, and Orlando, in different recording studios constructing her magnum opus, a three-CD solo album, aptly named Trilogy. It was released in late 2016 on ArtisteXclusive Records.
Popovic is a bit like a Lita Ford of the blues, only far more talented, versatile, and sophisticated. A comely blonde in tight, bespoke, leather pants, studded high-heeled boots, dripping with silver necklaces and bangle bracelets, she nonetheless holds her own in what is still largely a man's world of today's great, contemporary blues-rock guitar players. She is also a perpetual music student. Her influences are legion, and she is fluent in many styles of playing. She has performed for many years on the blues festival and cruise circuits. Trilogy is her 7th solo album.
Rather than a unified concept throughout, this trilogy is really three different albums presented in one package. Disc one is named Morning. Disc two is called Mid-day. Disc three is Midnight (and yes, thematically this does remind me of Richard Linklater's "Before" movies.) The three volumes are roughly separated by genre. Morning is a funk and R&B album, Mid-Day is blues-rock, and Midnight is largely a traditional jazz album.
Each volume was recorded in separate studio sessions, each with its own producer, specific backing players and guest stars befitting the material.
Morning
A lot of entertainment is frontloaded, with something exciting at the beginning to grab an audience's attention and hopefully hold on to it for as long as possible. With this in mind, it was wise to make the first of the triptych the funk album. It's the loudest, the most energetic, and the most fun. It is also the longest and most ambitious of the three.
Produced by Popovic and Grammy-winner Warren Riker (The Fugees, Lauryn Hill, Santana, et al) this volume features a large and seasoned New Orleans-style funk backing band with a horn section and gospel backing vocals. It also features Ivan Neville (nephew of the Neville Brothers) on keyboards and drummer Raymond Weber (Dr. John) who has a great second line feel.
It opens strong with the sexy funk song, "Love You Tonight" and is followed by, "She Was A Doorman," a new live staple. Ever the specialist, Popovic has described herself as a "B-side" person, so appropriately we have both a rousing cover of Mandrill's 1973 funk jam, "Fencewalk," (which might be the best track) as well as a reboot of Johnny "Guitar" Watson's trippy, "Hook Me Up," featuring Robert Randolph on lap steel guitar. Guitar aficionados will appreciate the ballad, "Train," which features a long outro solo by Joe Bonamassa.
Morning is very guitar-centric, with a lot more soloing than would normally be the case on a funk album, but this is a guitarist's album, after-all. Popovic uses a lot of wah-wah here and her playing style on this record struck me as a cross between Prince and Slash of Guns N' Roses. Vocal-wise, she made me think of Janis Joplin, if Joplin had lived a clean and healthy life (chain-smoking, booze, and genuine despair can make quite the difference in finished product.)
Mid-Day
This second volume is a shorter collection of tracks, mostly of the blues-rock variety, which is what Popovic is mainly known for. Some tracks were produced by Tom Hambridge (George Thorogood, Buddy Guy) some others by Cody Dickinson, and the remainder by Warren Riker. Many of the tracks have a harder, more raw sound than on Morning.
A good case in point is the opening track, "You Got The Love." It's actually an old Chaka Khan song, but so much more gritty and hard-rocking here that it's barely recognizable.
Popovic's voice is a great deal more affected on this record, a different persona entirely with much more of a traditional blues feel.
For me, the most notable track here is, "Let's Do it Again," a contemporary-sounding R&B song which really belongs on the previous volume, thematically speaking. It features a duet with rapper, Al Kapone, and is totally different than anything else in this whole collection.
Midnight
This final volume is a foray into jazz, and it sounds surprisingly traditional. Produced by Delfeayo Marsalis of the legendary jazz Marsalis family (Wynton, Branford, and Jason are his brothers) and he also plays trombone and handles the horn arrangements. Also featured is New Orleans jazz great, Herlin Riley, on drums for most of the recordings, and Bernard Purdie (77 years old, and one of the most famous drummers ever) on the final two tracks.
Popovic's vocals are far more sultry here and she gets to play around with guitar influences like Joe Pass and George Benson. As Wynton Marsalis often says, "Jazz is the most difficult music to play."
It opens with a cover of Tom Waits', "New Coat of Paint." Double bass, brushwork on the snare and vintage horn sounds of which Marsalis is a master, set a decidedly more mellow mood, which holds throughout these last recordings.
The Duke Ellington standard, "In A Sentimental Mood," soon follows, this time with a crisp electric guitar lead and a lovely singing voice. This is the prettiest Popovic sounds on the entire trilogy by far. None of the growling and wailing we've heretofore heard so much of. She's on to something here.
There's also a few of Popovic's originals on this final volume, the best of which may be, "Heaven's Crying: aka Song for the Next Generation," an upbeat new swing number which leads into the, "You Don't Know What Love Is," the 23rd and final song.
It feels like it took from morning to midnight to get here.
Trilogy is available on:
Spotify: https://open.spotify.com/artist/5kPUAJihniO5WfEfbOCjLf 
iTunes: http://apple.co/2p1iiWO
Amazon Music:  http://amzn.to/2ormXOE