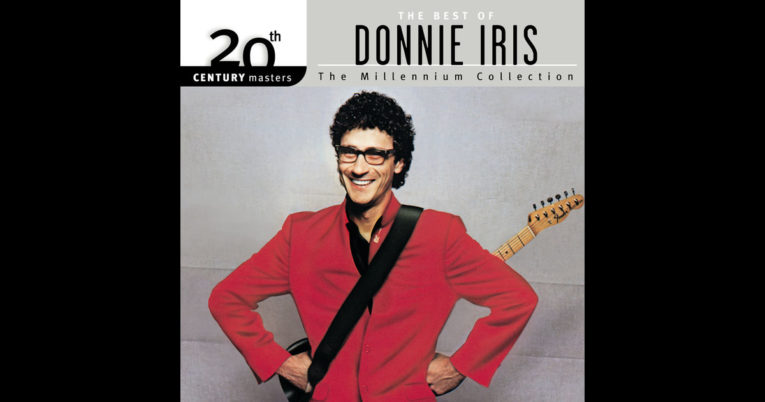 By Derek Malone
A recent nostalgia kick I've been on as of late has been the reevaluation of certain pop songs and artists from the early 1980's, namely Donnie Iris and the Cruisers. I happened upon his name completely by accident while perusing old Billboard singles charts.
In this period, the "Disco Sucks" sentiment was strong, the backlash against its short-lived cultural dominance well underway. It seemed like almost every song on the radio had some hard rock element to it, no matter the artist (anything to avoid being branded with the scarlet "D" of disco.) The nascent genres of heavy metal, alternative, and hip hop that came to define the decade in later years were still in gestation, and were somewhat marginalized to one degree or another.
This radio-friendly hard rock that I'm talking about included bands as varied as The Knack, Jefferson Starship, Reo Speedwagon, 38 Special, Heart, The Cars, Cheap Trick, Journey, Aldo Nova, Pat Benatar, Loverboy, Joan Jett and the Blackhearts, Foreigner, and many others. The period was wonderfully encapsulated in the pop soundtracks of films such as Over the Edge, Caddyshack, Fast Times at Ridgemont High and the animated Heavy Metal.
If any of this sounds like it's in your musical briar patch, than you just might enjoy revisiting the brief 80's oeuvre of a band that in retrospect, is much less well known, but every bit a product of that age, though unique in their own way–Donnie Iris and the Cruisers, also known as Donnie Iris.
Donnie Iris was a staple of early 80's FM radio, and was also prominent in the incipient days of MTV, back when the fledgling music video station gave airtime to almost anyone to fill its broadcast hours. He and the band had several hits but I never knew a soul who owned one of his albums, or anyone who saw his band live, though they toured with Journey, Loverboy, Bryan Adams, Foreigner, Bon Jovi, The Romantics, Eddie Money, UFO, Nazareth, Ted Nugent, Joan Jett, and Hall & Oates.
With his short, kinky black hair, thick, black-rimmed eyeglasses, and retro 50's style suit-jackets, Donnie Iris himself always struck me as a slightly comedic figure. Though he was said to have modeled his 80's look on Elvis Costello, I prefer to think of him as the "Eugene Levy of Rock N' Roll" and don't want to be talked out of it.
Back then, in the suburban Boston town of my youth, there was a certain canon of acceptable rock bands for the cool kids, and Donnie Iris and the Cruisers certainly weren't one of them, though I liked all of their radio hits at the time. I'm sure many people did.
The band was founded in 1979 by Iris and his songwriting partner, keyboardist, Mark Avsec, who also produced all of their albums. Iris and Avsec met and while playing together in the 70's funk-rock group, Wild Cherry, which they had both joined in the waning days of the band's popularity, with the success of the 1976's hit single, "Play That Funky Music" well behind them.
After a failed self-produced disco single (that I would kill to find) called "Bring on the Eighties," Iris and Avsec decided on a new hard rock direction befitting the times. They soon recruited guitarist Marty Lee Hoenes, bassist Albritton McClain, and drummer Kevin Valentine, the latter from another Avsec band, Breathless. This was the classic Cruisers line-up.
Their 1980 debut album, Back On The Streets, pretty much set the template for most of what followed. Catchy, hook-driven hard rock, with a tasteful, and not overpowering use of synth by Avsec. Iris himself, the elder of the group (he started his career in 1964 with The Jaggerz) was pushing 40 at the time, and he was steeped in songs of the early days of rock n' roll, including Elvis, Buddy Holly, Ray Charles, and various doo wop acts. He brought a multitude of these influences to the mix, but the Cruisers were never strictly a retro act, like Marshall Crenshaw or The Stray Cats.
Their overall sound was current to the time period, and at times even slightly ahead, mainly thanks to Avsec's production. Most notably it was in their use of "stacked vocal" tracks, which sound so big and omnipresent, sometimes shuffling from speaker to speaker. All of the Cruisers except drummer Valentine sang great harmony vocals, and many of their massive choruses prefigure those later used on hit pop-metal albums such as Def Leppard's, Hysteria, and Bon Jovi's, Living On A Prayer.
This album is known for the hits, "Ah Leah" and the lesser known, "I Can't Hear You," though the whole album is packed with catchy, radio-friendly deep tracks. The Cruisers' albums do not exactly showcase virtuoso instrumental soloing, but they were very well constructed pop records, that took a long time to record.
Though they sound quite different overall, I see many parallels to Cheap Trick. Like Robin Zander, Iris is a man of many vocal personas–a chameleon, but a considerably more amorphous one. Though he has the distinctive high-pitched screech of a heavy metal singer at impassioned moments, he usually sounds different on every song, giving the casual listener the impression that The Cruisers employ a multitude of different lead vocalists. He sounds like a doo wop singer on "She's So Wild" and then channels an old-school tough guy mien in the manner of Phil Lynott on the album's title track, "Back on the Streets," for example.
Many of Hoenes' guitar riffs sound as if they came from the Rick Nielsen playbook, and like Bun E. Carlos, Kevin Valentine is a drummer punching well below his weight in accordance with the simple structure of the songs.
Iris was also an evocative vocal storyteller, often relating old-fashioned, blue collar anecdotes about girls, heartbreak, and fistfights. This album is a lot of fun.
Their second release, King Cool, features what I think is the best of his songs named for girls (and there are many,) "Sweet Merilee," which was a minor hit in 1981. There's also the ELO-sounding hit ballad, "My Girl." The album is probably best known for the ubiquitous hard rock anthem, "Love Is Like A Rock," which features great drumming by Valentine and an infectious guitar lead by Hoenes.
Overall, the second release is a worthy successor to the first. My favorite track is, "Broken Promises," a song that was inexplicably never made into a single. The drum break in the middle is as awesome sounding as it is unexpected.
1982's The High and the Mighty was named for the 1954 William Wellman airplane melodrama starring John Wayne (and the basis of the spoof Airplane!) The title track begins with an eccentric nod to the iconic drum roll of the old 20th Century Fox theme. From there it proceeds martially to an enormous pop-metal big chorus. It's a cool song, but the only single released from this album was the under-appreciated hard rockin', "Tough World," which peaked at number 181 on the singles chart.
There's some interesting material on the record but it was a commercial failure. It's still worth a listen though, particularly for the oddball synth new wave-50's inspired hybrid, "Parallel Time," a hint of what was to come.
The Cruisers' fourth and final MCA release, 1983's Fortune 410, (named for the model of eyeglasses worn by Iris,) marks the band's temporary shift in a more technological, new-wavy direction. Avsec's synth is more out front than ever before, and there is even some electronic percussion. The overall feeling is decidedly nerdier.
Still, it includes what is perhaps one the bands' best ballads, "Cry If You Want To," and a delightfully zany, "Human Evolution," which includes funny references to simians, Cro-Magnons, and the Garden of Eden. It has to be heard to be believed.
This album was best known for the hit single, "Do You Compute." The concurrent MTV video for the song included a promotional tie-in with the Atari 1200 computer which Iris somehow uses to conjure up an androgynous "Bride of Frankenstein" (who oddly resembles the actress Beverly D'Angelo) on one of those ubiquitous 80's video sets which looks like an over-sized tile bathroom.
Though commercially more successful than The High and the Mighty,  the record company insisted on bringing in a new producer and professional songwriters for future releases. The band refused and was unceremoniously dropped from the label.  
1985's No Fuss, No Muss was Donnie Iris' last album of note, a more straightforward rock effort, and a return to form. The original Cruisers' rhythm-section of McClain and Valentine had moved on to join The Innocent, and were replaced by Scott Alan Williamson on bass and Tommy Rich on drums. Though released on a minor label called HME, that soon thereafter went out of business, it was nonetheless still a fan favorite. It featured one of Iris' most beloved hits, "Injured in the Game of Love." It was to be his last.
The video for the song pays a cute homage to the 1976 film, Rocky. Some of you may remember it well:
Tied up in legal disputes with MCA records and another costly lawsuit for "copyright infringement" over the song "Ah Leah," (which they claimed was baseless) the band was not to record again as Donnie Iris and the Cruisers until 1992's independently released, Out of the Blue. But of course, by that time their time had passed.
The band continued to release occasional independent albums over the years including 2006's ambitious Ellwood City and the 2010 Christmas album, Ah Leluliah, both of which are interesting, but they lack that 80's magic.
Donnie Iris, who never lived anywhere too far from the Pittsburgh area where he was born in 1943, founded a mortgage company, Simcorp, which kept him afloat for over twenty years until his retirement.
Mark Avsec also had a mid-life career change, and is now a successful entertainment property rights attorney in LA. He recently did a TED Talk, reflecting on his bitter experiences in the music industry and future of technology as it relates to the business.
Donnie Iris, Mark Avsec, and a revolving cast of former Cruisers, (which now sometimes include Avsec's daughter, Danna, as a guest drummer,) still play about half a dozen small shows a year in the Pittsburgh area today. If you live in the area, you might consider checking them out for the hell of it. You may rediscover some songs that you forgot ever existed.