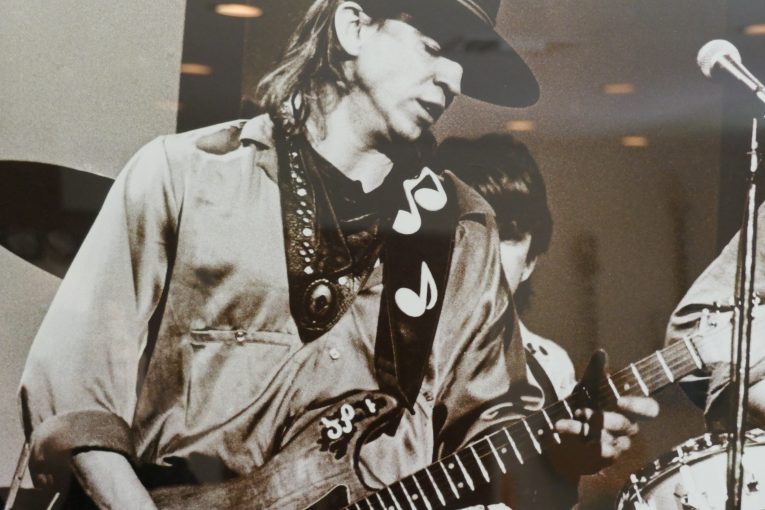 By Martine Ehrenclou
It's 6pm on a Thursday, peak traffic time for Los Angeles. I have to drive east, which in itself, is total insanity at this time of day. But I'm desperate to get to a dance class, a slam-dunk for stress relief for a day from hell. My salvation? The Essential Stevie Ray Vaughan and Double Trouble, a double album with live cuts, released in 2002.
Slipping onto one of the busiest streets of L.A., I'm greeted by a line of cars jammed with red brake lights. I push my way in, much like a New York cab driver, and question my rationale for making the trek across town. What was I thinking?
Instead of turning back, I stay my course and insert the first of Stevie Ray Vaughan's CDs, (old school, I know) into my car's player and zip shut the windows to maximize peak volume. My car is my audio playground, my living room having given way to children long ago.
This SRV double album is my birthday present to myself, having only discovered him a year and a half ago. To blues-rock fans, it's heresy to have lost my way music-wise into a foray of R&B and hip-hop, which for many years, obscured Strat masters like Stevie Ray Vaughan. A long story about why it happened and certainly for another time.
"Texas Flood" is the first to play. I'm suddenly immersed in SRV's inexplicable guitar tone. The familiar bends and licks strike lightening and I'm reminded of the day only a year and a half ago ago when I discovered his recorded sessions with Albert King on YouTube. I became a fanatic back then, posting his videos on social media, one right after the other. Friends must have thought I'd gone crazy, posting like that, with sentences like, "Have you heard this? OMG."
Hands gripping the steering wheel, "Texas Flood" takes over, wiping out earlier stress, kick starting my adrenalin. I flip on my fantasy life, something I use quite frequently to survive L.A. traffic. In my mind, I'm standing at an SRV concert, second row center, watching him play "Texas Flood," and close enough to see his fingers trip the strings on the fret board of that famous SRV Strat. I know he had others, but allow me the visual.
The opening guitar solo blows me away, obscuring the fact that I'd travelled a quarter of a mile in 20 minutes, something that usually takes less than two. But Stevie's playing is so masterful, so brilliant, that I don't care where I am, even if I'm stalled in a chain link fence of cars.
"Mary Had a Little Lamb" now blasts through my car speakers and I'm full on into the music. He breaks into a solo and I am transported into the world of guitar tone and feel.
Rewinding to "Pride and Joy," it takes me to the next stop light. I'm still at the concert I've never actually seen, watching Stevie play in my mind, surrounded by a crowd that goes wild. I can almost smell Miller Light from a couple of seats away.
Brought back to reality by a scuffle from honking drivers ahead of me, I'm insulated from the stress of it with Stevie Ray Vaughan. Lifted from my day, I feel gratitude for the music.
The song, "Lenny" begins. As many of you know, "Lenny" is pure magic, written by Stevie Ray for his wife, Lenora. The guitar instrumental, with jazz phrases and tremolo, graces the air space inside my car. One blast of the crisp but rich tone of the melody and I'm engulfed in sound. Stevie Ray hits the lower strings with bite, the higher notes with a symphony of harmonics. This is musical genius.
But maybe it's more than genius. Maybe it's the way Steve Ray felt the music, expressed himself through it. Maybe that's what makes genius, I don't know.
"The Sky is Crying" carries me through another mile. And then, "Couldn't Stand the Weather" and "Tin Pan Alley" and "Voodoo Child (Slight Return.)" I near my destination, still in the maze of brake lights. I hear, "Little Wing," a Hendrix cover, and my breath catches in my chest.
I wonder what it must have been like for those who actually saw SRV live. I have friends who did and they're still talking about it with the enthusiasm of the morning after.
There's no mistaking SRV's playing for anyone else's. No one can really channel him, although several guitarists come close. That tone, the speed, the soulful mastery of the guitar. Damn, if he wasn't one of the greatest guitar players of all time.
I highly recommend you revisit The Essential Stevie Ray Vaughan and Double Trouble. If you're anything like me, you'll play it over and over until your neighbors are sick of you.
Here's a couple of videos to get you started. I welcome your comments. Please post below. Thanks.