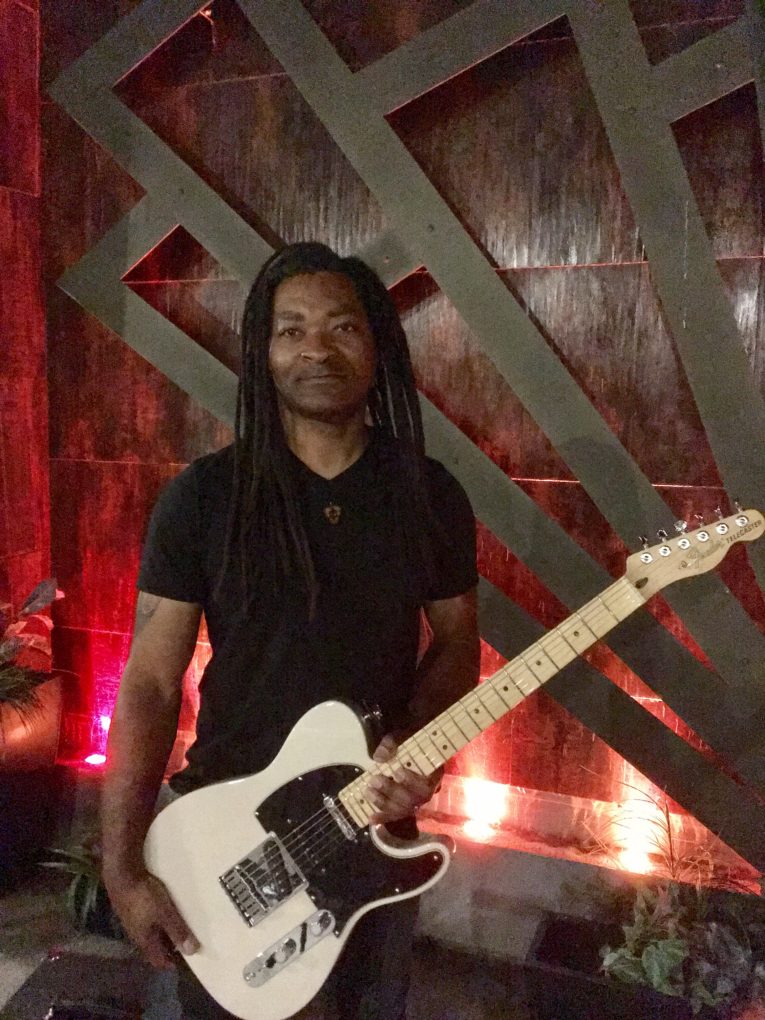 By Martine Ehrenclou
We've all heard that the blues is a dying genre of music. There are many efforts to keep it alive, including some from famous blues musicians and organizations who support and promote it. I've wondered if the blues really is fading. I sure hope not, and from the response to Rock and Blues Muse, I don't see that happening. There seems to be a lot of people from all over the world who love this genre and truly appreciate real music with real instruments, namely guitar. But maybe that's just my bias.
That's why I wanted to talk to professional guitarist and guitar teacher, Mel Booker, who said he believes that the blues is making a comeback. I had to find out more. Mel comes at it from a unique vantage point, not just as listener. I thought his insight on the power and resurgence of blues might be interesting since people come to him to learn to play the blues. Mel also runs his own music school, is a professional session player and plays regular live gigs with his band.
Martine: Mel, you said you thought the blues was making a comeback. That will make a lot of people happy. What makes you say that?
Mel: I've noticed an increase in blues performers as well as blues festivals all over the globe. What really made me think about this was first, seeing Eric Gales perform with Lauryn Hill. Then, not too long after that, I saw a video with Gary Clark Jr. performing with Beyonce. I don't believe the blues ever "left" if you will, but Pop artists today seem to have more capital invested in them than most blues performers do. But, that may not matter much to blues fans. The blues community seems to always find a way to force its heroes into the limelight. Eric Gales, Joe Bonamassa, Samantha Fish, Buddy Guy, Eric Clapton, Kingfish etc. To me, it seems that the number of blues heroes has been increasing.
Martine: Are more of your students (adult and kids) coming to you and asking to learn blues or blues-rock?
Mel: For adults, it usually both, but a lot of the adult students who want to play rock are also wanting to learn Aerosmith, Rolling Stones and blues based bands. Students in their teens are listening to a lot of Pop/Rock and RnB influenced pop, by artists like Gary Clark Jr. and John Mayer who blend blues into those styles.
Many of my students who come in to learn classic rock, don't realize it stems from the blues. For instance, the solo to "You Shook Me All Night Long" (by AC/DC's Angus Young) is textbook blues soloing. "You Shook Me" by Led Zeppelin is based on a Willie Dixon blues tune. Even the rock tune, "You Got the Look," by Prince, is based on the 12 Bar Blues. Now, with the latest crop of great players, the requests to learn blues and blues oriented music is growing again.
Martine: Tell me about the bands you play in.
Mel: As of now, I'm playing with KING, which is a combination of funky blues/rock & soul. Sort of Hendrix meets Stax meets Joss Stone. I play jazz/funk/fusion as a solo artist. I also freelance as time permits for other artists. My blues band KING has seen a great response at blues oriented shows and non-blues venues alike.
Martine: Do you record as well? Are you also a session player?
Mel: Yes, I do record. I'm currently working on a project for KING and in pre-production for a solo project. I love mixing Blues, Funk, and Jazz. So the solo project will be in that style. Something like the Thelma Houston era Scott Henderson. I do some session work, but as of late, I've been playing live quite a bit more.
Martine: Are the styles you play mostly blues or blues-rock?
Mel: Right now, yes, but it's kind of been a full circle thing for me. I grew up in Texas, so blues was glove in hand, so to speak. When I first moved to California, I was playing other styles and traveling a lot with those bands. I eventually came back to the blues, but I play and listen to just about anything. I love jazz, and spent a lot of time listening to horn players, which is a big part of my playing. John Coltrane, Miles Davis, Rahsaan Roland Kirk and Eric Dolphy were big influences on me, and to this day I never get tired of listening to them.
Martine: What styles do you enjoy teaching the most?
Mel: I love teaching the blues/rock giants: Hendrix, Clapton, Stevie Ray Vaughan etc. But, I have to admit, the process of spreading music to people, no matter the style, is what it's all about. No one and no style of music are off limits. Kids and adults of course learn very differently, but that's the beauty of learning to be a great teacher: changing your means of delivery until you get results. If there is something I cannot do or teach, I have an excellent staff that can.
Martine: Who are your guitar heroes?
Mel: I think about this quite a bit actually. "What made me go from point A to Point B?" Here are the main ones and why.
Roger Troutman: Amazing funk guitar. The greatest right hand in the business-ever.
Jimi Hendrix: Well, I don't really need to explain Hendrix, but he is the ultimate blues/rock genius.
Linc Chamberland: Aggressive, yet beautiful jazz guitar.
Prince: What can't he do? I think we all "strive" to be limitless, and that's a great thing.
Jason Becker: Here is a rock guitarist who gets it. He has such feeling and emotion in his playing, yet can turn around and play incredibly fast passages that do not sound like math.
Stevie Ray Vaughan: He was able to take Hendrix and Albert King and forge his own unmistakable sound, which is what the blues is all about.
John Coltrane (not guitar): I do not have enough words here for this musician, but I will say this: being able to pour emotion into an instrument is so often overlooked by guitarists. Maybe rightfully so. It's wood with some wires, and metal strings. Maybe it's easy to be detached from it, and just use a math approach to playing it. I cannot do that, and I'm pretty sure it came from listening to John Coltrane.
Martine: Interesting that John Coltrane influenced you in that way.  I'm curious, how do you teach adults and kids all over the country? Your music school is in Lancaster, CA.
Mel: My online lessons are live, in real time using Facebook Video Chat, (Skype on occasion.) Lessons are geared towards the student, so there is plenty of flexibility in what needs to be covered. The lessons include video clips, and pdf sheets for further study. I have developed my teaching methods from over 20 years of teaching and playing live. I do have a slant towards what has to be learned in order to jam with friends, accompany yourself or someone else, and playing with a band.
Martine: Thanks, Mel. Makes me happy to hear that blues and rock are going strong.
Check out Mel Booker and live videos of him playing and teaching blues guitar. You can find him on:
Facebook: https://www.facebook.com/getbluespower/
Instagram: https://www.instagram.com/getbluespower/