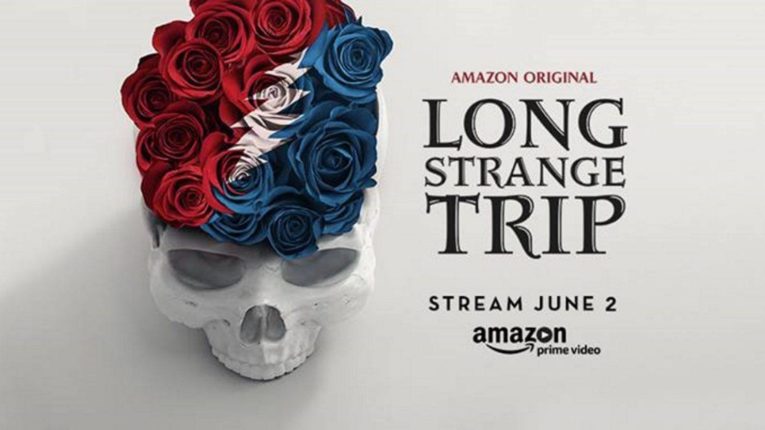 By Michael A. Weiss
The multifaceted allure of the Grateful Dead and its music shines through every scene of this four-hour documentary (broken up into six consumable-sized "Acts") currently streaming on Amazon Prime Video. Long Strange Trip, directed by Amir Bar-Lev, is an entertaining and thoroughly constructed documentary about the extraordinary journey of the Grateful Dead, a genuine Americana band whose eclectic sound was inspired by rock, blues, folk, soul, R&B, gospel, country, bluegrass and jazz music genres, LSD experimentation and obsessive fans, also known as Deadheads.
The film brilliantly captures the Grateful Dead's mystical ethos starting from its formation in the late 1960s throughout the 70s and 80s, (the pinnacle of its creative and commercial success) and up until 1995 when the Dead's iconic, reluctant leader Jerry Garcia, passed away at the age of 53. As portrayed in the film, the enhanced spiritual appeal of both the music and lyrics transformed Grateful Dead shows into exhilarating musical adventures for both the band and audience to enjoy.
Featured in an interview in the documentary, U.S. Senator Al Franken, a self-described Deadhead, is the perfect fan to articulate the magnetism of the music. He illustrates why it uniquely breeds such enjoyment that's often passed along from one generation to the next via an organic pseudo-mentoring program that the music industry, and corporate America, has never been able to replicate.
Franken asks the director which "version" of the song, "Althea," is his favorite. Franken's question ironically gets to the core of how the Grateful Dead unintentionally grew its audience throughout its four-decade existence with five founding members each of considerable musicianship and like minds about their sound being best created by "collective improvisation." This meant no set lists during their well known, long concerts or "shows" and never playing the same song in exactly the same way to avoid the boredom of "performing" their music as expected.
Instead, they focused on "creating" their music each and every night and sought energy and inspiration from the audience, the town, the venue and their time on stage as they defined that night's selection of songs, and the way in which each was played. This assured that seeing the Grateful Dead on tour in Albany, New York would be a different experience from that tour's stop in Boulder, Colorado.
By permitting fans or "tapers" to record each show, and then supporting the practice by creating a separate "Tapers Section" at every show, the Grateful Dead accidentally created an innovative business model predicated on fans trading cassette tapes of the ever-expanding number of Dead shows. The cassette tapes, full of new live Grateful Dead music, served as de facto promotion to sell tickets to future Grateful Dead shows.
Record company executives feared that "giving away" the music in this manner would cannibalize record sales but members of the Grateful Dead refused to tell their fans how and when to consume their music. Since every Grateful Dead show was different, Deadheads collected and traded tapes of every show because they couldn't get enough of what they perceived to be available performances of new Grateful Dead music. Most importantly, the proliferation of "tapers" substantially increased the Grateful Dead fan base and exponentially fueled fan interest in paying to see future Grateful Dead shows. This transformed live performing into the mother lode of the Grateful Dead's revenue streams, much to the disappointment of record company executives.
The Al Franken interview reveals the senator's effusive description of the hair-raising and great guitar solo of the May 16, 1980 performance of "Althea" at the Nassau Coliseum, which he believes cements its legendary status. Franken points to Amir Bar-Lev and guesses correctly that the May 1, 1981, Hampton, Virginia version is Bar-Lev's favorite. To be fair, Franken refreshes his memory and after listening to the Hampton, VA version he then states that while it does have the "flavor" of the May, 1980 Nassau Coliseum version, "it ain't" IT. Then there's an entertaining interlude during which the viewer gets an opportunity to decide which version is better.
Franken then confirms that Bar-Lev (who's off-camera) listened to the Nassau Coliseum version and asks him, "Am I right?" When Franken, also a former writer and member of NBC's Saturday Night Live, hears the director's answer, "Yes," he laughs and says, "Only Deadheads." What I found riveting about this scene was how it explains what it means to be a Deadhead in such an unassuming but accurate way that even my parents would've understood it back in the late 1970s when they were convinced the psychedelic Grateful Dead posters covering the walls of my bedroom meant I was a member of some cult in the Catskill Mountains likely operated by my summer camp counselors.
While the film is thoroughly organized, it is not an encyclopedic accounting of the Grateful Dead so this engrossing film can and should be enjoyed by every person who delights in true masterful storytelling and the limitless power of music.
Director, Amir Bar-Lev, tells the Grateful Dead story with great emotional care by utilizing a cinematic soundtrack of the Dead's always fresh and evocative music as an almost subliminal backdrop adding color and context by way of provocative and often funny imagery and enlightening historical perspectives from some of the people most responsible for the Grateful Dead's exploratory and transformative psychedelic sound. Bar-Lev, a card-carrying Deadhead, makes the film come alive with remarkable archival performance footage and insightful interviews with a few sapient Deadheads. Watching it elicits an authentic and multisensory experience, reminiscent of the emotional experience of attending a Grateful Dead show.
Steve Silberman, an accomplished American writer, is interviewed several times in the film, seemingly because he's an erudite literary figure who is familiar with the Jack Kerouac road-trip adventures that Jerry Garcia cites as the thematic inspiration for the Grateful Dead experience. But Silberman also grew up listening to the Grateful Dead and his fluency in the Grateful Dead experience is astounding.
I thought I knew most of the interesting tidbits surrounding the Dead but I did not know that different sections of every concert venue were reserved for specific classifications of fans such as 12-Step participants, and deaf fans who "felt" the music from the vibrations in the balloons they were given to hold. Silberman adds they also got to enjoy the lyrics, which were simultaneously communicated to them via sign language interpreters. Wow.
After seeing Long Strange Trip a few times, I could not stop talking about it. A few days ago I found myself briefly mentioning it to my friend's 18-year-old daughter who doesn't appear to be a music fan but she's extremely smart and studies electrical engineering at a top university. The more I told her about the film, the more she wanted to know. Her inquisitive questions about the film revealed something familiar to me. I realized what was happening. Like my summer camp counselors did for me, I'd introduced her to the limitless joy she could experience by listening to the music of the Grateful Dead.
Long Strange Trip is available on Amazon https://www.amazon.com/Long-Strange-Trip/dp/B072HHSYTQ