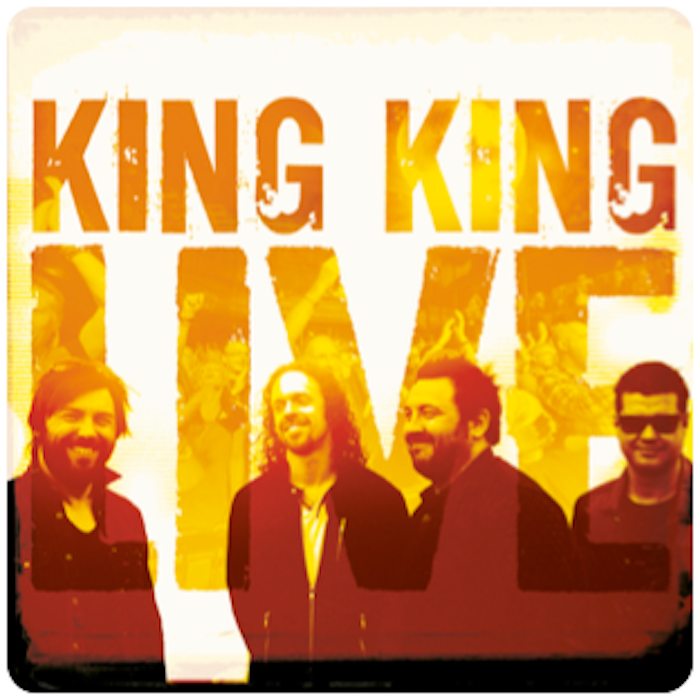 By Tom O'Connor
It seems like just last week in my Davy Knowles review, that I was babbling about the continuing influence that American Blues and Rock forms still have on new generations of UK musicians, as well as the significance of time when it comes to album lengths and the "traditionalism" one might expect from purveyors of traditional rock/blues music, no matter where they hail from. While I try not to repeat myself too often, once again it was on my mind while I was digging into this two-disc live album from Glasgow's formidable King King band.
The release of the (usually "long awaited") "Double Live Album" was a big and necessary step for any band of the classic Hard Rock era. It meant something, and it usually came along after a few well-received studio albums by a band with a solid regional following. The Double Live Album was a chance for a band to kill at least two birds with the same vinyl stone: 1) A new release for existing fans that wouldn't require writing any new songs and 2) A chance to show some ambition and maybe grab the attention of a bigger national audience, especially if you were one of those "you have to see them live" bands.
Don't believe me? Think back to the first (and 10,000th) time you heard "Free Bird." I'm guessing it wasn't the original studio version now was it? "One More From The Road" opened the floodgates of increased radio airplay and gave Skynyrd a big national footprint the same way "Live Bullet" did for Bob Seger, and "Alive" did for KISS. I could go on: "Frampton Comes Alive," Aerosmith's "Double Live Bootleg," J. Geils' "Blow Your Face Out," heck, even Nugent's "Double Live Gonzo." …I'll stop now, but you get the idea. Think of the songs you blasted loudest through the Jensen Tri-ax in your '68 Chevelle/Camaro/Firebird/El Camino/Javelin/Mustang back when gas cost 70 cents a gallon, and chances are it was a cut from a Double Live Album.
And yes, I know the word "Album" is meaningless to anyone under 25, but even if you're not all that familiar with a band, and I really wasn't familiar with King King, when you crack open a DLA (which in this case is actually a three disc set with two CDs of music and one DVD of a live performance) you know you're about to listen to a band with something to prove, who is pretty certain they're ready to prove it.
King King, led by kilted singer/guitarist Alan Nimmo, plays it smart and cagey with this collection. As a band, they sound tight and focused having just come off a successful tour and they're greeted and treated like returning heroes by the audience in their hometown of Glasgow, which also explains the kilt. But these Scotsmen aren't playing folk music and sea shanties. This is a take-no-prisoners 87- minute collection of big beat, old-school Rock and revved-up blues with no apologies.
The album opener invites the crowd to "Lose Control" and, with ample reason, it sounds like they do. We are well into the second track, the SRV-inspired stroll-and-vamp "Wait on Time" before Nimmo gives us the necessarily smarmy "It's good to be home!" and "We're recording tonight!" speeches to the already rapturous crowd. These two opening tunes are immediately followed by the punchy, upbeat "Waking Up," one of several tracks wisely selected from their already-a-classic 2016 release, "Reaching for the Light."
Four tracks in, the band finally drops the tempo, while still managing to increase the intensity with the slow-rolling, organ-soaked "Rush Hour" which is another standout track originally released on 'Reaching for the Light. "Rush Hour" gives way to a languid, soulful ode to the right woman "A Long History of Love" which takes its time (a whopping ten and a half minutes) with its slow, sway-inducing groove.
The band ramps back up with "More than I can Take" and "You Stopped the Rain," two crowd-pleasers that remind you this is a band that knows how to play for an audience, and play with each other, live. It is always a good sign when a still youngish band knows how to give time and space not only to the song but to the musicians. In this track especially you can hear the confidence they have in each other. The band was picking up speed again, so I was a bit surprised that the next track "Jealousy" was another low-gear high-intensity lament. Soulful, well-played and sincerely felt, though it was, it still pulled my heart rate back down, just when things were getting exciting.
It is worthwhile to note that this collection was all recorded at one blow-out of a show. That is another good sign of a band putting more pressure on itself. Knowing they won't be able to scrape together the "best takes" from a number of different shows, King King sets the bar a bit higher and knows they'll have to bring it from start-to-finish for what will be a document of a single night, a single moment in the life of this band. And finish strong, they do.
The last three songs on this release hit as hard as the rest – no easy feat for a band that is putting out maximum effort from the first note. Even after the encore "Let Love In" soars and howls to its conclusion, you can tell that King King still has plenty of gas left in the tank, so expect more great songs, great shows and, great things from this band.
I welcome your comments.
King King's Live is available on: 
Facebook: https://www.facebook.com/kingkingalannimmo/
Website: http://www.kingking.co.uk/Home.html
Spotify: https://open.spotify.com/album/05nIedmPU5AOXRPP6uztMv