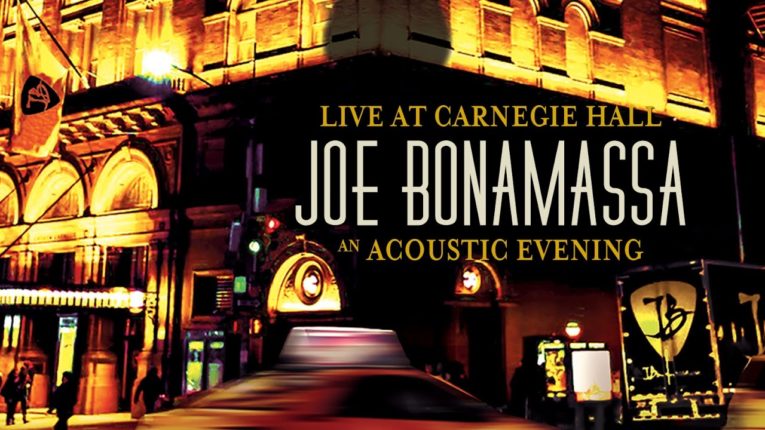 By Martine Ehrenclou
Guitar virtuoso, singer-songwriter, Joe Bonamassa, performed two unique all-acoustic shows (with a nine-piece band) at Carnegie Hall in New York City that were filmed and recorded. New arrangements of Bonamassa's favorite songs as well as brand new songs fill this double album, two-disc DVD, single Blu-ray, double CD, that was released June 23, 2017.
The concert was part of an all-acoustic tour and features an all-star ensemble of world class musicians including Cellist Tina Guo, percussionist, Hossam Ramzy, Anton Fig on drums, Eric Bazilian on mandolin, saxophone, acoustic guitar, vocals, and banjo, Reese Wynans on piano and Australian backup vocalists, Mahalia Barnes, Juanita Tippins, and Gary Pinto.
Live at Carnegie Hall is a stripped down, all-acoustic show with 15 tracks that appropriately kicks off with the energetic, percussive song, "This Train." Joe Bonamassa fans might recognize this tune from his album, Blues of Desperation. The piano intro is lovely, and one that might be familiar to some as it is from Jethro Tull's "Locomotive Breath." Brilliantly played by Wynans, the intro sets the stage for Bonamassa's guitar riffs and up-tempo rhythm. The song's new arrangement has a big sound that includes violin, cello, percussion and backup singers. It has more of a zippy feel than Bonamassa's previous versions and is country-ish as are a few of the songs on this live, double album.
The next tune, "Drive," features wind instruments and again the acoustic piano adds a lovely, lyrical overtone. Bonamassa's acoustic guitar on this track is the star of the show and will certainly satisfy Joe B. fans. The wind instruments and back up singers add an ethereal touch. The big production is felt throughout this song and on much of the album.
"The Valley Runs Low" is a standout track. Joe B.'s acoustic guitar graces the opening of this song and gives way to mandolin, cello and piano. Bonamassa's voice is honed and textured on this tune. It has a lovely melody and the backup singers compliment the chorus.
Joe Bonamassa has secured his place in the singer-songwriter territory and this song certainly showcases his talent for both, something I hadn't fully grasped because I'd been so focused on his guitar playing, which is without question, masterful. Always.
"Driving Towards the Daylight" is one of my favorites. Acoustic guitar, piano, and banjo start the tune and Joe B.'s vocals are at their best here. His voice, on a number of songs, has become more more soulful with time. With Bonamassa's guitar, the piano and hint of banjo, this mournful tune is beautiful and produces a lush and moving sound.
However, it's almost as if the room or perhaps the nine-piece band in that room, overcomes Bonamassa at times. On many of the tracks, it seems as though Joe B. is a part of the band, instead of featured player. Perhaps that was his intention. But for me, there are just too many competing instruments. Even when Bonamassa sings, the band is often in partnership with him instead of as supporting players. My guess is that he wanted the entire band and the sound experience of being inside Carnegie Hall to be the take away.
The seventh song, "Blue and Evil," from the album, Black Rock, is an up-tempo, acoustic blues number that features Joe B. on guitar and Bazilian on banjo. A foot stomping beat with a darker tone, the backup singers give it a dissonant touch. Like others on the album, this too has a Delta Blues feel.
"Get Back My Tomorrow" invites listeners into Carnegie Hall with the audience clapping to the beat. I can't help but imagine what it must have been like to see Joe B. live in this venue.
"Mountain Time" opens disc two and builds the energy again with beautifully nuanced piano played by Wynans and a stringed instrument interchange. Bonamassa's vocals are some of his best, which draws a big response from the audience.
One of my favorite songs, "Hummingbird," written by the late Leon Russell, is a lovely rendition. In all of the versions of this song, Bonamassa sings it like he means it.
Live at Carnegie Hall is an ambitious undertaking, one that propels Joe Bonamassa into some new terrain. With the volume of material Bonamassa has produced (12 previous albums,) this work has its own unique character and sets him apart from a number of other blues-rock artists.
Live at Carnegie Hall can be found:
Website: https://shop.jbonamassa.com/collections/live-at-carnegie-hall-an-acoustic-evening
Facebook: https://www.facebook.com/JoeBonamassa/
Spotify: https://play.spotify.com/album/7u9j0ykp9ZdC8DBf44B6bb