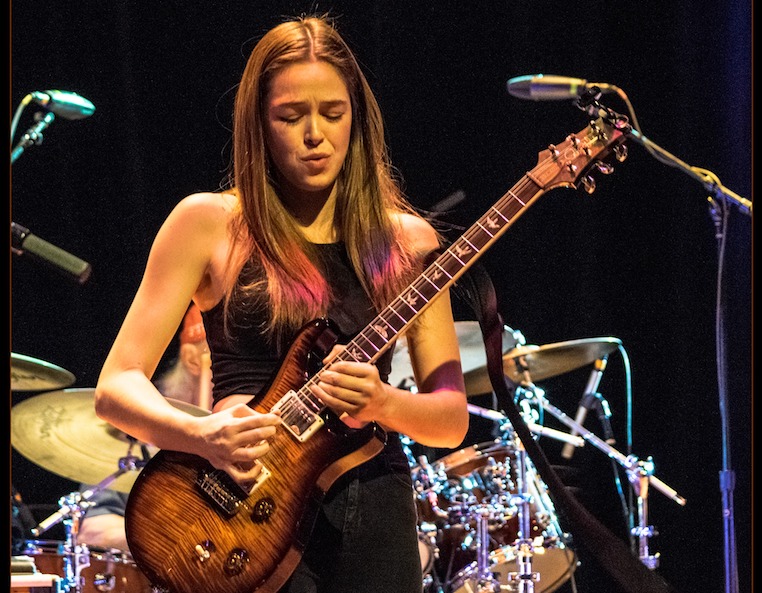 By Martine Ehrenclou
Heather Gillis, former vocalist-guitarist with the late Allman Brothers' drummer, Butch Trucks & the Freight Train Band, rocks it "Southern-Blues Style" on her first tour as the Heather Gillis Band. She's also played alongside members of the Allman Brothers Band, Col. Bruce Hampton, The Lee Boys, North Mississippi All-Stars, Matt Schofield, and many more.
For such a young artist, the multi-talented Gillis has deep roots with music and some heavy-hitting musicians. I was interested to find out more about her and how she developed as a guitarist, lap steel player, songwriter, singer, and arranger.
Gillis' music has been described as Rock/Soul/Roots and Blues. At age twenty, she was discovered by Butch Trucks and he recruited her to play in the Freight Train Band before his passing in January of 2017. Currently, Gillis is on tour and will perform at the five-day Roots Rock Revival tribute to Butch Trucks and Col. Bruce Hampton in Big Indian, New York, August 13-18, and the Blues & Brews Festival in Westford, Mass, on August 20. For her full tour schedule, please see her website http://heathergillisband.com
Martine: It's been said that whenever you plug in your electric guitar and play, people immediately know it's you. You have a distinct sound that often takes other guitarists many years to create. How did you develop your remarkable guitar chops at such a young age?
Heather: I started playing guitar about eight years ago. When I was a freshman in high school I really dove in and got serious. I took lessons at the beginning and had some great teachers along the way.
Martine: You're performing in the upcoming, Roots and Rock Revival, a tribute to the life and music of the late Allman Brothers drummer, Butch Trucks, and Col. Bruce Hampton. What part will you play in the tribute to Butch Trucks at the event and which songs will you play in his honor?
Heather: Roots Rock Revival is a camp Butch started with Oteil Burbridge, Luther Dickinson and Cody Dickinson. The camp is four days long and is held in the beautiful Catskills mountains. There are master classes, seminars, discussions, and a lot of musicians collaborating and jamming all week.This year's lineup includes Bernard Purdie, John Medeski, Jack Pearson, Johnny Vidacovich, Grahame Lesh and many more.
At Roots Rock Revival this year I will be a helping hand wherever I'm needed. Whether it's assisting the artists during their seminars or helping with the nightly jams. There's Allman Brothers music being played by campers all week long, so I'm sure I will take part in, "Mountain Jam," "Dreams," "In Memory of Elizabeth Reed or "Whipping Post" at some point.
This will be my third year at the camp and I can't imagine a summer without Roots Rock Revival.
Martine: There's blues roots, rock, soul and jazz influences in your music. How would you personally describe your music? How did your own musical style develop and was it in part by playing with Butch Trucks and The Allman Brothers?
Heather: What got me interested in guitar and music was hearing blues music for the first time. People like Blind Willie McTell, Robert Johnson, Blind Lemon Jefferson, and Charlie Patton resonated with me and showed me how deep and real music could be. That's what got me hooked.
Before I met Butch, I was primarily a blues guitar player. I didn't know anything about jazz. Butch encouraged me to meditate on John Coltrane's "A Love Supreme" and that was life changing. That album is amazing the first time and the 100th time.
My music style and approach completely changed after being on the road with Butch. He had a fearless approach to music. He loved going into the unknown and experimenting with the live set. His favorite part of the night was when we would lose the song and our roadmap and go somewhere completely different. He taught me to listen closely to what others are doing around me and to not be afraid.
Martine: Who are some of your other favorite musical influences?
Heather: I spent some time playing with Col. Bruce Hampton the last couple years and he became a very big influence on my playing as well. His "no egos" attitude towards music and life opened my eyes to how there aren't any "rules" in music. It's easy to get caught up in what's "allowed" or "not allowed". With Bruce, having the right intent was all that mattered.
Aside from that, I try to listen to as much as I can. I try to keep open ears and an open mind. I don't classify music into genres. I have two categories; it has soul and a backbone, or it doesn't.
Martine: Are you working on a new album? If so, please tell me about it. Are you writing the material and are there some covers? Will your current band be playing with you?
Heather:  We are working on a new album!
Right now, we are focusing on our original tunes. We might record a couple covers later on. There's a handful of songs we've been playing on the road for a while now, and a couple new songs we will be introducing on this next run. We will start recording demos for the new album when we get off the road in August.
The band on the road and in the studio is: Spencer Pope on organ, Evan Sarver on bass, and Dallas Dawson on drums.
Martine: What's next for you after the festivals and shows this summer?
Heather: After we get off the road this summer we're focusing on the new album. We will also have a couple announcements for some upcoming tours as well!
Martine: We will stay tuned for more from you. I'm sure your fans will be looking forward to that. Thank you for taking the time to talk with me.
Heather: Thank you.