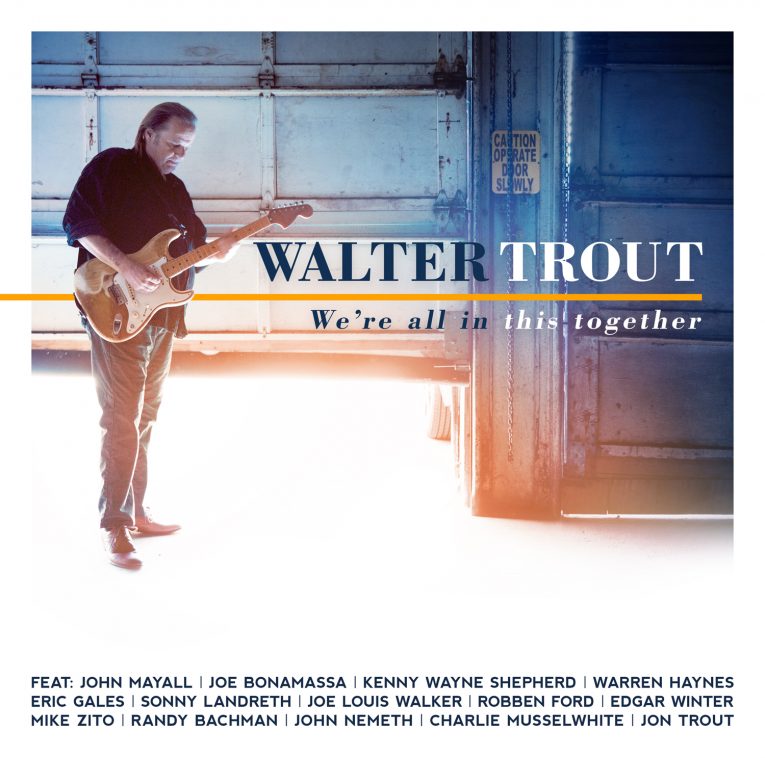 By Kevin Porter
Iconic bluesman, Walter Trout, released his new album, We're All In This Together August 25th, 2017 on Provogue Records. With an all-star cast, Trout wrote 13 out of 14 songs with 14 A-list blues artists. We're All In This Together is a rocking, all-out bash with some of the greatest blues-rock artists of our time. A singer-songwriter and scorching guitarist, Walter Trout fashioned a stunning achievement with his new album.
All-star collaborative albums can be mixed. Sometimes the artists click on individual tracks and on others the collaboration just doesn't take off.  Not so for Walter Trout's We're All in This Together.  Every single track is a winner featuring well known, celebrated guitarists and vocalists such as Joe Bonamassa, Kenny Wayne Shepherd, Warren Haynes, Eric Gales, Edgar Winter, Robben Ford, Sonny Landreth, Joe Louis Walker and more. The album burns bright from beginning to end and is a vivid depiction of Mr. Trout's guitar prowess and skills as a songwriter.
You can feel the excitement throughout We're All in This Together. The energy between the outstanding musicians is heard through ripping guitar solos and riffs, soulful vocals and a tight band supporting the effort. It's a celebratory album and perhaps not too surprising given Mr. Trout's close brush with death. For the uninitiated, Mr. Trout received a liver transplant in 2013. His recovery was challenging, as Mr. Trout had to learn to walk, talk and to play the guitar all over again.  Thankfully, he is now in good health, and many luminaries of the blues and rock world appear on this record to join in the musical festivities.
And what a list of luminaries.  Want some blues rock shuffle?  Kenny Wayne Shepherd kicks off the album trading blistering leads with Mr. Trout on "Gonna Hurt Like Hell."  Want slide guitar?  Sonny Landreth, arguably the greatest slide guitar player in the world, lends his talents to "Ain't Going Back."  Slow blues?  Charlie Musselwhite displays his stunning harmonica playing on "The Other Side of the Pillow." John Mayall and John Nemeth also contribute stellar harmonica playing on "Too Much To Carry." "She Steals My Heart Away" is blues with a jazz and soul vibe featuring Edgar Winter on saxophone.  Got a taste for burning rock 'n' blues?  Eric Gales and Joe Louis Walker trade monster licks with Mr. Trout on "Somebody Goin' Down" and "Crash and Burn."  Other artists who contribute their considerable talents to the album are Robben Ford, Mike Zito, Randy Bachman, Joe Bonamassa, and Mr. Trout's son, Jon, himself a gifted guitarist and vocalist.
All but one of the songs (a great cover of "The Sky is Crying" with Warren Haynes) is written by Mr. Trout in collaboration with the guest artist. It is a testament to Mr. Trout's songwriting skills that he tailors the songs to the strength of the artist he is partnering with, rather than making the artist conform to his own songwriting style. For most of the tracks, each of the guest artists recorded their part on their own, but you wouldn't know it by listening to the album, as it sounds like everyone is playing live in the studio. Mr. Trout's backing band (Johnny Griparic on bass, Michael Leasure on drums, and a rotation of Deacon Jones, Skip Edwards, and Sammy Avila on Hammond organ and piano) provide a rock-solid foundation.
The best is saved for last, with the title track, "We're All in This Together," recorded live in one take and featuring Mr. Trout and Joe Bonamassa trading fiery solo after fiery solo, with no intent to show anyone up but to simply share in the joy of playing music.  This one track alone is worth buying the album.
We're All In This Together is a worthy and welcome addition to Mr. Trout's extensive music catalog, and will please blues fans everywhere.
I welcome your comments.
Walter Trout's We're All In This Together Can Be found:
Website: https://www.waltertrout.com
Facebook: https://www.facebook.com/waltertroutband/
Spotify: https://play.spotify.com/album/1LoYVR4ZgY04tAMQyPIPRd