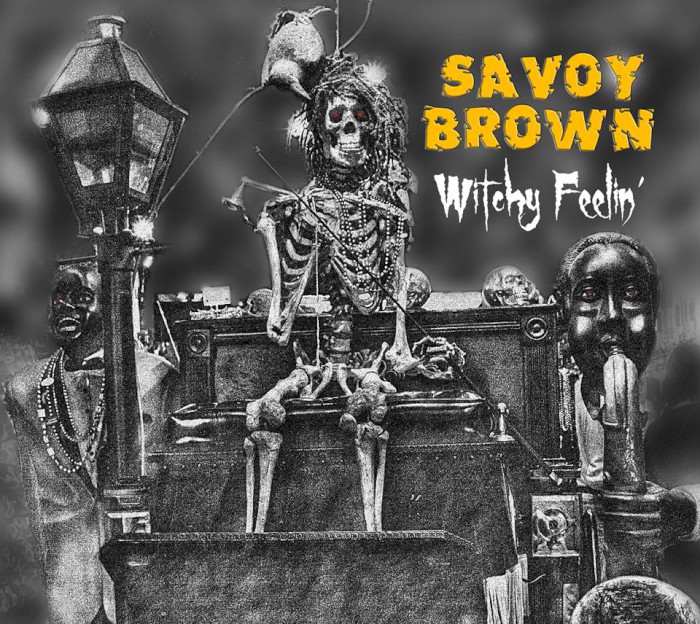 By Tom O'Connor
British blues band, Savoy Brown, is back with their new Bayou-via-Battersea collection, Witchy Feelin', released August 25th, 2017 on the tenacious German label, Ruf Records. With this release founding member and guitarist/vocalist, Kim Simmonds, reminds us all that even after 50+ years of preaching the blues, there is always more to say, more demons to exorcise.
From start to finish, the eleven-song collection showcases Simmonds baritone vocals and crisp, confident guitar-playing. Opener "Why did you Hoodoo me?" exudes confidence from the first note as it rolls out a gritty tale of love-as-a-spell. It is immediately followed by "Livin' on the Bayou" which unwinds like the best Mark Knopfler-esque story-song, filled with shady characters and their shady agendas, as told in the back booth of a bar with a dirt parking lot.
Title track, "Witchy Feelin," showcases the slow strolling bass of Pat DeSalvo. The rest of the band keys off every low note of the hypnotic bass line, no one in any hurry to blow you away, because they all know it'll happen eventually. The next tune, "Guitar Slinger," is a jumpstart back to harder blues driven by Garnet Grimm's killer steady beat. Again, with this tune, Simmonds' lead breaks are flawless; fully within the brackets of the Blues, but still fresh and cliche'-free.
From the opening slide notes of "Standing in a Doorway" you know this will be one of the standout tracks in the entire collection. Slow, heavy and legit in a way that a younger player could only simulate. You feel the weight of this tune like the heft of an empty shot glass that has been filled too many, but still not enough, times.
Just a track or two later, the band is back in full, no regrets, bombast mode with "Can't find Paradise," just in case you needed reminding that this band can scorch with the best of them. This is a song that will really take flight live. It is immediately followed by the unapologetic wah-wah driven "Thunder, Lightning & Rain." While the bass throbs through the verses like a heartbeat, this song manages the rare trick of feeling both slow and big. If you didn't already know it, and you should, you're clearly in the hands of experts here.
The album closes with "Close to Midnight," an instrumental exploration that is as much about what happens after the final bell tolls as it is a soundtrack for the drive home after last call. The tune is a subtle showcase of the kind of mastery that only comes after you've been bending strings for over half a century, but still have a few things to work out.
Witchy Feelin' by Savoy Brown can be found:
Website: http://www.savoybrown.com
Facebook: https://www.facebook.com/SavoyBrown65/
Spotify: https://play.spotify.com/album/42wdVNoOfz0Lle1TOha0kc