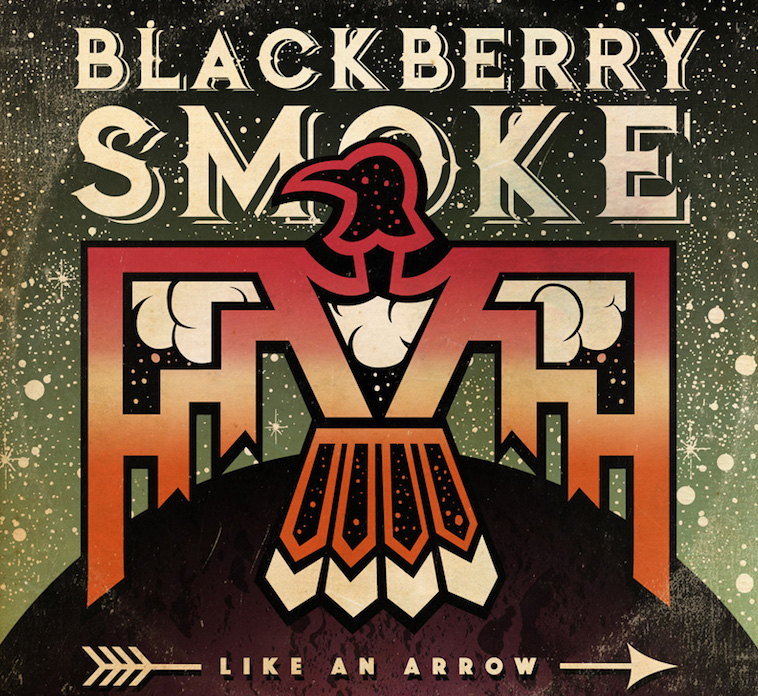 By Dave Resto
Since their debut in 2000, Atlanta-based Blackberry Smoke have become much-beloved by legions of loyal Southern rock fans. With their self-produced release, Like an Arrow (Earache Records, 2016), the band's fifth studio album and a major creative step forward in their continuing evolution, you've got to believe that there will be many more converts to the cause.
The twelve songs on Like an Arrow are testaments to the songwriting prowess of guitarist and vocalist Charlie Starr, as well as to the instrumental virtuosity of Starr and his bandmates: Paul Jackson, guitar and vocals; Brandon Still, keys; Richard Turner, bass and vocals; Brit Turner, drums. Together, they effortlessly move back and forth between old-school country and classic hard rock, touching on several other genres along the way.
'Waiting for the Thunder' charges in with a furious power-chord phrase to match the fury of the lyrics which are about to follow in this blistering lead-off track. "Light the fuse and run now brother, 'cause you ain't got a lotta time; better make your get away quick so you don't have to answer why," howls Starr over drums that sound like a stomping T-Rex. Crunching twin guitars, rumbling bass and dirty keys are packed in to create a formidable sonic tidal wave that washes over you and knocks you on your ass.
Starr uses his admirable gift for songwriting, both structurally and lyrically, to create the various array of compositions which ultimately makes Like an Arrow the modern masterpiece it is. From the raucous, almost rockabilly 'Let it Burn,' where he gleefully and unapologetically sings of burning down a town he can't wait to leave behind ("I'll watch the flames light up the sky; blow 'em a kiss as I wave goodbye.") to 'The Good Life', a lump-in-the-throat ode to fatherhood, set to a country waltz tempo, he doses out equal parts humor and sentiment to legitimately sell his story-telling.
'What Comes Naturally' is a fun country blues romp with honky-tonk piano, greasy slide guitar and cat-calls in the background. Easy to listen to, easy to like.
'Running Through Time' is another country-waltz, this time played with a breezy, jazzy feel; in fact, the guitars and keyboards have a familiar Allman Brothers quality, most especially during the slide guitar lead. It's one of three songs which deal thematically with the concept of the passage of time, the others being 'Ain't Gonna Wait' and the title track, 'Like an Arrow.'
'Ought to Know' and 'Working for a Working Man' may move at different tempos but they're both designed to set pelvises into motion. Whether you hear them in a bar room or an arena, you'll probably need a chaperone to keep you and your dance partner out of trouble.
'Believe You Me' is yet another grinder with a fat, funkalicious groove that sounds like it comes special-delivery from 1974. A simmering stew of rhythmic guitars, clavinet-style keyboard, slippery bass lines and drumming that would win the Levon Helm stamp of approval.