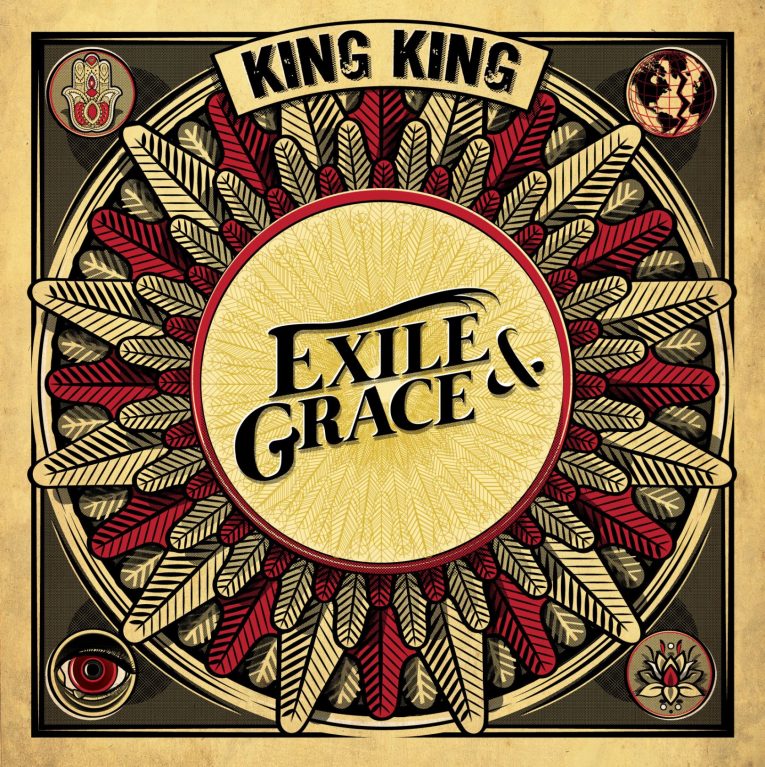 By Scott Bampton
Is there a more aptly named rock and roll outfit than King King? Their new album, Exile & Grace, will be released October 6th, 2017 on Manhaton Records. The Scottish four-piece have been the undisputed overlords of the UK blues scene since their Reaching the Light album swept the board at the British Blues Awards. That record earned five awards for the Glasgow band.
With Exile & Grace, King King have reached something of a career crossroads. It's their fourth studio album and it represents a notable, though not dramatic, musical departure. There's more of a distinct classic rock vibe to this album than on earlier records, as frontman Alan Nimmo explains, "There's an edgier, rockier feel this time around, but you've got the soulful ballads as well. It's still King King. It's just what we're doing now."
On the opening track "(She Don't) Gimme No Lovin,'" that classic rock influence is front and center. It's an anthemic, no-nonsense toe-tapper that smacks of "Won't Get Fooled Again" by The Who. As the album's lead single, it deservedly succeeded in earning generous radio airplay in the UK. "Find Your Way Home" is an emotionally-charged ballad with a tinge of country rock in the ilk of Lonestar. Bassist, Lindsay Coulson, also uses this track to showcase the enchanting "less is more" approach that won him last year's British Blues Award for best bass player.
In "Long Time Running," chief songwriter, Nimmo, has crafted yet another radio-friendly offering, complete with a potently simple vocal line and a lyrical hook that will find its way into some unconscious part of your brain. Quite how this happens is all part of the mystery of great songwriting and is the mark of Nimmo's knack for not over or under-thinking the lyrics he pens.
While the radio rock vein flows strongly through the album, there's still a blues-rock skeleton holding everything together. That's most evident on the ZZ Top-influenced, "Tear It All Up," which is the album's best example of the full range of King King's influences converging. It's a testament to the band's desire to continue maturing and developing, unafraid to tinker with the formula that's brought praise from fans, critics, and musical peers alike.
There's also a strong American influence throughout, with the lyrics and vocals sounding more Georgian than Glaswegian. Yet, the story behind the middle eight on "Nobody Knows Your Name" is a stark reminder of the band's very British grounding. Keyboard player, Bob Fridzema, apparently came up with the riff after messing around with a chord sequence "while the kettle was on."
Purchasers of the vinyl version will also score a bonus track – a cover of "Give Me All Your Love" by Whitesnake. It's a stripped back, toned down version of the 1987 metal crossover tune, with Alan Nimmo saying, "I wanted to record it and perform it in the way the old Whitesnake would have played it. We gave it a slower tempo and approached it like a classic rock tune." The reworked version triumphs in achieving the desired result and it's emblematic of King King's own metamorphosis into a more eclectically-influenced band.
All in all, Exile & Grace is an engaging journey through the next chapter in the King King story. Whether you're ready to listen in on that tale for the first time, or you've been around the King King campfire for years, Exile & Grace makes for captivating listening.
Exile & Grace by King King can be found: 
Website: https://www.kingking.co.uk/merchandise-exile-grace-pre-order
Facebook: https://www.facebook.com/kingkingalannimmo/
Spotify: https://open.spotify.com/artist/4SXsNXgRundFdewI58vbZT
Apple/iTunes: https://itunes.apple.com/gb/album/exile-grace/id1265860800