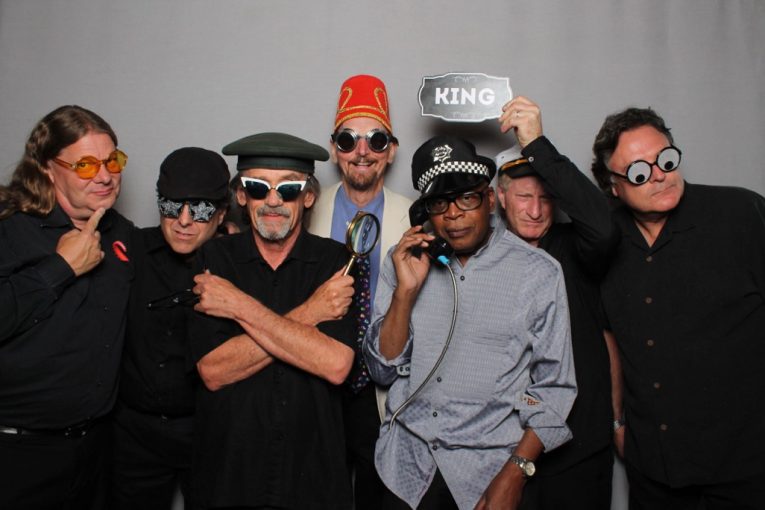 By Scott Bampton
Out now on Moon Voyage Records, Blues with Horns is album number 15 for Chris Daniels & The Kings with Freddi Gowdy. Described as "Keb' Mo' with horns" and "John Hiatt meets Tower of Power" this horn-driven blues, R&B, funk and rock'n'roll album definitely rocks. And while many artists will attest to the new lease on life that a late-career album release can bring, for Chris Daniels, that rings true in a literal sense. Having been diagnosed with acute Myeloid Leukemia, doctors told Daniels he had less than a 25% chance of surviving for more than five years. That was seven years ago.
Since then, Grammy Award-nominee and Colorado Music Hall of Famer, Chris Daniels and his seven-piece band have toured the world and played more than 100 shows per year. And now that Daniels is done kicking cancer's ass, he's back to kick a little more. In the 10-track Blues with Horns, he has a steel toe-capped buckaroo boot to wear while he does it.
A blues record at heart, the album benefits from liberal smatterings of R&B, funk, and rock n' roll, all complemented by a big-band style brass and woodwind section. It's an unusual concept–not earth-shattering but still an admirable twist on blues music.
The infectious modern ballad, "Sweet Memphis," kicks off the brassy affair, with Santana-esque guitar lines laser-cutting through spaces in Daniels' and co-singer Fred Gowdy's vocals. And while Santana himself may have borrowed heavily from blues and jazz, Chris Daniels & The Kings truly cash in the repayment check, including the interest owed.
Throughout the album, lead axeman, Colin "Bones" Jones plays guitar deftly, shredding through Latin, blues, and jazz rhythms. When those lead guitar lines fire up, they dominate the mix but Jones' playing always gives the vocals ample breathing space. On tracks like "Sweet Memphis" and "Them Changes," the two melodically converse back and forth while barely ever overlapping. Juxtaposed by Randy Amen's shuffling drum beats and Kevin "Bro" Lege's jumping bass lines, the result is like a flirtatious discussion in a secluded corner of a Tennessee dance hall.
Video Premiere of "Sweet Memphis"
Perhaps it's down to the inclusion of a horn section on the record, but there are faint echoes of Daniels' '80s contemporaries. That includes some from outside the blues sphere, like Dire Straits, Peter Gabriel, and Robert Palmer – a testament to Daniels' uncanny ability to borrow from a wide range of genres, as well as from every era of blues history.
Instrumentally, the album achieves a nostalgic atmosphere by pitching diametrically opposite production techniques against each other – like the clean-as-a-whistle ragtime honky tonk piano of "Can't Even Do Wrong Right" compared with the distorted effect on the harmonica on "Wouldn't Treat a Dog (The Way You Treated Me)." It's on the latter track that Daniels' and Gowdy's sassy-come-soulful vocals really come to the fore, as if Graham Parker and John Mellencamp had a bone to pick with each other. And lyrically, there's a consistently robust theme of honest storytelling throughout the album. One such yarn, "Fried Food/Hard Liquor," is a straight-talking ode to southern diners, from the greasy fare they serve up to the dicey characters that frequent them. It makes you feel a little on edge. And a little hungry.
But Daniels serves up the spiciest lyrical dish on closing track, "Rain Check." With its round-the-piano singalong vibe, Daniels uses the song to muse over his second chance at life and the bittersweet dilemmas that come with it–even taking cheeky jabs at well-meaning friends who inquire about his health. Through telling lines like "either get busy living or get busy dying," and "got way too much to live for, and way too little time," Daniels recounts the wisdom by which he now lives. It's a testament to the themes that punctuate the album– poignant, playful, and thoughtful, all at the same time.
Blues with Horns confidently trumpets its refreshing, frank messages over a genre-bending blues-powered sound clash.
For more information on Chris Daniels & the Kings and Blues With Horns: 
Website: http://www.chrisdaniels.com
Facebook: https://www.facebook.com/chrisandthekings/
Spotify: https://open.spotify.com/artist/6xAMmfJ14eSeZ2BatUS48I?autoplay=true
Apple/iTunes: https://itunes.apple.com/gb/artist/chris-daniels-the-kings/id2575695