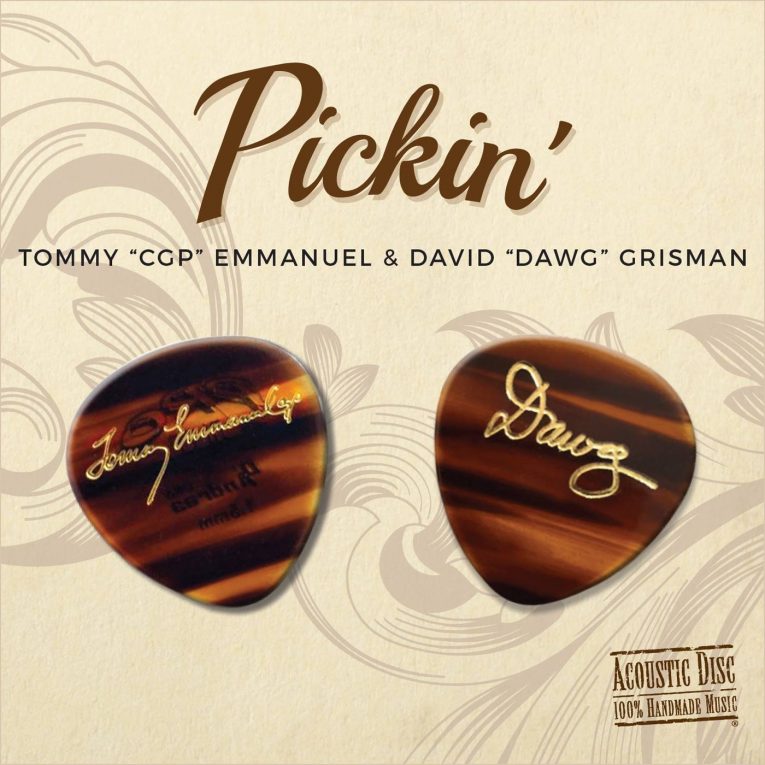 Esteemed guitarist, Tommy Emmanuel joins forces with celebrated bluegrass mandolinist, David Grisman for a new collaborative album entitled, Pickin', available in stores and at all digital retailers on November 3rd, 2017. This marks the first recorded collaboration between these two musical titans and arrives on Grisman's own Acoustic Disc record label.
Known for his virtuosic fretwork, fiery fingerpicking, and airtight song craft, Emmanuel continually shreds through boundaries with his acoustic guitar on these 12 new songs. Not only does Pickin' reflect his signature classical, Americana, folk, and roots stylings, but it also artfully merges jazz rhythms, jamming, and unpredictability in the mix. Among many standouts, his playing seamlessly intertwines with Grisman's mandolin during the first single "Tipsy Gypsy". Meanwhile, "Cinderella's Fella" swings from a brusque and galloping opening into a passionate and poignant pastiche of harmonious technicality.
In 2017, Emmanuel and Grisman linked up and laid down these compositions. Bringing their chemistry to the stage, the duo will embark on the 12-date Emmanuel and Grisman, November 3-18. For more information and to purchase tickets, visit: http://tommyemmanuel.com/tours/.
Get ready for this best Pickin' you'll hear all year, maybe even this decade!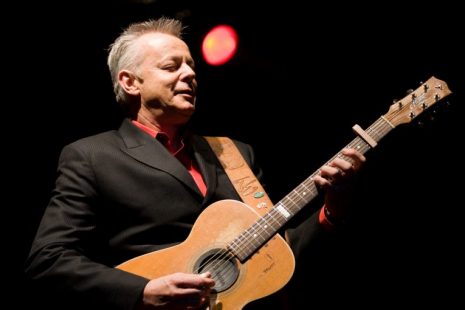 Pickin' Track listing:
"Zorro's Last Ride"
"Cinderella's Fella"
"CGP & Dawg"
"Farm & Fun Time"
"Newly Wedding"
"Sweet Georgia Brown"
"Standing Rock"
"Dawg's Waltz"
"Tipsy Gypsy"
"Tracy's Tune"
"Port Townsend Blues"
"Waltzing Matilda"

ABOUT TOMMY EMMANUEL:
Give a listen to "Old Photographs," the closing track on Tommy Emmanuel's It's Never Too Late, and you'll hear the distinctive squeak of finger noise as he runs his hands across the frets of his Maton Signature TE guitar. Many musicians would edit those imperfections out, but to Emmanuel, those imperfections are perfect.
A master guitarist, Tommy Emmanuel started professionally at age 6, rising through the ranks as a studio player and member of several Australian rock bands before he set off on a solo career. One of only five musicians handpicked by his mentor, Chet Atkins, as a Certified Guitar Player (CGP), he's piled up numerous accolades, including two Grammy nominations, two ARIA Awards from the Australian Recording Industry Association (the Aussie equivalent of the Recording Academy) and repeated honors in the Guitar Player magazine's reader's poll.
A noted fingerstyle guitarist, Tommy Emmanuel frequently threads three different parts simultaneously into his material, operating as a one-man band who handles the melody, the supporting chords and the bass all at once. His talents, which translate in any language, carry him to the far corners of the globe, but Emmanuel never plays the same show twice, and he improvises big chunks of every date. That leaves him open to those technical imperfections, though they also provide some of the humanity to an other-worldly talent.
ABOUT DAVID GRISMAN:
For half a century, mandolinist/composer/bandleader/producer, David Grisman has been a guiding force in the evolving world of acoustic music. His musical range is wide and deep, embracing many styles, genres and traditions. An acoustic pioneer and innovator, David forged a unique personal artistic path, skillfully combining elements of the great American music/art forms of jazz and bluegrass with many international flavors and sensibilities to create his own distinctive idiom of "Dawg" music (the nickname given him by Jerry Garcia.) In doing so, he's inspired new generations of acoustic string musicians, while creating his own niche in contemporary music.
For more information on Pickin' and Tommy Emmanuel and Dave Grisman:
Website: http://tommyemmanuel.com
Facebook: https://www.facebook.com/tommyemmanuel/
Tour: http://tommyemmanuel.com/tommy-emmanuel-david-grisman-cgp-dawg-tour/