By Scott Bampton
Out now on C.R. 8 Records, High-Dollar Gospel is the seventh record from Virginia's own mountain bluesman, Eli Cook. In a similar vein to 2014's "Primitive Son", Cook has opted to devote the lion's share of the album's track listing to re-workings of songs by well-known blues artists. But if you're thinking that points to a lack of imagination or ambition, think again. Because Cook has bags full of talent and a knack for flipping the familiar on its head.
In terms of guitar playing, opening track, "Trouble Maker" demonstrates the chops that saw Cook score opening slots for BB King at the tender age of 18. Sliding, shredding, and picking with equal aplomb, "Trouble Maker" proves Cook knows exactly when to match – and when to break free from – a bone-rattling drum track.
Cook's husky vocal tones are also stunningly versatile. On slower numbers like "Pray for Rain", Cook sounds like some fantastic hybrid of John Lee Hooker and Jack Johnson. Then, when grittier offerings like "King of the Mountain" crank up the volume, Cook flips the Seattle grunge switch and drives his vocal chords to near breaking point.
Yet, Cook's roots couldn't be further from the Rain City – culturally and geographically. Thanks to his upbringing in Virginia's Blue Ridge Mountains, Cook's style evokes a strong spirit of agrarian roots; the stripped-back production and instrumentation on the mournful "Mother's Prayer" paints a mental picture of Cook recounting a bittersweet tale around a campfire. Similarly, the lead guitars on Cook's down-tempo version of Muddy Waters' "Can't Lose What You Never Had" echo distantly in the mix, like wolves howling from a far-off ridge. And on the haunting "Mixing My Medicine," the tonally complete sound comes courtesy of a down-tuned custom 12-string guitar.
There's also a continuing theme of spirituality clashing with the rigors of modern life, with the album's curious title perhaps an ironic nod to an ideological battle between the church and the almighty dollar. Speaking about naming the album, Cook says, "The two phrases together can have several connotations, but the one I think of is the feeling of disillusionment that seems to be more and more pervasive. I think a lot of young people feel a sense of apathy and a loss in direction, generally speaking. People need inspiration, and it seems like that is becoming harder to come by."
In that vein, Cook's vocals and guitar playing are wonderfully schizophrenic throughout the record, somehow managing to sound joyous and sorrowful at the same time; the laid-back recreation of
Bob Dylan's
"I'll Be Your Baby Tonight" demonstrates Cook's uncanny ability to take an impassioned classic and make it sound nonchalant. Almost unrecognizable from the original recording, Cook's version complements his soulful vocal style by slowing the beat down to half-time and making the chord changes as lazy as possible. It's a brilliant tribute to Dylan and testament to Cook's ear for making well-known tunes his own. Cook's version of Howlin' Wolf's "44 Blues" is similarly inventive, with the roots classic getting a toe-tapping makeover.
When Cook does showcase his own songwriting ability, he does so with swagger. Each original has its own part to play on the album, working together to neatly fill stylistic gaps. A great example is the jovial-yet-foreboding "The Devil Finds Work", whose slide guitars segue the danceable "Trouble Maker" into the darker "Mixing My Medicine".
Confidently dodging the cliché of playing token tribute to bluesmen of the past, Eli Cook proves on High-Dollar Gospel that it is possible to re-invent a well-worn wheel. Balancing clever re-workings with some impressive originals, Cook has marked out blues territory all of his own.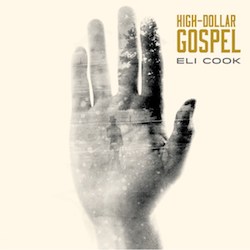 For more information on High-Dollar Gospel and Eli Cook:
Website: http://elicook.com
Facebook: https://www.facebook.com/EliCookOfficial/
Spotify: https://open.spotify.com/album/3fYbuTK8dQdYpMn8JS8Atf
Apple/iTunes: https://itunes.apple.com/us/album/high-dollar-gospel/1258971091