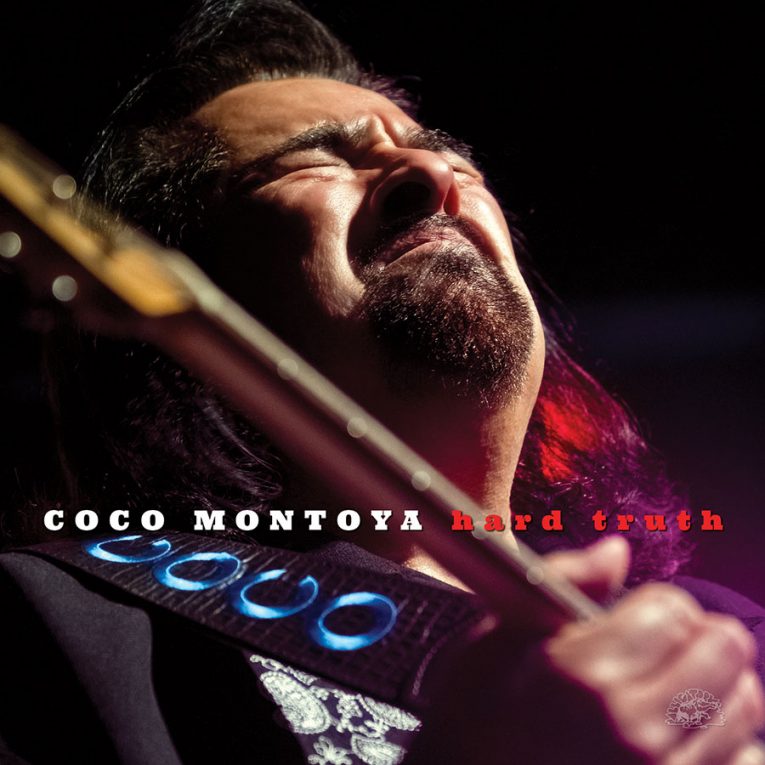 By Tom O'Connor
After a short stint on Ruf Records, formidable blues guitarist and singer, Coco Montoya returned to his previous Alligator Records home for his ninth album, this year's Hard Truth, an 11-track collection of mostly covers that Montoya makes his own with his diamond-edged guitar playing and full-throated vocals.
Supported by Mike Finnigan on keys, Bob Glaub on bass and with producer Tony Braunagel playing drums on every track, Montoya has all the room he needs to remind listeners that the blues are alive and he is here to testify.
The collection opens with a romping workout on the Allman Brothers' "Before the Bullets Fly" that Montoya owns with confident vocals and his seemingly effortless guitar. The good-time vibes continue on "I Want to Shout About It," probably the most upbeat and radio-friendly shuffle in the entire deck. Especially noteworthy on this track is the interplay between Coco's guitar and the tasteful Hammond organ work by Finnigan. Definitely a stand-out album track and likely a crowd favorite live.
Things get serious but don't slow down with the cautionary, "Lost in the Bottle." Some guest slide guitar by Lee Roy Parnell really puts this track over the top. The exploration of the soul-side of the blues continues on the equally serious, but definitely deeper grooving "Old Habits are Hard to Break," a song that washes over you one feeling at a time.
Thanks to Natasha at 1AnitrasDance for the video.
On break-up song "I'll Find Someone Who Will" once again, it is Finnigans' keyboard work that really pulls all the elements of this one together. Montoya's guitar takes a backseat to his loose, buoyant vocals here, although the short guitar breaks are, of course, perfect. Things take their darkest turn on. "Devil Don't Sleep," a neo-classic slow-rolling, swampy and haunting hoodoo-voodoo song that once again reminds listeners that Coco's guitar chops are matched by his vocal abilities.
One of the bonus gems of a Coco Montoya album is always whatever Albert Collins cover he includes. This time he pulls us out of the Devil's swamp with his mentor's "The Moon is Full." The almost funky, syncopated jive of this tune lets Coco turn loose some of the collection's tastiest lead breaks. One of just two originals on the album "Hard as Hell" comes next, with a foot-stomping tale of exactly the kind of bad girl who can put a bad boy in his place. Once again Montoya's vocals are as believable as his guitar-playing is unbelievable.
The album closes out with two solid tracks. First, another deep dip into the heavy 60's soul-blues with Johnnie Taylor's "Where Can a Man go from Here?" that again showcases Montoya's soulful near-croon and emotionally rich guitar playing. The collection closes on an upbeat note with "Truth Be Told." The entire band uses this last chance to really stretch out for a funky good time on this mid-tempo toe-tapper that pushes the beat with a wah-driven groove and takes us home with a final furious guitar break.
This collection showcases what a 65-year-old player can achieve after paying the decades of dues required to call yourself a true "Bluesman." He has never sounded better. Coco rules.
For more information about Hard Truth and Coco Montoya:
Website: https://www.cocomontoyaband.com
Facebook: https://www.facebook.com/CocoMontoyaBand 
Apple/iTunes: https://itunes.apple.com/us/album/hard-truth/id1203130345
Spotify: https://open.spotify.com/album/6gygETJD98ywdEOaae3MGw