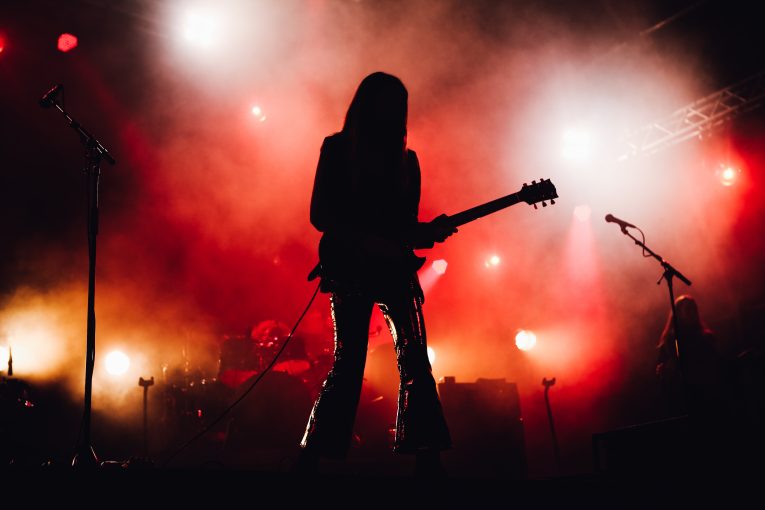 By Martine Ehrenclou
I thought it time to shine the spotlight on some extremely talented female guitarists. They are awesome players and many are accomplished vocalists and songwriters as well. Since female guitarists aren't featured as prominently as men, maybe because there are fewer of them, we wanted to showcase some extraordinary guitarists and perhaps introduce you to some as well.
The list is in no particular order. This is part one of a two-part article.
Enjoy!
Ana Popovic
The only female guitarist as part of the Experience Hendrix tour in 2014, Ana Popovic is a fierce guitarist/singer. With slamming guitar licks and solos, Ana plays blues, jazz and rock and is endorsed by Fender, D'Angelico and Jim Dunlop. She's been nominated for six Blues Music Awards, and most recently was nominated for "Contemporary Blues Female Artist" by the 2017 Blues Music Awards. Her latest album, Trilogy was also nominated "Rock Blues Album" by the 2017 Blues Blast Music Awards.
Website:  http://anapopovic.com/home
Thanks to nfbeer for the video.
Orianthi
Extraordinary guitarist and singer, Orianthi, at 24 yrs old opened for Steve Vai and Carried Underwood. She shared the stage with Michael Jackson and was tapped to be in Jackson's band for the "This is It" performances at the O2 arena in London. From Australia, Orianthi has also played with Carlos Santana, Prince, Alice Cooper, Richie Sambora, and others. She was named "Breakthrough Guitarist of the Year" by
Guitar International
magazine. With three released albums, Orianthi has a new album with Richie Sambora,
RISE
, a five-song EP released in September 2017.
Facebook:
https://www.facebook.com/Orianthi/
Thanks to Jenn Rogers for use of the video.
Joanne Shaw Taylor
Established as the UK's number one blues-rock singer/guitarist, Joanne has released critically acclaimed albums to her global fan base, which includes Joe Bonamassa, Tedeschi Trucks, and Kenny Wayne Shepherd. Originally discovered by Eurythmics' Dave Stewart as a 16-year-old guitar prodigy, Joanne was voted "Best British Female Vocalist" at the British Blues Awards in 2010 and 2011. Her latest and fifth studio album,
Wild
, was released September 2016. Joanne is not to be missed. She is currently on tour.
Website:
https://www.joanneshawtaylor.com
Bonnie Raitt
More than a bestselling artist and highly respected blues, roots, Americana guitarist, vocalist and songwriter, Bonnie Raitt is an institution in American music. She is also a ten-time Grammy Award winner and was inducted into the Rock and Roll Hall of Fame in 2000. Her 17th
th
album,
Dig in Deep
, was released in 2016 and earned her a nomination for "Artist of the Year" at the 2016 Americana Music Honors and Awards. Bonnie is one of America's favorite female musicians. She is currently on tour and continues into 2018.
Website:
https://www.bonnieraitt.com
Thanks to Colin Hay for the video.
Susan Tedeschi
Susan Tedeschi is an American singer and guitarist and multiple Grammy Award nominee, Grammy Award winner, and multiple Blues Music Award winner. She formed the Susan Tedeschi Band in 1993 and opened for BB King, Buddy Guy, The Rolling Stones, The Allman Brothers Band, Taj Mahal, and more. She formed the Tedeschi Trucks Band with husband, Derek Trucks, in 2010. Her killer vocals and guitar chops are showcased on her six solo albums and on five albums as a part of the Tedeschi Trucks band. Their latest album,
Live from the Fox Oakland
, is nominated for a 2018 Grammy Award for "Best Contemporary Blues Album." Tedeschi Trucks will be on tour starting January 2018.
Website:
http://tedeschitrucksband.com/susan-tedeschi/
Shannon Curfman
Shannon came on the blues-roots rock scene in 1999 at the age of 14 with her major label debut for Arista Records,
Loud Guitars, Big Suspicions
. This stunning guitarist/singer/songwriter has been Kid Rock's guitarist and backup singer since 2010. Shannon has toured with Buddy Guy, ZZ Top, Carlos Santana, Jeff Beck and many more. She's played on Letterman, Good Morning America, and other TV shows, and has recorded with Bob Seger, Buddy Guy, Keb' Mo', Kid Rock, John Mayall and Joe Bonamassa, and more. With four albums to her name, she is considered a standout guitarist. Shannon is currently on tour.
Website:
http://www.shannoncurfman.com
Thanks to bluzdudemi for the video
Ruthie Foster
The winner of multiple Blues Music Awards, nominated for Grammy Awards three times, and more, Ruthie Foster is an extraordinarily talented American singer/songwriter/guitarist of blues, rock, soul and gospel music. Having released ten albums, and her latest,
Joy Comes Back
(2017,) Foster performed with the Allman Brothers Band, sang with Bonnie Raitt and Susan Tedeschi, toured with the Blind Boys of Alabama and Warren Haynes, and appears on Haynes' album,
Man in Motion
. Ruthie tours worldwide and is known for her dynamic live performances, soulful voice and excellent guitar skills. She is currently on tour.
Website:
http://www.ruthiefoster.com/home
Thanks to Mouldytone for the video.
Samantha Fish
After launching her recording career in 2009, Samantha Fish quickly established herself as a rising star in contemporary blues. Since then she is regarded as a critically acclaimed guitarist, powerful vocalist, live performer, and talented songwriter. She won "New Artist Debut" in 2012 by the Blues Music Awards and won two awards from the 2017 Independent Blues Awards. A prolific musician, Fish has released nine albums in the last 8 years and her music spans the blues, R&B, Americana, and roots genres.
Website:
http://www.samanthafish.com
Thanks to Jayhawk Blues Dad for the video.
Part 2 coming soon! If you would like to see certain female guitarists included in our Part 2 of this article, please let us know who they are in the comment section below. Thanks!