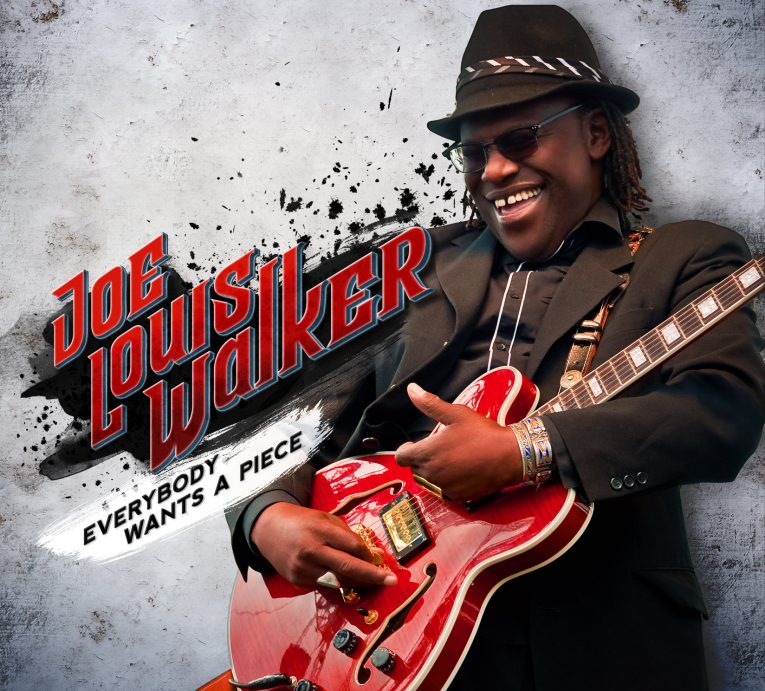 By Scott Bampton
Out now on Provogue Records, Everybody Wants a Piece is the 23rd full release from Blues Hall of Famer, Joe Louis Walker.
The record was nominated for a 2017 Grammy in the contemporary blues album category, along with eventual winner The Last Days of Oakland by Fantastic Negrito. And a single listen is all it takes to see why record industry experts agreed Everybody Wants a Piece was one of the finest modern blues albums of the year.
Right from funky opening title track "Everyone Wants a Piece," JLW keeps you on your toes courtesy of lazy slingshot bass riffs, seamless key changes (including one in the first 30 seconds), and clever discordant guitar riffs. Containing no fewer than three guitar solos, "Everyone Wants a Piece" is Walker's fierce statement of intent for the album ahead – "strap yourself in, because there will be no holding back."
"Witchcraft," made famous by Cy Coleman and Frank Sinatra, gets a sorcerous reworking thanks to some funk-laden production values; a distinctive wah effect on the rhythm guitar track gives the crooner's classic a 1970s vibe. Meanwhile, a distorted lead guitar track shreds and wails for the duration, adding classic rock flair in the vein of Deep Purple. The result is a wickedly refreshing concoction – completely unrecognizable from the original recordings – that transports the cocktail lounge ballad into the seediest 70s dive bar you could ever imagine.
Taj Mahal's "Do I Lover Her" also gets a full JLW makeover, with Walker adding a keyboard-led psychedelic rock twist to the mix – perhaps harking back to Walker's brief dip into the genre when he first picked up a guitar at age 14. Similarly, Tom Hambridge's and Richard Fleming's "Buzz on You" gets a honky tonk refresh, with a danceable beat laying an unusual foundation for Chuck Berry-esque guitar solos. There's even space for a few staccato stabs – oddly, it somehow keeps the song flowing, rather than the fragmented result you'd expect.
On "Black and Blue" Walker continues his theme of departure from the expected, dragging himself way out of his already expansive comfort zone. An '80s-style ballad at heart, the track is strongly reminiscent of Foreigner and Alannah Myles. Thanks to some stripped-back guitar playing, Walker's signature vocals shine through the mix, elevating the song to a soulful plane while paying testament to JLW's fearless nature; it takes real self-assuredness for such a legendary blues guitarist to use an instrument they've mastered, instead of relying on vocals alone to carry the melody.
On the opposite end of the scale is the instrumental "Gospel Blues." While the echoing organ is characteristically gospel, the guitars stutter and wail across a bafflingly wide range of octaves and scales – offering a jazzy take on church music.
"One Sunny Day" and "Wade into the Water" signal JLW's return to more familiar territory. The two straightforward blues numbers let the guitar work do the heavy lifting – the simple structures and melodies allow just enough breathing space for some fruity drum rolls and bass slides courtesy of studio band members Byron Cage and Lenny Bradford respectively.
And the album offers up a big finish, with Buddy Guy's "Man of Many Words" setting up original 12-bar track "Young Girls Blues," before closing with the Walker-penned rock'n'roll stomper, "35 Years Old."
Thirty-plus years after debuting, Joe Louis Walker manages to still sound fresh and original on a late-career album half-filled with covers. And thanks to its deserved Grammy nomination, Everybody Wants a Piece will have fans hoping for more releases.
Joe Louis Walker is currently on tour through 2018. Check out his tour schedule here https://www.joelouiswalker.com/tour/
For more information on Everybody Wants a Piece by Joe Louis Walker:
Website: https://www.joelouiswalker.com
Facebook: https://www.facebook.com/joelouiswalker/
Amazon: https://www.amazon.com/Everybody-Wants-Piece-Louis-Walker/dp/B0135DMQIC