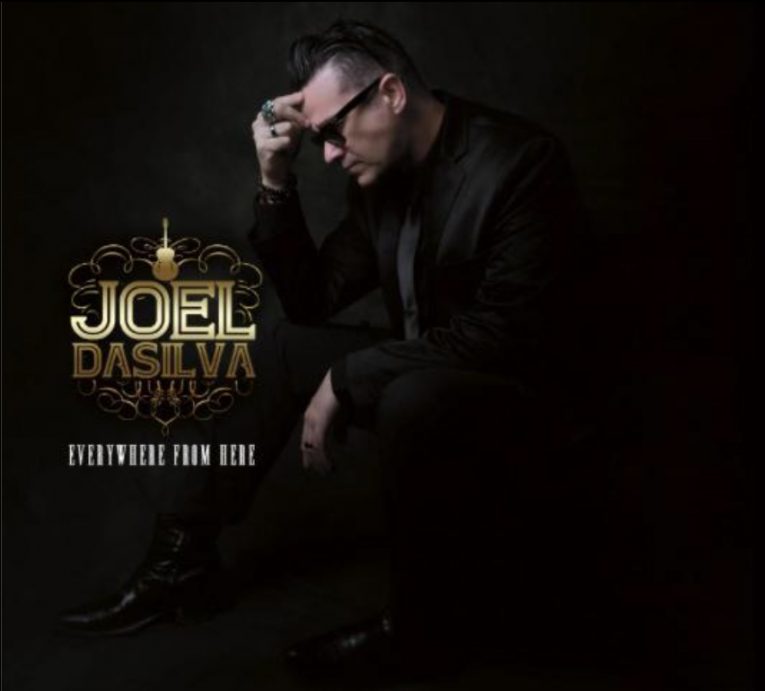 By Kevin Porter
We're beginning a new year, and one fun thing to do is to look backward and visit a music gem released in 2017. Joel DaSilva's Everywhere from Here, released in September 2017, on Track of Life Music, is one such album that certainly flew under my radar. The Fort Lauderdale, Florida-based guitarist shows off a dizzying diversity of musical styles on this album, ranging from classic blues and blues-rock to jump blues and modern rock, all of it anchored by the rock-solid rhythm section of Robert Cleary on bass and Chris Peet on drums, and some very fine guitar playing and singing by DaSilva.
The album kicks off with "Shake," a sultry, bluesy rocker with a hard beat on the toms and a grinding beat that will instantly get your foot tapping and body moving. DaSilva fires off several short stinging leads in after each line of lyrics that fit in well with the song—not too flashy but meaty enough to attract notice. DaSilva sings this song with a growl, matching well with the overall snarl tone of the song. It's a great way to kick off an album, and not surprisingly, "Shake" was released as a single and made into a video.
The first head-jerking change in musical style comes with the very next song, "Everyday Man," a rock ballad with some smooth vocals from DaSilva that contrast sharply with the growl he showed off in "Shake." Indeed, the versatility that DaSilva displays throughout the album, not only with his guitar playing but with his vocal stylings, is impressive.
The growl and snarl come back in "Down to the Delta," which as the title implies, is a delta-style blues song with a rock twist.
Tom Regis
' organ provides a nice foundation for DaSilva to exercise his vocal demons and to flash some delta-style guitar solos. Another big change in musical style comes next with "Chasing the Sun," a country-style song with
John Calzavara
on pedal steel and country-style vocals from DaSilva. Think of Jason Isbell but with even more of a blues undercurrent. DaSilva and Calzavara trade off some nice licks during the middle of the song.
"Cadillac Mama" is a slower, jump blues swing, and DaSilva shows off a jazzier side with his guitar playing. He also trades some nice vocals with Natasha Watkins. "Bad World" goes off in yet another direction, with a calypso beat and backing from accordionist, Alejandro Sanched. DaSilva returns to this calypso/jazzy musical style with the last track on the album, "My Brazilian Soul," an instrumental that pays homage to his family heritage. DaSilva rocks out with "This Day I Bleed" returns to some rocking blues with "Spell on Me" and shows off his soulful side with, "Time Heals All Wounds."
DaSilva's father was a touring singer/guitarist in Brazil, and his mother a singer from Ukraine, which certainly explains the diversity of musical styles shown on this album. Asked to describe his musical style and sound, DaSilva replied, "If Johnny Cash were to meet up with Buddy Guy while having a few drinks with Bruce Springsteen at a Brian Setzer concert!"  One only has to listen to Everywhere from Here to realize that DaSilva was completely serious, but his musical chops are strong enough to pull it off, and to do so with ease. DaSilva is an artist to watch.
For more information on Everywhere From Here and Joel DaSilva:
Website: http://joeldasilvamusic.com
Facebook: https://www.facebook.com/joeldasilvamusic/
Spotify: https://open.spotify.com/album/25uXH0o94VVr2aN5UhV4or