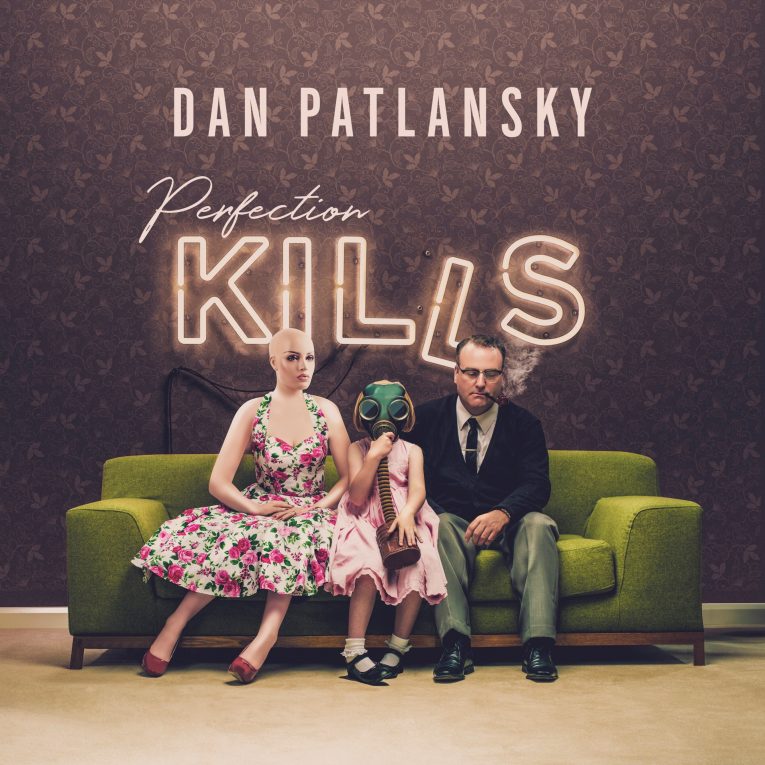 By Scott Bampton
Due out on Friday, February 2nd, Perfection Kills is the ninth release from South African blues-rock guitarist, songwriter, and vocalist, Dan Patlansky. Picking up right where his 2017 Introvertigo left off, Perfection Kills proves Patlansky is a guitar slayer, a killer vocalist, and now, a sharpshooter behind the mixing console. While long-time producer Theo Crous (who worked on Patlansky's previous two albums) was involved in the writing and pre-production stages, Patlansky opted to produce Perfection Kills himself. Far from being an exercise in self-ego-massaging, it's an inspired decision, as the pristine production values perfectly complement Patlansky's signature brand of stadium blues. After all, who knows an artist's music better than themselves? And when that artist knows their way around a studio the way Patlansky does, the result is a career-best record.
Opening up with the AC/DC-like "Johnny", Patlansky rasps in his grungy timbre, "Hit 'em high, hit 'em low, hit 'em hard," which sets the tone perfectly for the record ahead. Throughout the album, hard-hitting guitar riffs come at you from all angles – some in a brutal frontal assault, others as a sneaky haymaker when your guard is down. It's a testament to Patlansky's songwriting dexterity, which is on full display on "Junket Man" – sounding like a cheeky blues-rock spin on James Barry's immortal, "James Bond Theme." For the majority of the three-minute track, Patlansky tones down his guitar playing, allowing Andy Maritz's drums, Dean Barrett's keys, and Clint Falconer's bass to create a smooth groove. That's until lightning-fast guitar sweeps fly out of nowhere right as the song seems to be winding down to a conclusion. It's unexpected twists like these that prove Patlansky has continued to mature as a musician, moving further and further away from the guitar solo-heavy work of his early career.
"Shake the Cage" also proves Patlansky has mastered that advanced blues guitar skill of knowing when not to play – during the song's two brief solos, he mutes his strings after each stroke, rather than letting the notes ring out. The staccato effect creates ample space for the song to breathe, and the tune benefits greatly from the resulting feeling of completeness. That organic approach to writing and producing is no accident, as Patlansky explains how Perfection Kills differs from previous releases: "To me it feels like a band playing live in the studio which isn't far from the truth…the songs are still the priority and always will be, but on this album, they come across far closer to the way they will sound live."
"Dog Day", the first single off the record, is perhaps the most "live" sounding track. The South African is clearly influenced as much by US stadium rock bands like Live,
Soundgarden
, and
Pearl Jam
as he is by American blues. And as the head-banging chorus to "Dog Day" struts confidently along the divide between the two genres, the various accolades bestowed upon Patlansky (including "world's fourth best guitarist" as named by the UK's Total Guitar magazine), seem 100% justified – from the heavily distorted verse riff to the wailing solo, Patlansky proves there's nothing he can't accomplish with six strings.
While many artists might wither at the thought of releasing two albums in ten months, Patlansky flourishes. There's no hint of the album feeling rushed, and there's no questioning his decision to self-produce the record. Striking a skillful balance between natural musicianship and intelligent songwriting, Perfection Kills cements Dan Patlansky's status as one of blues rock's most accomplished hitmen.
Dan Patlansky will be on tour March 2018, see tour info https://danpatlansky.com/shows
For more information on Perfection Kills by Dan Patlansky and to pre-order the album:
Website: http://danpatlansky.com
Facebook: https://www.facebook.com/danpatlanskymusic/
Apple/iTunes: https://itunes.apple.com/us/album/perfection-kills/1309944887