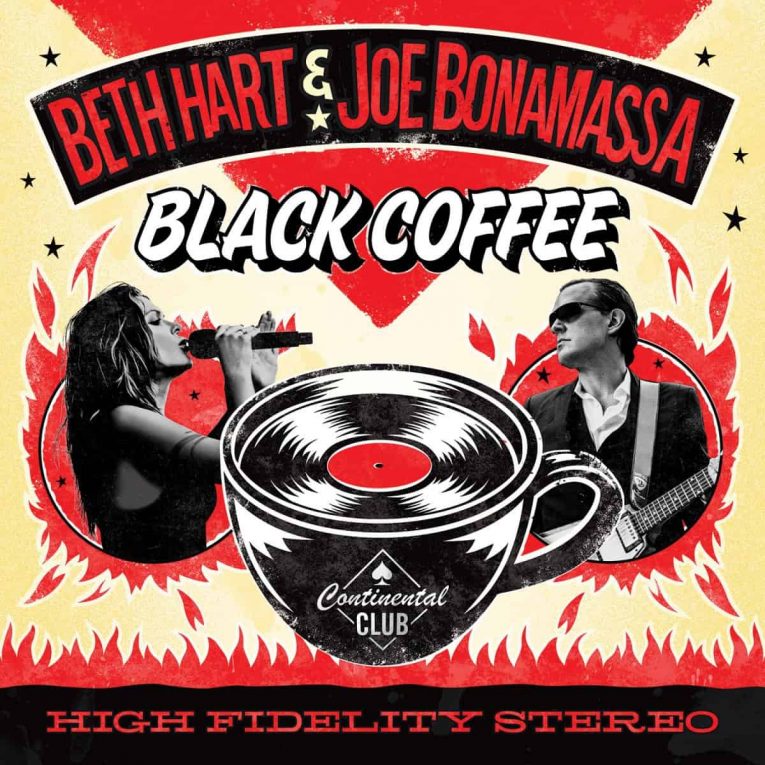 By Tom O'Connor
With the much anticipated January 26 release of Beth Hart and Joe Bonamassa's new album, Black Coffee, Mascot Label Group launches their new year with a surefire winner. Four years ago, these two powerhouse artists teamed up for a scorching and tough-to-top album, but this follow-up still manages to take things to another level.
Recorded in just five days in Las Vegas, with top-shelf producer Kevin Shirley and A-list musicians Anton Fig (drums) Michael Rhodes (bass) Reese Wynans (keyboards) and Lee Thornburg (horn arrangements/trumpet/trombone) and Paulie Cerra (saxophone,) this collection of covers was carefully chosen to highlight both Beth Hart's powerhouse voice and Joe Bonamassa's masterful guitar work. The final result is a thoroughly enjoyable collection of fairly obscure soul songs from well-known singers and players.
I love a record that starts out by immediately throwing down the gauntlet, and opening track "Give It Everything You Got," from Edgar Winter's White Trash album, does exactly that. The song title is a promise to you from the band, and in the first 23 seconds of the song you get an unstoppable, gritty guitar riff, punchy horns, soaring back-up singers and the first sample of Beth Hart's easy vocal power. The message is clear and you know what you're in for. Strap in and keep your arms inside the vehicle at all times.
The fearlessness that comes with mastery continues on the next song as Hart steps up to the mic and wrestles the legacy of Etta James to make "Damn Your Eyes" her own, while still leaving room for Bonamassa's guitar to cut you pretty deep too.
Title track, "Black Coffee" gets a new look and feel, with Joe's guitar giving a much harder blues edge to the usually funkified track and Beth's vocals treating the lyrics like life-and-death. This is not the almost 'novelty track' version that Humble Pie made popular. This gets closer to the sweat and rumble of the original writers, Ike & Tina Turner.
I imagine it is pretty easy for Beth Hart to overpower any song on the planet and turn it into an ass-kicking, which makes her extraordinary control throughout "Lullaby of the Leaves" so jaw-dropping. It would be a show stopper of a song even if it didn't also include a searing, slow-building guitar finale from Joe. No one listening to this track would guess it was a Broadway show tune from the '30s that Ella Fitzgerald covered in the '60s.
The next few tunes lighten up the tone and adds some swing to the party. "Why Don't You Do Right" shuffles and jives its way right down to your tapping toe, then "Saved" takes you fully into the chicken shack juke joint of your soul as a "former" sinner who sounds like she would like to dance with the devil a little while longer. The big swingin' and riffing, Chicago-style blues of "Sitting on Top Of The World" is a slow roller that takes its time and gives everyone time to testify. The back up vocals act as glue between the sections.
The tone shifts on their minimalist cover of Lucinda Williams' "Joy." The angular guitar riff might be better called a guitar "loop" but the entire song hangs on it. Hart's vocals use it as a ladder to climb to the top where she can battle the gods for her share of 'joy' while Joe's inventive guitar break uses it to bob and weave around. A truly inventive take.
"Soul on Fire" is another album highpoint and yet another tune that, at first, sounds like it was chosen for its showcase-worthy vocals… until Bonamassa's guitar lead tears out your heart. I don't have to tell you how rare that combination of co-equal vocals and guitars really is. You know it when you hear it. You hear it here.
After listening to nine tracks that reach back as far as the 1930's, Beth and Joe throw you one last curve on the final track by pulling out of their hat a newish song from an obscure Austrian electronica band. In their hands "Addicted" becomes a seductive, slow-stepping, snake-charmer of a song. Hart's vocals are all cool distance and almost Adele-like in their controlled trills and flourishes. The entire band plays it straight, tight and professional throughout. As I said, it is a curve ball that seems subdued and almost out of place compared to the rest of the album but I wonder… maybe this closing track is supposed to be a hint about the direction their NEXT collaboration might take? That would be pretty cool, and if it takes less than four years to make it happen again, that would be even cooler.
You can pre-order Black Coffee here.
Website: https://hartandbonamassa.com
Apple/iTunes: https://itunes.apple.com/us/album/black-coffee/1320023935
Amazon Music: https://www.amazon.com/Black-Coffee-Beth-Hart-Bonamassa/dp/B078D4S494