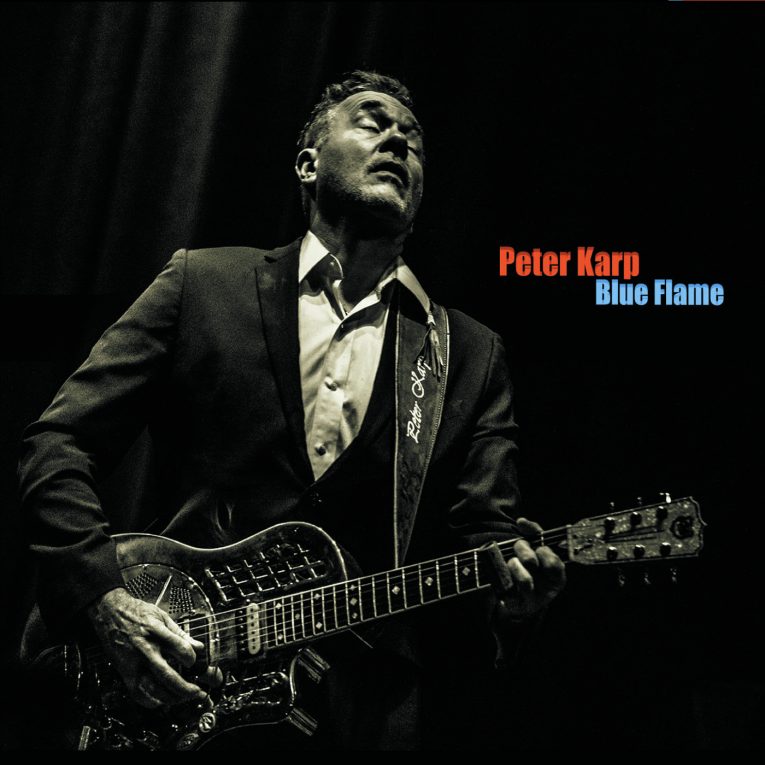 By Kevin Porter
Singer/songwriter/bluesman Peter Karp released his ninth album, Blue Flame, February 2nd. Karp's music has been described as "soul-influenced Americana blues rock," and Blue Flame is indeed a hybrid mix of multiple musical genres. Karp is a multi-threat, not only as a great songwriter and singer, but also a sizzling lead and slide guitarist. Rolling Stones legend, Mick Taylor, and Kim Wilson of the Fabulous Thunderbirds, are among the guest artists on the album.
"Rolling on a Log" starts off the record, a blues rocker with Wilson blowing a fine harmonica solo. The energy level stays high with a hard driving rocker, "Train O' Mine," with Dave Keyes (piano) and Dennis Gruenling (harmonica) taking their turns in the spotlight. Karp sings that his dad urges him to pray during times of trouble, while his mom tells him to throw a match on it and walk away, while Karp waits for a train to take him away. The energy slows down only modestly with a funky piano riff on, "Your Prettiness," that turns into a blues shuffle in the chorus. Karp sings about the faults of a woman he loves—she curses, her face looks like Picasso painted it in the morning, she has bad teeth and a crooked smile, but Karp loves her overall beauty.
In a bit of coincidence with the calendar, Karp slips into a slow and greasy blues ballad, "Valentine's Day," featuring a very nice slide guitar riff. Karp sings that he has the candy, the flowers, the jewelry, and he is going crazy with desire for the lady that is the subject of the song. "Treat Me Right," is a medium blues shuffle concerning a woman who has her eyes on another man. Karp closes the song with a distorted, angry guitar solo that matches the mood of the song. "The Turning Point" is a soul-searching ballad, with a soft organ underpinning the lyrics, where Karp sings about driving alone, thinking of how he has not been good to himself or his spouse and wondering if he is reaching a turning point. Taylor turns in a wonderful guitar solo here that strengthens but does not detract from the song, something he did so marvelously during his time with the Stones.
Another highlight of the record is "The Arson's Match," where Karp starts off with an Elmore James-like slide guitar lick comparable to "Dust Your Broom."  Karp sings about losing everything in a house fire. Karp rips a sterling harmonica solo during the song.
"From Where I Stand" and "Round and Round" are two other highlights of the album. Both have an Americana-type touch to them and are a deep look at families and relationships, and what Karp has learned from both. Albert Weisman provides soft but solid support with his Hammond B3 organ playing in "Round and Round," while Todd Wolfe helps out on guitar.  Karp closes the album with "Young Girl," a spare number of guitar and drums, where an old man tells a girl that the secret of life is to keep on going.
Most of the songs on Blue Flame appeared on two earlier albums that were never released nationally—Road Show (2002) and The Turning Point (2004). Taylor appeared on the latter and toured with Karp, and a recording of some of those shows surfaced and was released as a live album, The Arson's Match, in 2016. These songs have been re-recorded for Blue Flame.
Blue Flame will likely end up on several best-of lists at the end of this year.
For more information on Blue Flame and Peter Karp:
Website: https://peterkarp.com
Facebook: https://www.facebook.com/peterkarpmusic/