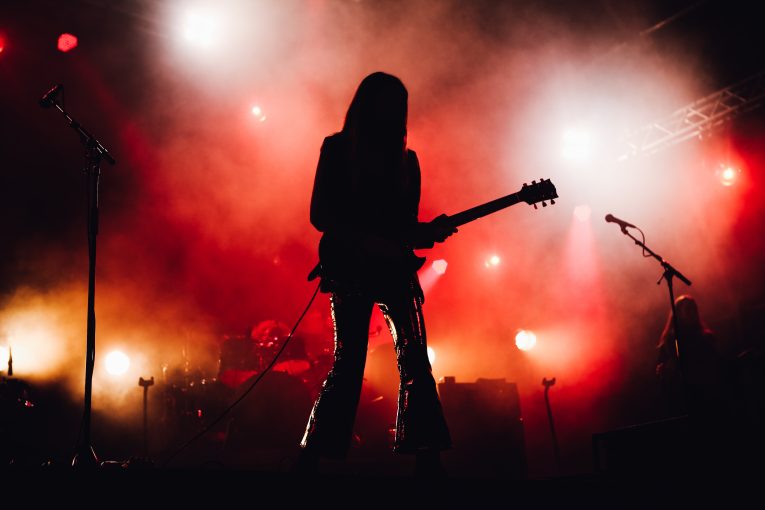 By Martine Ehrenclou
After our "Awesome Female Guitarists 2017 Part 1" (see Part 1 here ) we listened to you, our followers, and your suggestions for more awesome female guitarists. Here are your top picks. They are in no particular order.
Carolyn Wonderland
With simply amazing, soulful vocals and guitar slinging skills likened to Stevie Ray, Carolyn Wonderland reaches into the depths of the Texas blues tradition. Also a songwriter, Wonderland released nine albums, and is considered a legend of our time. Her awards include "Best Blues Songwriter of the Year" by Houston Press Music Awards, "Best Female Vocalist" twice by Austin Music Awards, and "Best Blues Band" by Austin Music Awards. Along with guitar, she plays trumpet, accordion, piano, mandolin, lap steel-whew! What a talent.
Website: http://carolynwonderland.com
Thanks to texasburning for the video
Sue Foley
Sue Foley is a multi-award-winning musician and considered one of the finest blues and roots artists today. As a guitarist, songwriter and vocalist, this Canadian-born musician moved to Texas and began decades of touring and recording with her signature pink, Fender Telecaster. She has won the Juno Award and holds the record for the most Maple Blues Awards as well as several nominations for Blues Music Awards. With 11 recordings to her name, Foley is set to release her new album, The Ice Queen, March 2, 2018.
Website: http://suefoley.com
Thanks to randallstaffordcook for video
Erja Lyytinen
Winner of the "Best Guitarist 2017" by the European Blues Awards, Erja Lyytinen, singer/guitarist is equally at home playing traditional and modern blues and incorporates jazz, pop and soul into her songwriting. Her most recent album, the Elmore James tribute—The Sky is Crying—has been hailed as her best and bluesiest to date. She is known as the "Queen of Slide Guitar" in Germany.
Website: http://www.erjalyytinen.com/bio/
Thanks to Matti Siitonen for the video
Chantel McGregor
A female guitar prodigy, Chantel was told by a major record label that she had a great voice but that "girls don't play guitar." She enrolled in Leeds College of Music and showed them all and won the Leeds College of Music award for Outstanding Musicianship. In 2011 she won "Young Artist of the Year" at the British Blues Awards, in 2010 won "Best Female Vocalist" at the British Blues Awards and later won "Guitarist of the Year," "Best Female Vocalist and Guitarist of the Year" in 2013 and 2014 by the British Blues Awards. Her newest album, Lose Control, salutes contemporary rock
Website: http://www.chantelmcgregor.com
Thanks to Trevor Ridvidd for the video
Laura Chavez
Laura Chavez is a blues guitarist who has been compared to everyone from SRV to Freddie King. Her influences are rooted in Texas and Chicago blues, but it's also said she's influenced by rock guitarists such as Jimmy Page and Mick Taylor. Chavez began playing with Lara Price and then collaborated and played with various blues musicians before forming her own band. She became lead guitarist and eventually producer for the late Candye Kane. Chavez has played guitar on too many albums to list here. A true guitar force!
Facebook: https://www.facebook.com/Laura-Chavez-Fan-Page-368242515311/
Thanks to Bobbi Goodman for the video
Deborah Coleman
Deborah Coleman is an American blues musician who has won the Orville Gibson Award for "Best Blues Guitarist, Female" in 2001 and was nominated for a W.C. Handy Blues Music Award nine times. From Virginia, she has played at the top music festivals in the U.S. and has released 9 albums. A powerful blues guitarist, songwriter and singer, Coleman began playing at age 15. Her latest releases are
Time Bomb
with Sue Foley and others, and is featured on the album,
Blues Caravan: Guitars & Feathers
.
Facebook
https://www.facebook.com/Deborah-Coleman-137378753085493/
Thanks to Elaine Mattingly for the video
Larkin Poe
Larkin Poe is an American roots rock band from Atlanta, GA, fronted by sisters Rebecca Lovell and Megan Lovell. Featuring strong Southern harmonies, heavy electric guitar riffs, and slide guitar, they are often called, "the little sisters of the Allman Brothers." They were voted "Best Discovery of Glastonbury 2014" by England's Observer. Both sisters have toured as backing musicians for a variety of bands, including Elvis Costello. In 2013 their album, KIN was released. In 2014, producer T Bone Burnett asked the sisters to record harmonies and instrumentation on The New Basement Tapes' album, alongside Mumford & Sons, Elvis Costello and others. In 2016 they released their second album, Reskinned. In 2017 they performed at the MusiCares tribute to Tom Petty in Los Angeles. The same year they released their album, Peach.
Website: http://www.larkinpoe.com
Nancy Wilson
Nancy Wilson is an American musician, singer, guitarist, songwriter, producer, and composer. She rose to fame with her sister, Ann Wilson, as guitarist and backing vocalist for the rock band, Heart. The first rock band fronted by women, Heart released a number of albums throughout the late 1970's and 1980's. Wilson is known for her guitar playing, blending elements of flamenco and classical guitar styles with hard rock. Wilson became more involved in composing music for films in 1995, specially for movies by husband, Cameron Crowe. Gibson ranked Nancy Wilson eight greatest female guitarist of all time. In 2016, Wilson formed a band, Roadcase Royale with former Prince band member, Liv Warfield, and others. They released their full-length debut album, First Things First, in September 2017.
Website:  http://www.heart-music.com/about-nancy
Thanks to Cal Vid for the video
Debbie Davies
An award-winning singer, songwriter, guitar player of extraordinary talent. A professional musician since the early 80's, Davies ranks among the top blues artists in the country. She won the 1997 W.C. Handy Award for "Best Contemporary Female Artist" and the 2010 Blues Music Award for "Best Traditional Female Artist." She was recruited by Albert Collins to join The Icebreakers, and was a featured guitarist performing behind Collins. She also recorded with Albert Collins and John Mayall. Since 1993, Davies has produced eleven solo recordings and two collaborative CDs with guitarists Tab Benoit and Kenny Neal. Joining on her solo recordings were Albert Collins, Mick Taylor, Peter Green, Coco Montoya, Charlie Musselwhite and a host of other renowned blues musicians. Davies joined Tommy Castro's Legendary Rhythm & Blues Cruise Revue and is featured on the 2011 release. Her latest release, Love Spin, is a collection of all original tunes.
Website: http://debbiedavies.com
Thanks to bluzdudemi for video
Jennifer Batten
Jennifer Batten was selected to play in Michael Jackson's band which toured the world for a year and a half, promoting "BAD." She was asked again to join Michael Jackson's upcoming, "Dangerous Tour." In between two of her own solo albums, Batten was asked by Jeff Beck to join his band. The two joined forces for three years for two albums and world tours. She authored two music books and released three solo albums. In 2011, Batten did a guitar residency for Cirque Du Soleil in Las Vegas. She has several guitar courses at Truefire.com and is still playing with Jeff Beck. In 2016 she received the She Rocks "Icon" award and recently was inducted into Guitar Player Magazine's "Gallery of the Greats."
Website: https://www.batten.com
Thanks to BlueNote sk for the video
I welcome your comments. Please comment below.  If you think an artist is missing from this list, please check our "Awesome Female Guitarists Part 1" here.