By Scott Bampton
Released February 16th, Starting Gun is the debut album from hard rocking trio, The Bad Flowers. Hailing from the same dark depths of England as Black Sabbath, Judas Priest, and Black Country Communion, The Bad Flowers' sound is gritty British classic rock from top-to-bottom.
The follow up to 2016's self-titled EP, Starting Gun involved a year-long writing and recording process. And it's evidently been a year well spent, as the intricate matching of drums, bass, and guitar parts have clearly been obsessed over by the band during the course of 12 months – there's simply no other way the three piece's individual parts could be so seamlessly locked in with each other.
That musical precision is evident right from opening track, "Thunder Child", the band's debut single, which was released in September last year. A cautionary tale about a bewitching female, it's easy to see why the band landed on this track as the forerunning single to Starting Gun – its wicked guitar licks, devilish lyrical hook, and ominous bass breakdown in the mid section will have any hard rock fan spellbound.
"Be your Man" has a similarly pumping refrain courtesy of bassman Dale Tonks, which syncopates perfectly with Karl Selickis' crashing drums and frontman Tom Leighton's  shredding guitars. If the intelligent tempo change-up through the middle eight keeps you on your toes, then the Led Zeppelin-esque stadium rock ending is like a hefty sledgehammer.
Guitarist Leighton launches into some seriously meaty licks on tracks like "Hurricane" and "I Don't Believe it" which emulate the beer-soaked swagger of Australian "pub rock", a-la-AC/DC (and more recently, Grinspoon and Airbourne).
The aptly named "Lion's Blood" roars and purrs in equal measure, again demonstrating the band's penchant for a bone-rumbling breakdown. It's one of only a handful of tracks on the album where Leighton cuts loose on the guitar, allowing himself a wailing solo to break up the crunching rhythms; it's the curse of the lone axeman – having to think about the rhythm and lead guitar parts simultaneously to find the balance that best fits each respective song. Leighton succeeds nonetheless, even managing to add his baffling additional talent of channeling Robert Plant's unique vocal style (albeit, shifted down an octave).
By complete contrast, the acoustic-led, "I Hope" and "Let's Misbehave" strip away the heavy guitars and pare back the drums and bass, allowing Tom Leighton's vocals to take the songs to more melancholy territory.
And on "Secrets" and "City Lights", Leighton's fuzzy guitars and soaring vocals line up with Tonks' bass, matching note for note, creating a psychedelic octave effect that compatriots Royal Blood have recently repopularized. "Rich Man" has a similarly '70s hard rock strut, with producer Adam Beddow (Diamond Head, No Americana) succeeding in the challenge set for him by the band – to produce a record that reflected their musical roots. It's easy to imagine the young Englishmen listening to Starting Gun in their own childhood bedrooms after swiping it from their old man's vinyl collection. The record has a definite feeling of coming full circle, such are the strong undercurrents of Zeppelin, Sabbath and Priest.
Arranged and executed with considerable precision and aplomb, The Bad Flowers prove on Starting Gun that it's possible to sound fuzzy and focused at the same time. If this album is the band's starting gun, then the race ahead will no doubt involve some deafening artillery.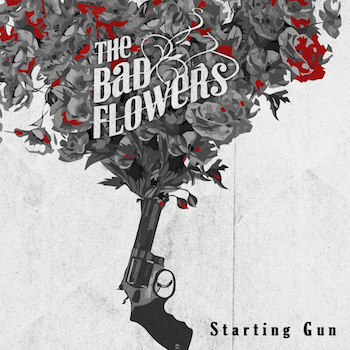 For more information on Starting Gun and The Bad Flowers:
Website: https://www.thebadflowers.uk
Facebook: https://www.facebook.com/thebadflowersband
Please support Rock and Blues Muse and purchase Starting Gun through Amazon below. Thank you!