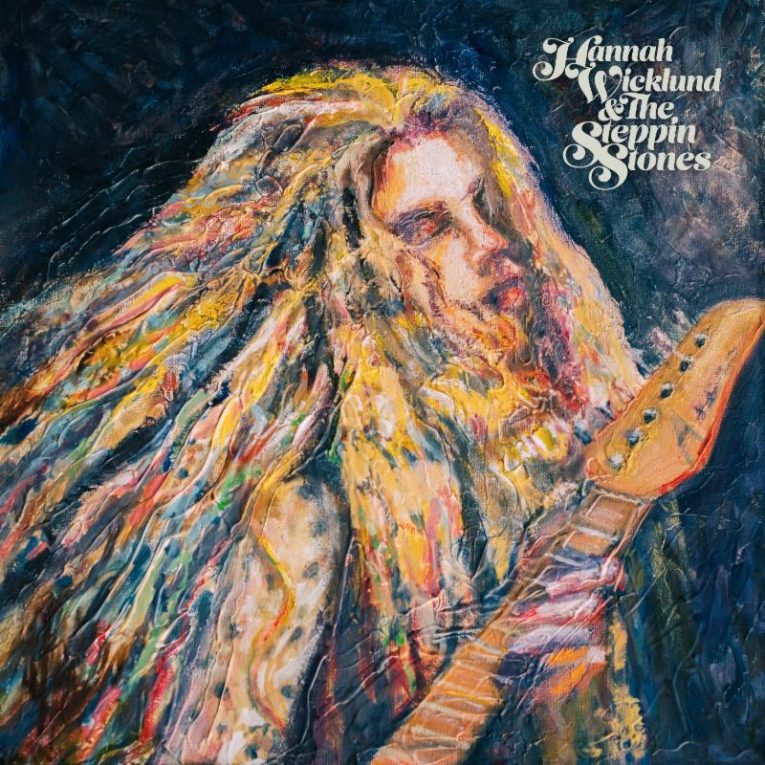 By Tom O'Connor
Released on January 26th on her own Strawberry Moon Records label, the self-titled Hannah Wicklund & the Steppin' Stones, featuring 20-year-old wunderkind Wicklund and produced by Sadler Vaden, leaves me with one strong impression: The kids are alright.
The South Carolina native, Hannah Wicklund,who has been playing in bands since childhood, thanks to a supportive, artistic family (her mom even did the album cover art here) really comes into her own on this, her third studio album, delivering on the promise heard in those previous albums. This ten-song assemblage, clocking in at a fat-free 38 minutes, ticks all the rock boxes and displays her ever-increasing skill and confidence, on guitar, in her vocals and in her point-of-view.
You know what you're in for in the initial few seconds of album-opener "Bomb Through the Breeze", a soul-howl and a big, brash riff/stomp that makes no apologies, sets the stage for the next 38 minutes. The swirling wah-heavy lead breaks then clue you into the guitar-slinging to come. This tune is about standing your ground and, when necessary, pushing back, hard. Things get slinkier but no less strong on "Ghost" with the vibe of wet and empty city streets and the kind of loneliness that can feel like a personal attack. The lead breaks on this tune maturely focus on maintaining the feeling of the vocals and not on flamboyant fretwork. Hannah is a bit beyond her years when it comes to clearly stating your case without needlessly showing off.
There have been many flattering and well-earned comparisons to a Melissa-Etheridge-in-training edge in her songwriting style and vocal passion, but more than anything else, third track "Looking Glass" sounds to me like something Tom Petty (RIP) might have said, "Damn, I wish I had written that." A heavy blues influence in the rock and the honesty of real sentiments simply stated, makes the tune feel real, lived-in and, as I said, Petty-esque. Things get a little funkier with "Mama Said," thanks to a chunky beat that isn't afraid of a little syncopation, a chorus that grabs you and a guitar solo full of memorable counterpoints.
Things start sounding bigger with "On The Road." Big like the road itself. Remember how big the road ahead seemed when you were twenty? That big. Of course, we also have to remember how hard the heartbreaks hurt at twenty as well and "Crushin'" is a good reminder. Equal parts lament and a defiant fist-shake at cruel fate, the song is a reminder that love is tough and that too much of a good thing probably isn't a good thing anymore. "Strawberry Moon" is a power ballad that manages to dodge every PB cliche'. Combine a modern sensibility in the lyrics with strongly heartfelt vocals and big, emotion-generating chord changes and you've got yourself one of the standout tracks in the collection. The mood lightens up on "Too Close To You." With its buzzy riff and fast & bouncy beat camouflaging an in-your-face message, I could slip this song into a "Best of Liz Phair" playlist and you wouldn't bat an eye.
Not surprisingly, the album closes strong with a couple more gems.  Mid-tempo "Meet You Again," is another big showcase for Hannah Wicklund's whisper-to-growl-to-wail range and confident vocal power. it starts slow and simple, then builds through sections and tempo changes to the kind of epic guitar breaks that I'm guessing can blow the roof off when played live, on just the right night. The collection closes with the touching acoustic ballad "Shadowboxes and Porcelain Faces" that gives us a look at the soft side of this powerhouse performer and a glimpse at what themes a new generation can and will explore within some fairly classic American Rock structures. It really takes a 20 year old to boil down the FOMO (fear of missing out) angst of her Instagram generation to one line: "these highlight reels aren't real life." I'm convinced. If I gave out stars in my record reviews, this one would likely get all of them.
Please support Rock and Blues Muse by using the Amazon link below. Thanks!
For more information on Hannah Wicklund & The Steppin' Stones:
Website: https://www.hannahwicklund.com/welcome
Facebook: https://www.facebook.com/hannahwicklundss/
Amazon: