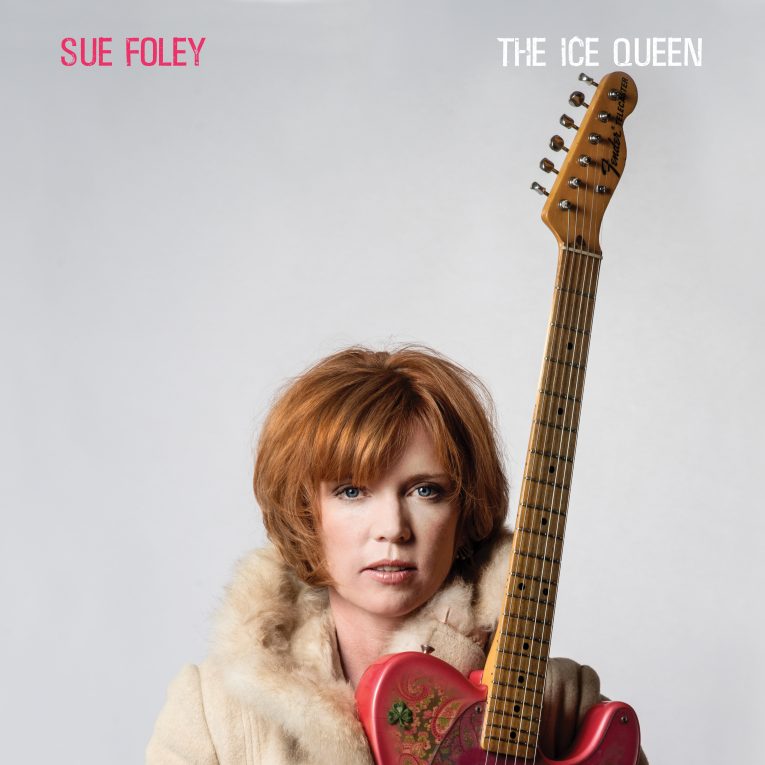 By Tom O'Connor
Canadian native, and honorary Texan, Sue Foley's recent release The Ice Queen, is her first album with her new label, Stony Plain Records, and the eleventh of her impressive career. The Juno-winning singer/guitarist has been a Blues force to be reckoned with for decades and this new collection, produced by Mike Flanigin (who also plays organ on the record) can only add to her fierce legacy. Ice Queen also features a special trio of legendary Texas guitarslingers such as Jimmie Vaughan, Billy Gibbons, and Charlie Sexton.
Cashing in on her well-earned respect, Foley pulls in some other Lone Star all-stars to compliment the solid and able rhythm work of bass players Johnny Bradley and Chris Maresh, and drummers Chris Layton (formerly of SRV's Double Trouble) JJ Johnson, and George Rains. These players give The Ice Queen all the runway she needs to take off.
The tone of the album is set with the opening track. "Come To Me" is a slow-strutting and confident come-hither Blues number featuring some spot-on guest vocals from Charlie Sexton. Charlie stays with her on the next track "81" as well, an ode to the big bad road, and the way it sometimes calls us to our own ruin. The trade-off guitars in the break are sincere and foreboding, just as they should be.
If you're a fan of roadhouse blues a-la The Fabulous Thunderbirds, then "Run" is bound to be a favorite track. Reckless and rumbling with no apologies, the song starts in 4th gear and stays there. Keep up if you can. Things get slower and smokier on title track "The Ice Queen" with a message and a vibe that no 20-year-old could write, no matter how talented she/he might be. The truths Foley lays down here can only be earned with time and heartbreak. You'll believe every word, and every note of her solo.
The Thunderbirds jump comes storming back on "The Lucky Ones," which shouldn't surprise anyone when they hear Jimmie Vaughan's voice and guitar lending a hand on this one, while Flanigin's B3 organ fills out the rhythm and adds some flavor at just the right moments. The roadhouse feel of "Gaslight" keeps the vibe going, with the tasty addition of Ephraim Owens' trumpet and Elias Haslager's outstanding tenor sax break, which leads into another signature Foley lead run.
Next up, Billy F. Gibbons joins the party, adding his vocals and harmonica to "Fool's Gold," creating a strange and wonderful alchemy. How a tune that wouldn't be out of place on a vintage ZZ Top 8-track tape also manages to sound fresh and new is a mystery to me, but it does. After the album has firmly reminded you of Foley's guitar prowess, "If I Have Forsaken You" arrives to showcase her heart-stabbing' torch singer vocals amid the swell of horns and those thick B3 tones.
One of the many benefits of a bit o' age and experience is a certain amount of fearlessness, and you can hear it in her swaggering interpretation of Bessie Smith's 1927 "Send Me to the 'Lectric Chair" both vocally and in her guitar trade-offs with Derek O'Brien. The defiant bounce of that tune is replaced with the melancholy heartache blues of "Death of a Dream" where Foley leaves you hanging on every long, slow syllable and fat, jazzy chord.
The two songs that close out this collection are quiet powerhouses of technique and feeling. Stripped down to just her own acoustic guitar and vocals, there is no way to miss the craft, authenticity and heart. On "The Dance" Foley showcases her Flamenco chops without shortchanging the vocal passion required for this kind of track. The album-closing cover of The Carter Family's 1936 "Cannonball Blues" is an authoritative bit of classic fingerpickin' blues that rides easily under her comfortably unflappable storytelling vocals. This is how it is done, kids.
For more information on Sue Foley and The Ice Queen:
Website: https://suefoley.com
Facebook: https://www.facebook.com/suefoleyofficial/