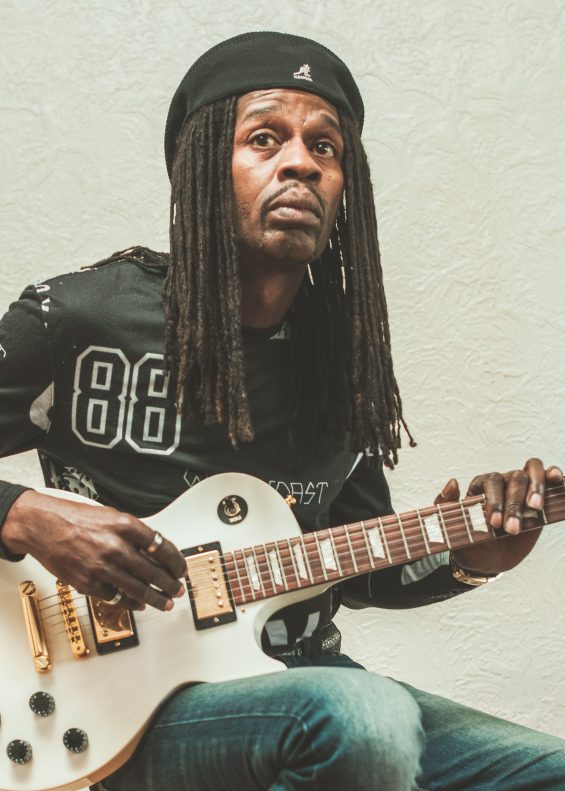 By Kevin Porter
Bernard Allison, son of the legendary blues guitarist, Luther Allison, is a highly accomplished and acclaimed bluesman in his own right. Not only did he learn guitar from Johnny Winter and Stevie Ray Vaughan but got his start at age 13 by playing on his father's album, Gonna' Be A Live One In Here Tonight.
Allison taught himself to play guitar and right out of high school he joined the Grammy-winning blues legend, Koko Taylor and her band for three years. Bernard went on to lead his father's band beginning in 1989, and one year later, Bernard released the first of his fourteen albums, including three live albums.  Bernard's music is a molten stew of blues, rock, and funk, and he has accumulated fans all over the world.
His new album, Let It Go out on Ruf Records, has received rave reviews since its release earlier this year. Bernard kindly joined us by phone for an interview.
KP:  Tell me about your new album, Let It Go.
BA:  Let It Go is about my sister, who I lost last summer, and my brother, who died two months later, and I really wanted to do something for them. My sister wanted to be cremated and her ashes spread in Lake Michigan, so the family went there. We had balloons to release, but I wouldn't let my balloon go. My mom was telling me to let it go, it's going to be ok, and that was where the album title came from. The picture on the album is me standing near the water with my hands in the air, as if to say, let it go. My sister was one of my biggest fans and would want me to carry on. My family has been a big support system for me since the beginning.
People can also relate to the song in a different way. We've all been in up and down situations, and a lot of us hold onto things rather than moving forward. I prefer to move forward and make amends to anyone I've harmed. A lot of people will remember a bad relationship that they don't want to let go of, but it's not going to get any better. The older I get, I start to realize lots of things. I've been on the road since I was 12 years old, and there's not much that I haven't seen. I've lost my dad and now the first two siblings, but they would all tell me to keep doing what I've been doing.  You got to  move forward, don't grieve and be stuck because otherwise, everything is going to pass you by. I decided to let it go, enjoy one day at a time, and thank the Man upstairs for giving me the strength to tour and create music.
KP:  Easy to say but so very hard to do.
BA:  Yes, exactly. A few years ago, I recorded a song "Don't Be Confused" shortly after my dad passed away. For people who lost a loved one, they hear that song and they say it soothes their pain. Let It Go could have been done years ago but it just happened to fall into place with the deaths of my sister and brother.
The album itself is pretty similar to my other recordings, where I try to mix it up and use all my musical influences instead of straight 12-bar blues.  Being the baby of nine, everyone had their different preferences for music, so we had every style of music in the house, and I sucked it all in. I also try to record songs that we can do well live. We wanted to make a record that you can listen to from the beginning to the end, and it never lets up.  It's a good representation of the Bernard Allison group.
KP:  What were your thoughts going into making the album, and what did you want to accomplish?
BA:  The main thing for me was to go in with my band and take advantage of the chemistry we have as opposed to using studio musicians. We all write together, and we were really prepared.  We spent a few weeks in pre-production before going into the studio. We were also happy to be working with Jim Gaines (producer) again. Everything just went so smoothly.
KP:  One of the songs you did is a cover of Brooks Benton's "Kiddeo." How did you decide to cover that?
BA:  We grew up with that song. "Kiddeo" was the favorite song of my brother Frank, and when he passed away, I decided I had to do "Kiddeo" for him.  That's the only song he would sing around the house.  It's also a great song that younger people should know about.  Another cover song on the album is "Look Out Mabel," by G.L. Crockett.  Mabel is my mother.  People ask me about this country song, but it's not a country song—I just put a country twist on it.  There's a lot of great but overlooked recordings, and it's fun to record them, as well as letting younger people know about these songs because they probably wouldn't hear them otherwise.
KP:  I have to admit, I was not familiar with "Kiddeo" until you did the song.
BA:  It's a fun song.  We played it at our album release party, and everybody got up to dance.  It's a great tune, and we really enjoy doing it.
KP:  I understand that when playing live, you like to size up the crowd and see what other types of music you can play in addition to blues.
BA:  Yes. Anything I decide to record, I'm always testing it out on tour just to see the response, and then I'll doctor it up from there. If the audience is not responding well or understanding what I'm trying to do, I go back to the drawing board. My band knows I'm going to do something unexpected when we play live. I don't do a song list because I feed off my audience.  I have little signals that I give my band—I don't really turn around. It could be as simple as a nod of a shoulder or a tilt of my head, but the band knows what those cues mean. There is no song list anywhere on the stage. It's all about dynamics and having a good time and showing the people that we're truth. We're not a cinema or a movie. That's the only way I know.
KP:  When you go into the studio, do you bring in a basic idea for a song and have the band fill it out?
BA:  Before we go into the studio, I do everything myself at home with a multi-track recorder.  I can play keyboards and bass in addition to guitar, and I'll get the idea down.  Then I'll work on lyrics for the arrangement.  Once I'm close, I bring the song to my band and tell them this is what I'm feeling but I want you to be you, I want you to express your feelings.  We're all very open minded, so a lot of ideas get tossed around.  We record live in the studio, all in one room with the producer, and it sounds like we sound when we play live. There's no big production to pretty up the songs—they are what they are.
KP:  Let's talk about one of the songs on your record, "Blues Party," which is one of my favorite songs on the album.  I love the idea of a jam session with musicians we love who are no longer with us. How did that song come about?
BA:  All the names mentioned on "Blues Party," I had the opportunity to perform with or, when I was growing up, having them at our home.  I thought it would be a great idea to let people know that these people are still with us.  That would be the baddest band anyone could be in!  But it goes back from my days of playing with Koko Taylor, and knowing Stevie Ray Vaughn and Johnny Winter, and I kind of got taken in under their wings. The song was basically completed but my godfather, Lonnie Brooks, who I was very close to. He passed away and I had to find another verse to acknowledge him. I was blessed to be around these people and to get good advice from the majority of them, so the song is a way of giving back.  It's also to let people know that my daddy is still with me, all my influences are still with me.
KP:  You said the blues is about experimenting. Can you talk more about what you mean?
BA:  My dad always told me to think outside the box. I try to combine blues with rock or something funky, because the younger generation thinks the blues is something their grandparents liked. I try to add some hooks or something similar to what people hear on a pop radio station. People ask me how I combine blues with rock licks. It's from what I learned from being on the road, from being with Koko Taylor or Stevie Ray Vaughn or Johnny Winter. I don't like to play in a box. In order to expand, I like to take risks.  If I fail, I go back to the drawing board. Nine times out of ten, I'm going to get it. That allows us to open up and be ourselves.
KP:  Thank you for taking the time to talk to us.
BA:  Thank you for supporting the record and enjoying it.
For more information about Bernard Allison and his new album, Let It Go: 
Website: https://www.bernardallison.com