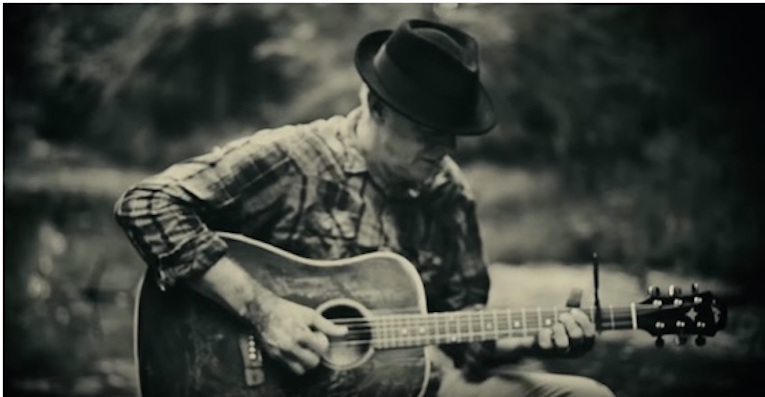 TOMMY EMMANUEL–the esteemed Grammy-nominated guitarist, composer and performer released the video for "Deep River Blues," featuring his collaboration with Jason Isbell from Emmanuel's acclaimed and high-charting Accomplice One album.
"Deep River Blues" is a stirring interpretation of the country blues classic by the late Doc Watson, whose birthday was March 3. The video is directed and edited by Joshua Britt and Neilson Hubbard. It features Emmanuel, with muddied hands, finger-picking his acoustic guitar by a small creek in the backwoods of Nolensville, TN and celebrating Watson's pioneering guitar style.
An interview with Emmanuel–currently headlining a European tour through March before returning for more U.S. dates starting April 6–is also posted at the Cowboys & Indians site where he says:
"Firstly, Jason was an obvious choice for 'Deep River Blues' as he's from Muscle Shoals [Alabama] and has the exact vocal style I was looking for this style of song. I have been a Doc Watson fan since I first heard him in the early '70s. Doc and I did some shows together about 10 years back and he was a great gentleman to be around. I think his influence was the fact that he always stuck to his way of doing things and never got swayed by trends."
Tommy Emmanuel is distinguished as one of only five musicians handpicked by his mentor, Chet Atkins, as a Certified Guitar Player (CGP) and his recent album, Accomplice One earned the #1 "Bluegrass Album" on the Billboard charts. Accomplice One has also debuted at the top of the Americana Music Association's "Top 40 Albums" and two other songs from the album debuted on on their "Top 40 Singles" chart. The album features guest artists such as Jason Isbell, Mark Knopfler, Rodney Crowell, Amanda Shires, Jerry Douglas, J.D. Simo, Ricky Skaggs, David Grisman and more.
Tommy Emmanuel is currently on tour and will be joined by
Accomplice One
special guests, Amanda Shires, Jerry Douglas and Suzy Bogguss  For tour schedule see here
http://tommyemmanuel.com/tours/
To purchase the album or CD Accomplice One: