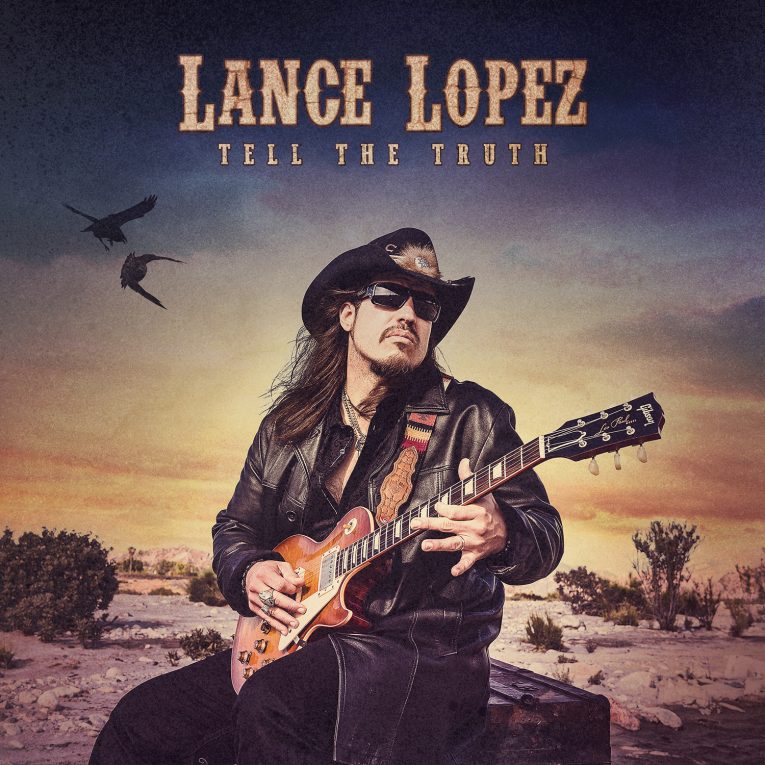 By Dave Resto
Blues-rock guitar titan Lance Lopez released his newest solo effort, Tell the Truth (Mascot Label Group) on March 2, 2018. Produced by his Supersonic Blues Machine bandmate and producer, the renowned Fabrizio Grossi, it's the singer/song-writer/guitarist's sixth solo studio release.
Lopez is a genuine heavyweight who has been a working musician since his teens. He grew up in the clubs and bars of New Orleans and Dallas. That set him on the path to national and world-wide success; however, it also set him on a path to addiction and self-destruction. Tell the Truth is the story of his hard times and his journey back from them.
"Never Came Easy to Me" opens with Lopez strumming acoustic guitar like a lonesome cowboy, overlooking a vast stretch of landscape. Then his low, gravelly voice sings, "Nothin' worth having ever came easy to me; the sweetest victories came within an inch of defeat. Done a little time down on my knees; runnin' on will and elbow grease. Nothin' worth havin' ever came easy to me." While those lyrics perfectly set the narrative tone for this album, it's the next verse which sets the musical tone. That's where the band crashes in – the rhythm section setts a solid, yet sloshy groove, keyboards funk things up as harmonica infuses the proper blues element. And then we hear that loud, fuzzy slide guitar, followed by a nicely over-driven blues harp solo. Everything you want is right here on the first track.
"Mr. Lucky" is a muscular cover of the late, great John Lee Hooker. The hip-shaker, double-shuffle feel keeps things moving as, once again, Lopez uses his savage string work to duel with an aggressive blues harp.
"Down to One Bar" and "Cash My Check" are a pair of rowdy, blue-collar anthems which earn their places on any jukebox worth the dollar bills they devour. Lopez really captures the vibe of the countless gin mills he's worked his way through, and his solos are as raucous as the patrons who populate them.
The double entendre lyrics of "High Life" allow Lopez to sing the praises of the woman he loves while he shuns the bad choices that kept him from being a better man: "High life, doin' it right; there cannot be no sweeter wine, than what I get from you." Lopez works in a nicely double-tracked guitar line between the verses and the concept and execution of the song is a big win for the record.
The classic "call and response" technique is found throughout Tell the Truth. It's probably used to the greatest effect on the high octane infused "Get Back on the Highway." Each verse Lopez sings is answered by his relentless slide guitar and some equally frenetic roadhouse piano. This track powers straight through to the finish.
"Blue Moon Rising" slows the pace, employing a touch of Jimi Hendrix with a hint of Stevie Ray Vaughan in their more sensitive moments. The momentum slowly builds to an epic guitar solo and the very last notes Lopez plays will remind you of the two afore-mentioned masters.
Lance Lopez is very forthright in interviews and in his lyrics. His unvarnished manner is the way he feels comfortable communicating and he makes no apologies if he forgoes niceties. "The Real Deal," "Raise Some Hell" and "Tell the Truth" are good examples of this. In fact, Lopez seems to have deliberately placed the title track at the end of the album, as if to make it his parting message.
Lopez sends an additional message in "Tell the Truth" by establishing a killer riff and then laying down some blistering wah-wah pedaled soloing over it. That message is this: there's a reason why Lance Lopez has earned the respect of guitar legends like Billy Gibbons, Jeff Beck and the late Johnny Winter. Lopez tells the truth and the truth is in his guitar playing.
For more info on Tell The Truth and Lance Lopez:
Website: https://www.lancelopezmusic.com 
Facebook: https://www.facebook.com/LanceLopezBand/ 
Apple/iTunes: https://open.spotify.com/album/41efyS1GNPMlMDxOKrL6HY