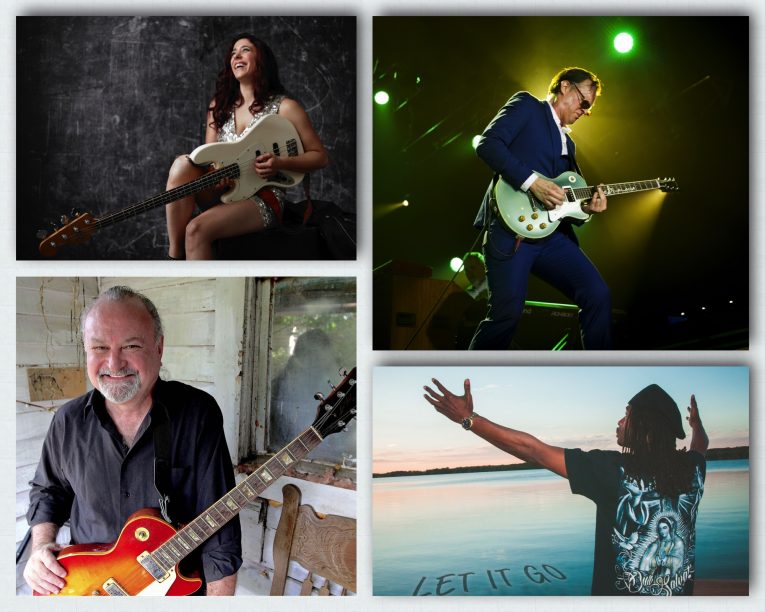 By Martine Ehrenclou
This is our list of top 10 blues and rock songs of 2018 (so far). These are tracks from blues and rock albums released through this month in 2018, or are soon to be released. We picked songs that we thought were outstanding for a variety of reasons: vocals, musicianship and the songs themselves. From straight up blues to rock, these are our top favorites so far in 2018. They are featured in video or lyric video format to make it easy for our followers to listen if streaming services aren't accessible. Just click on the video. Enjoy! Our list is in no particular order.
Danielle Nicole: "Save Me" featuring Kenny Wayne Shepherd. Danielle Nicole's new album Cry No More released February 23rd, 2018 on Concord Records, is a killer album all around. Nicole's voice is outstanding and soulful. Kenny Wayne Shepherd's guitar work is to die for. For our album review click here click here.
Website: http://www.daniellenicolekc.com
Beth Hart & Joe Bonamassa, "Give It Everything You Got" from their Black Coffee album released January 26 2018 on Provogue, Mascot Label Group. We chose this track because who wouldn't choose Beth Hart? The song is a little more rock-ish than some of the other tracks on the album and showcase not only Beth's outstanding vocals but a guitar solo by Joe B. that is a rockin' stunner. For our album review click here.
Website: https://hartandbonamassa.com
Tommy Emmanuel, "Deep River Blues," featuring Jason Isbell from Tommy's new album, Accomplice One, released January 19, 2018 on CGP Sounds. It's blues roots at its absolute best and Tommy's guitar playing, as always, is exceptional. For our album review click here.
Website: http://tommyemmanuel.com
Bernard Allison, "Cruisin for a Bluesin" from his Let It Go album released February 2nd, 2018 on Ruf Records. We love Bernard Allison, not just because he's an astounding blues guitar player but because he incorporates different styles so effortlessly into his music such as funk, jazz, and rock. For our album review click here.
Website: https://www.bernardallison.com
Revelator Hill with Ron Holloway, "How Many More Years" from their Live By The Creek album, released Jan 26, 2018. In case you missed our review of the album, have a listen to some outstanding blues and ripping guitar playing by Bobby Thompson and wailing sax by Ron Holloway. We think they are some of the most listenable blues bands around. For our album review click here.
Website: http://www.revelatorhill.com
Tinsley Ellis, "Kiss of Death" from his Winning Hand album, released Feb 12th on Alligator Records. This veteran bluesman blows us away every time. He's considered one of the best blues guitarists around. For our album review click here.
Website: http://www.tinsleyellis.com/index.html
Black Stone Cherry, "Bad Habit" from their upcoming album Family Tree to be released April 20th, on Mascot Records. We like Black Stone Cherry for their hard rock music but also because of Chris Robertson's lead vocals and guitar chops and the band's all around good musicianship. For more info on the upcoming album click here.
Website: http://www.blackstonecherry.com
Blackberry Smoke, "I'll Keep Ramblin'" off their upcoming album, Find A Light, out April 6, 2018, on 3 Legged Records. The track features pedal steel maestro, Robert Randolph. Now, who can resist a great rock band with southern rock flavors that features the outstanding Robert Randolph? For more info on the album click here.
Website: https://www.blackberrysmoke.com
Victor Wainwright and The Train, "Wiltshire Grave" off their new album, Victor Wainwright and the Train out March 9, 2018 on Ruf Records. If you've seen our review of their new album, we don't need to tell you that Wainwright and the band knocked it out of the park. For our album review click here.
Website: http://victorwainwright.com
Joe Bonamassa, "Let Me Love You Baby" from his upcoming album, British Blues Explosion Live, out May 18, 2018 on Mascot Label Group, and features a stunning performance by Joe B. and his band. For our announcement of the album, click here
Website: https://jbonamassa.com
We want to hear from you! What are your favorite songs so far in 2018? Please comment in the comment section below.