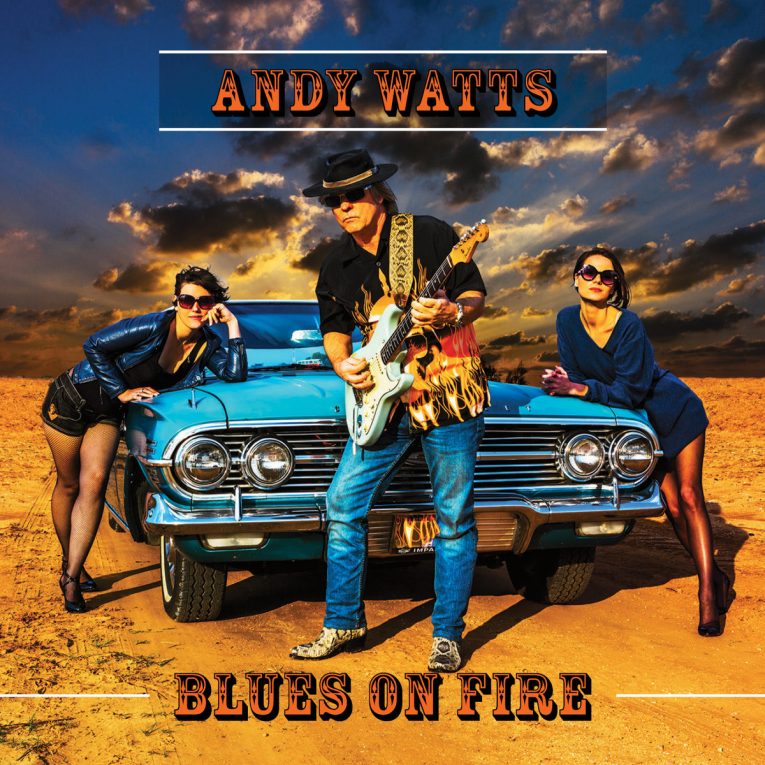 By Dave Resto
Israeli guitarist Andy Watts has devoted his life to playing the blues. His new album, Blues on Fire (distributed through Linktone, produced by Andy Watts and Eyal Klein) released on March 16, 2018 "…is dedicated to the beauty of the electric guitar."
Born and raised in the Middle East, Watts was pulled into American blues music when he heard it over the radio at age 12. He went on to have a decades-long career as one of Israel's premier blues guitarists. Watts has worked with Johnny Winter, Bernard Allison, Lucky Peterson and Joe Louis Walker. Walker, who appears as a special guest on Blues on Fire, is part of a roster of fifteen musicians from Israel and the United States who helped record this album.
The album opens with an original attention-grabber written by Watts, called "Full Throttle." It is a remarkably authentic take on the Texas blues instrumentals of the 1960s, replete with horns by Elad Gellert on saxophone and Gregory Rivkin on trumpet, and keyboards by co-producer Klein. Watts plays in a somewhat understated manner, which allows his fellow musicians to shine; however, he knows exactly when to step it up and front the band. When he does, his guitar tone packs a formidable bite.
The title track, "Blues on Fire" is another Watts original which features Blues Hall of Fame inductee and Grammy nominee, Joe Louis Walker on vocals. It's a slow, soulful scorcher, again loaded with a rich horn section and a full-bodied Hammond organ. Walker's impassioned singing is complimented by Watts's equally impassioned responses between verses. Watts opens his guitar solo with a single note that he sustains for two measures before he goes on to demonstrate his ability for tasteful phrasing. Together, they encourage each other to raise the dynamic bar higher as they reach the song's climax.
"Looking for Somebody" is a cover of Peter Green, who performed this song with an early version Fleetwood Mac. Watts cites Green as major influence on his playing. It goes from atmospheric, straight blues to up-tempo shuffle and back to atmospheric. Throughout, Watts plays the groove appropriately, with a light touch in the beginning and a heavier hand later on. Ilan Hillel doubles on bass and vocals, with his prominent Israeli accent infusing this familiar song a refreshing touch of world music flavor.
Stevie Ray Vaughan's "Riviera Paradise" lends itself well to the addition of electric piano and trumpet, which share soloing duties with the guitar. It has a very outdoors jazz festival feel.
"I Got the Same Old Blues" is a J.J. Cale composition. Here it's performed by Jamaican-born soul singer supreme, Roy Young, who lives in Tel Aviv and continues to tour world-wide. His fierce vocals draw strength from the scorching guitar that Watts puts down. Clearly, in addition to his knowledge of the blues, Watts has a deep vocabulary of rock and soul licks with which he can express himself.
Watts reunites with his bandmates from the Blues Rebels to cover the Jimi Hendrix staple "Voodoo Chile." It begins with the familiar scratching wah-wah pedaled guitar but then the signature riff is played on blues harmonica by Dov Hammer, who also handles the vocals. Watts takes the riff over to launch the band into the heart of the song.  As bassist Amos Springer and drummer Avi Barak break it down, Watts and Hammer duel it out with back and forth solos until Watts leads things to their inevitable close.
"Junkies, Monkeys and Donkeys" is a song by the 70s Israeli rock band Jericho Jones. The lead singer of that band and co-writer of the song, Danny Shoshan sings here as well. Watts makes good use of his jazz and blues chops as this classic ebbs and flows.
The album ends with another Jimi Hendrix song. This time it's "Who Knows", which the late guitar master performed with the Band of Gypsys. Here, Watts reimagines the song as it may have sounded had the late jazz trumpeting pioneer Miles Davis joined Hendrix for some studio sessions, as it was said he might, prior to Hendrix's untimely death. Watts cleverly begins the track with the sound muted, as if the listener is approaching the closed door of the recording studio. Then the door creaks open and we're treated to this glorious take, where the musicians are conversing and communicating freely and openly. It ends with the listener leaving the studio and closing the door behind them as the band continues to play.
Andy Watts is a genuine blues guitar virtuoso. He has the knowledge, the skills and most importantly, the heart of a blues man. Blues on Fire will undoubtedly convince you of that.
For more information on Blues on Fire by Andy Watts:
Facebook: https://www.facebook.com/Andy-Watts-GuitarSlinger-2049678055247214/
Bandcamp: https://andywatts1.bandcamp.com/releases