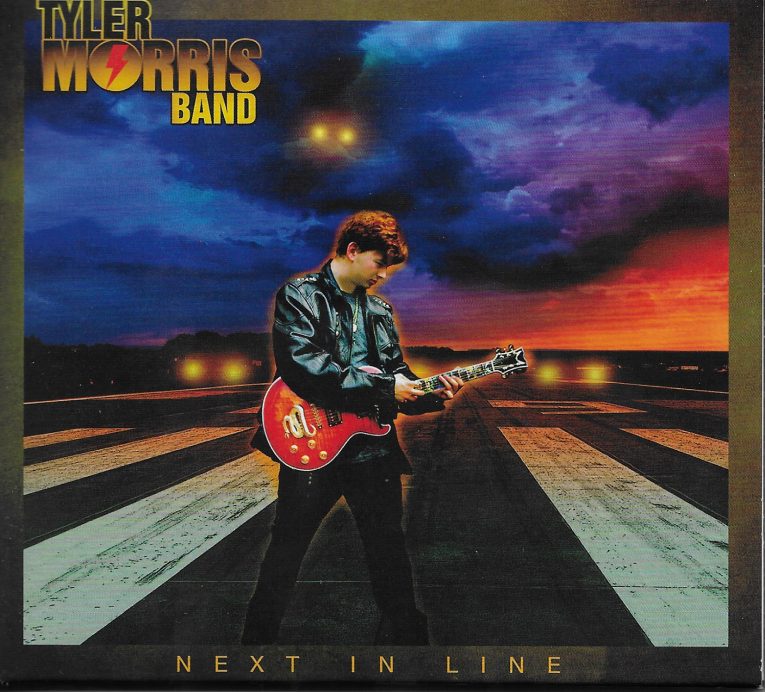 By Dave Resto
Nineteen-year-old guitar sensation Tyler Morris released his third and latest album, Next in Line (VizzTone) on February 2, 2018. On this outing, Morris recorded with top-tier producer Paul Nelson, who won a Grammy award for his work with Johnny Winter. The album features guest appearances by blues legend Joe Louis Walker and by the Uptown Horns.
Possessing a keen ear, gifted hands and a talent for songwriting (nine of the ten songs here were written by Morris), Tyler Morris is a genuine prodigy. He began listening to his father's rock and blues albums at the age of six. He began playing guitar at nine and by eleven, Tyler was playing professionally in the clubs outside of Boston, where he grew up. He gained recognition and success at an exponential rate and he's become well-loved and respected by both his fans and his peers in the music industry. Next in Line is a good representation of this young artist's talents and the direction he's headed.
"Ready to Shove" is the first of many flavorful guitar licks Tyler Morris serves up on this album. The track opens with deep, cleansing musical breaths from keyboardist Mike Dimeo. Drummer Tyger MacNeal's snare drum cracks solidly, cuing Morris to unveil the clean, biting riff that carries this song. Veteran bassist Scott Spray works deep in the groove and commanding vocalist Morten Fredheim interprets Tyler's lyrics with power and passion. The guitar solo admirably channels elements of Steve Vai and Gary Hoey in both tone and structure.
"Livin' the Life" also hits hard, further showcasing Tyler's formidable rock guitar chops. His playing is forceful and tasteful, as producer Nelson double-tracks rhythm and lead guitars to work off each other in a way which serves the song in the most complimentary fashion.
Morris turns to the Texas blues and Joe Louis Walker is the guest vocalist on "Willie the Wimp" (written by Bill Carter and Ruth Ellsworth), a song made famous by Stevie Ray Vaughan and Double Trouble. Walker clearly has fun delivering the story of Willie's demise and stylish send-off. Morris, likewise delights at the opportunity to play an extended, blues-infused solo.
"Choppin'," featuring the Uptown Horns, leans more toward Chicago blues. It's a swinging, upbeat instrumental, full of classic call and response between guitar and brass. Again, Morris has studied and mastered the genre he covers.
The guitar intros, lead sections and overall songwriting on "Talkin' to Me" and "Keep on Driving" are very sophisticated and suggest a level of maturity and musicianship we'd expect to hear from a player many years older than Morris. That speaks not only to his talent, but also to his commitment and dedication to deconstructing musical forms, in order to learn them from the ground up.
"Down on My Luck," "Thunder" and "Truth is the Question" are a trio of hard-driving blues rockers. Although Morris has proven that he's adept in pretty much any genre, he seems to have a particular talent for writing, arranging and performing this type of material. It may be because blues-rock allows him to straddle two genres he knows and loves, simultaneously.
One of the most captivating of the blues-rock entries on this album is "This Ain't No Fun." The 3/4 time signature lends it a Jimi Hendrix Experience-like "Manic Depression" feel. Following the middle section keyboard solo, the time cleverly changes to 2/4 just as Morris plays his guitar solo. This gives the song a "Red House" flavor, on which he capitalizes to the fullest extent, as he chirps and sings along the fretboard. Then, with equal cleverness, the time changes back to 3/4 just as Morris completes his solo, so that the song resolves where it began.
Tyler Morris is a well-rounded talent, whose notable skills as a guitarist and songwriter will only improve with time, as the list of stellar musicians with whom he's worked grows longer. His talent and hard work have paved the way to his successful future. Tyler Morris truly is The Next in Line.
For more information on Next In Line and Tyler Morris Band:
Website: http://www.tylerdmorris.com
Facebook: https://www.facebook.com/TylerMorrisOfficial/
Apple/iTunes: https://itunes.apple.com/us/album/next-in-line/1319553776