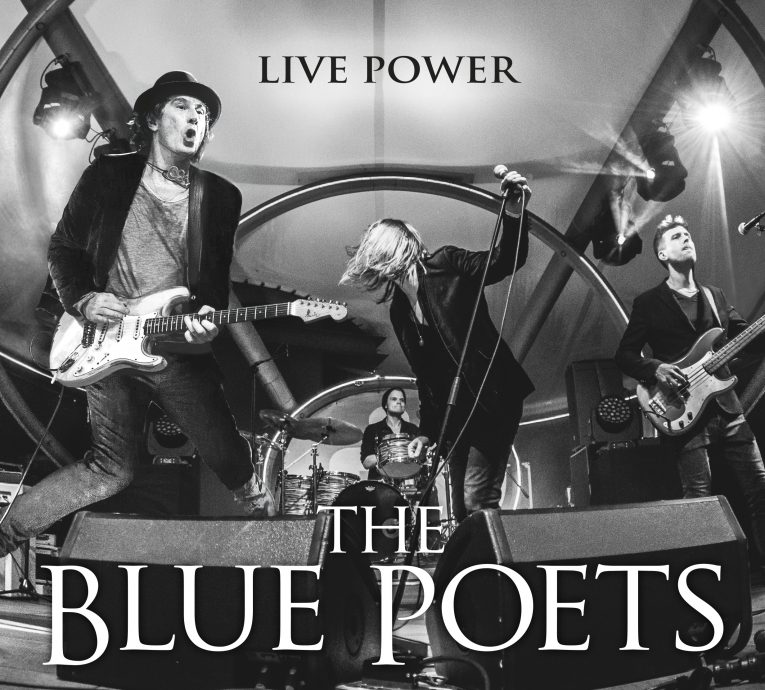 By Randy Patterson
Triple Coil Music serves up a triple threat of rockin' blues by way of the power blues group, The Blue Poets and their new CD, Live Power, released April 13, 2018.
Live Power is the German-birthed blues quartet's sophomore album, following their self-titled debut CD two years ago. The band is built on the foundation of guitarist, Marcus Deml (known as "King of Tone" and winner of American Guitar Player Magazine's "Guitar Hero Award"); vocalist, Gordon Grey; Phil Steen on bass; and Felix Dehmel on drums. Each musician is a dynamo unto themselves. Together, they present a blues force that is greater than the sum of their individual parts.
While rare for up-and-coming artists to release a live disc so early in their catalog, judging from the crowd recorded in the background of this live album, it's plain to see why The Blue Poets took such a bold and nearly unprecedented step.
The band shreds the crowd with a sonic blast as they tear into "Won't You Suffer." Blistering. Hard-driving. The crowd had to feel as though they'd been blissfully and bluesfully stomped on.
The Blue Poets then kicked into "Sad, Sad, Sad," whose sound reminded me of fun rock and roll from way back in the American Bandstand days but with a definite edge. The guitar solo on this tune just rips.
When the boys fired it up with "The Truth," I swear that I was listening to Stevie Ray Vaughan. Listen to this song and imagine what could've been had Stevie still been alive and stepped on stage with these guys and started riffin' with Marcus Deml. Don't know what I'm talking about? Buy the CD.
My favorite cut off the disc is "For A God." The tune put me in mind of something one might get if they were to blend
Jim Morrison
with
Jerry Cantrell
. As weird as that might sound, listen to the tune and tell me if it ain't so. That said, Deml's guitar work on this performance will tease the hair on your neck. Needless to say, this one earned countless slaps on the repeat button.
Yeah, it's that great.
Speaking again of Deml, his live performance of "Song For Gary" would've made the late Gary Moore extremely proud.  Sliding into "Oh Pretty Woman" was a great touch at the end of the tune.
Another favorite on Live Power is "Alien Angel." It's instrumentally superb (Deml knocks it out of the park) and Grey's pipes are 'specially outstanding. It should be the calling card for his talent.
The uber-Hendrixy "Could Have Lived" is pretty much worth the price of the entire CD if you ask me.
Yeah, it's that great, too.
Warning: If you listen to Live Power while driving, don't listen to "Too High" while behind the wheel. It's impossible to listen to this cut and not break any speed limit . . . unless you're on the Autobahn. Just sayin'.
Probably the most touching tune on Live Power is "With Your Eyes." Listen to this tune with the love of your life and let it soak in. I absolutely loved it and, consequently, also slapped the repeat button on this one.
The Blue Poets' treatment of the classic, "People Get Ready," is one worth checking out on your way to the final cut of the album, "Goodbye." The opening is sweet with Marcus' melodic riffs and Grey's soulful vocals. Marcus isn't called the master of tone for nothing. Full command of the strings with plenty of channeled emotion played with restraint. Beautiful.
Definitely check out Live Power by The Blue Poets. After you're done, you'll want to pick up their aforementioned first CD. These guys are a band you'll want to keep your eyes and ears on.
Yeah, they're that great.
To listen to a couple of their earlier videos on their first album, see our review here.
For more information on Live Power by The Blue Poets:
Website: http://www.thebluepoets.com
Facebook: https://www.facebook.com/thebluepoets/