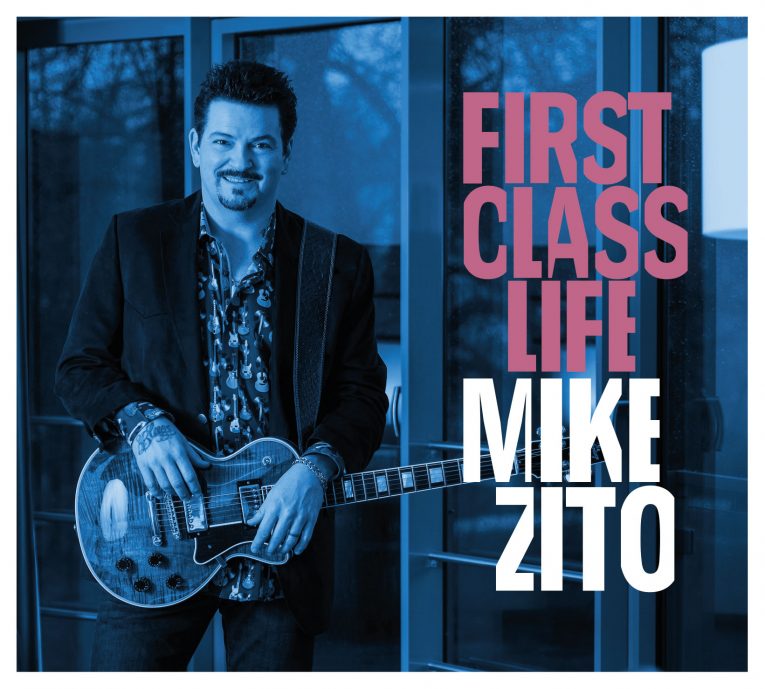 By Dave Resto
Mike Zito, the inexhaustible blues-rock guitarist, singer and songwriter is back with a hot new album, First Class Life. Produced by Mike Zito and released through Ruf Records, it arrives on May 11.
Loved by his fans and respected by his peers, Zito is well known as a solo artist and for his work with the Royal Southern Brotherhood. On First Class Life, the St. Louis-born and raised, Texas-based musician uses his 15thalbum to step away from his previous forays into rock and jam-driven work and rededicate himself to the blues. Thematically, Zito's lyrics reflect on his struggle with and triumph over addiction, his hard-earned success as a musician, and his deep love for his family.
Zito throws down the blues gauntlet by opening with the driving shuffle of "Mississippi Nights." Singing over a slippery bass groove and a classic roadhouse piano, he very purposefully and cleverly works in iconic blues references – "Muddy's on the radio," "the wolf begins to howl," "I got Clarksdale on my mind" and "the devil's at the crossroads."  Throughout, Zito works a wicked slide guitar, unleashing his most ferocious playing during his soloing.
Moving on to the next song, there's no rest for that slide guitar, as he sings, "I got a second chance at living a first class life" on the title track. Zito's powerfully affecting voice conveys the joy of his salvation from a life gone sideways, and his ability to find humor from some of his past misadventures, is admirable.
Zito's cover of "I Wouldn't Treat a Dog (the Way You Treated Me)" is a faithfully soulful rendition of the Bobby "Blue" Bland classic. He treats the song with reverence, capturing its sadness in his vocals and imbuing it with passion through his guitar playing.
Musically and lyrically, "The World We Live In" and "Time for a Change" serve as two sides of the same coin. A gospel-blues waltz with a distinctive B.B. King flavor, "The World We Live In" is a sad song of resignation to the harshness of everyday life. Conversely, "Time for a Change" bounces along in tempo and demeanor, suggesting we can turn things around for the better.
Ruf Records labelmate Bernard Allison co-wrote and performs on the track "Mama Don't Like No Wah Wah." The song recounts the time when the late Koko Taylor reprimanded her young guitarist, Allison, for using effects on his instrument. Allison lovingly gets the last laugh on Taylor here, as Zito gives him the solo and Allison soaks it in wah wah pedal. Keyboardist Lewis Stephens, bassist Terry Dry and drummer Matthew Johnson pitch in to rub copious amounts of funk on this one.
Mike Zito is an exemplary slide guitarist who seizes the opportunity to play that style seemingly every chance he gets. Nowhere on First Class Lifeis his prowess better showcased than on "Old Black Graveyard," where the tempo creeps, the mood is dark, and his tone is downright threatening.
"Dying Day" is Zito's happy declaration of lasting love for his wife, set to a brisk, jump blues shuffle. The slow-waltzing "Damn Shame" laments the end of a relationship, when a woman walks out on her man and breaks his heart. Both songs, however different in style and tone, manage to place the listener in the same seat, at a back-corner table, in a dimly lit night club in the 1950s. Such are Zito's gifts for composition and production.
The album ends with the loud and rowdy, "Trying to Make a Living," which could well serve as a show closer, as Zito tours in support of this album. With any number of guest artists along the way, it's the type of song that could be extended well beyond its 2 ½ minutes.
Mike Zito's musical talents are generously distributed. As a guitarist, he's on even footing with the likes of Bernard Allison and Walter Trout, calling them friends, as well as collaborators. Vocally, he can summon the sweet, the raw and the in between. His songwriting skills allow him to cover a wide range of topics and infuse them with a multiplicity of emotions. As a producer, he shows a keen ear and a sure hand behind the glass. It's no surprise then that he really is living a first class life.
For more information on First Class Life by Mike Zito:
Website: https://www.mikezito.com
Facebook: https://www.facebook.com/mikezitomusic/ 
Apple/iTunes: https://itunes.apple.com/us/album/first-class-life/1358004774