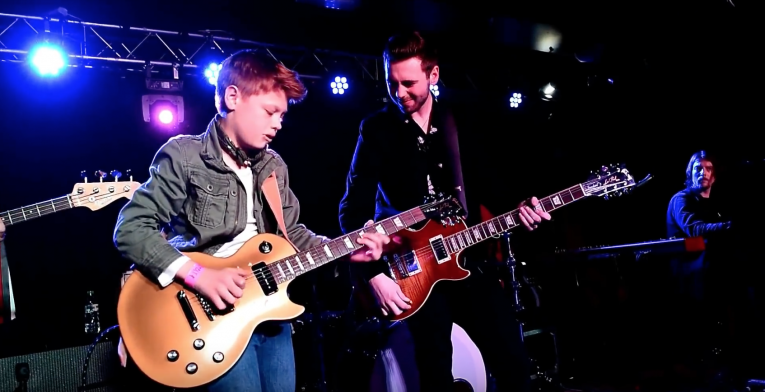 If you haven't heard about this 13-year-old bluesman, you're in for a treat. Toby Lee is a fabulous blues-rock guitarist for any age. You have to watch him to see his virtuoso guitar chops and great tone and feel. He has been playing since he was four years old. At age eight, he learned that BB King was seriously ill and recorded a get well video and posted it on Facebook. The video went viral.
Joe Bonamassa shared that video on social media and branded Toby Lee a "future superstar of the blues." Toby then began his weekly Sunday Blues Jam on Facebook that continues to this day.
2015 took Toby to Memphis, TN, to play with BB Kings All Star Band at the age of ten. He then played with Walter Trout, and more. 2018 brought more recognition. Toby became the first "youth artist" to represent the UK at the International Blues Challenge in Memphis.
Toby is a finalist in the 2018 UK Blues Awards in the category "Young Blues Artist of the Year."
Since he was ten, Toby has been mentored by the British blues-rock guitarist, singer-songwriter, Laurence Jones. Jones was voted "Best European Guitarist" in the European Music Awards and was introduced into the Hall of Fame in the British Blues Awards for winning "Young Artist of the Year" for 2014, 2015, and 2016. Jones has released four solo albums. The Truth is his latest album, released in 2017.
Here is the new video featuring Toby Lee and Laurence Jones. Enjoy!
For more information about Toby Lee:
Website: http://toby-lee.com
Facebook:https://www.facebook.com/tobyleeguitar/
For more information about Laurence Jones:
Website:https://www.laurencejonesmusic.com
Facebook:https://www.facebook.com/laurencejonesmusic/