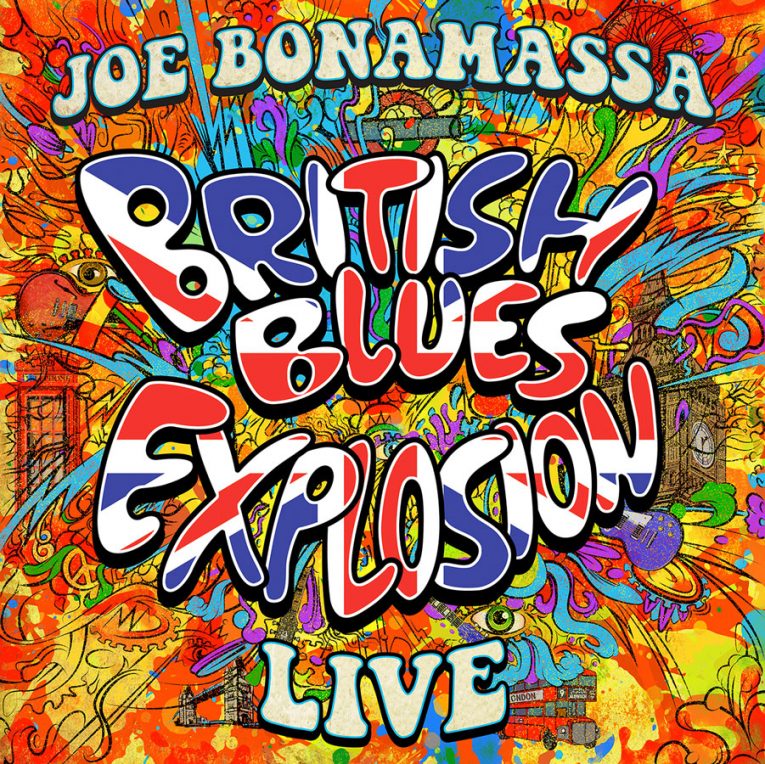 By Randy Patterson
Two-time Grammy-nominated Blues virtuoso, Joe Bonamassa, releases a new CD, British Blues Explosion Live, out May 18th, via J&R Adventures in North America and Mascot Label Group in Europe. This album can't come soon enough.
British Blues Explosion Live captures 14 songs from a five-show tour and pays tribute to the music of Eric Clapton, Jeff Beck and Jimmy Page. The show was recorded at Greenwhich Music Time at The Old Royal Naval College in Greenwhich, London in 2016.
With a deep love and respect for these great musicians and what they have accomplished, Joe Bonamassa pays special homage to the British guitarists who inspired him and who greatly influenced blues-inspired rock.
Backed by Anton Fig on drums, Reese Wynans on keys, Michael Rhodes on bass, and Russ Irwin on rhythm guitar/backing vocals, Bonamassa delivers a salute to the British blues greats as only he can.
The two CD set opens with JB's interpretation of Jeff Beck's "Bolero/Rice Pudding." It takes guts to attempt such a performance but Bonamassa does so with his trademark precise and fiery guitar chops. In hot pursuit is Bonamassa's delivery of Eric Clapton's "Mainline Florida."  What I found remarkable on this cut is Wynans' subtle, steady, and solid foundation with his work on the keys. Like the original version, it's not overpowering but its presence is more prominent and contributes a richer feel for the song.
Zeppelin's "Boogie With Stu" gets more of the Bonamassa/Wynans treatment. The boogie-woogie groove of this tune is unmistakable fun as the blues master takes the listener on quite the ride. His unequalled precision on guitar and Wynans' equally precise piano mastery, takes this Led Zeppelin classic to a whole new level of sonic pleasure.
With the Willie Dixon classic, "Let Me Love You Baby," made popular by Jeff Beck, JB serves up the tune with heavy sounds of Page and Clapton which reveals the influence these rock giants had on Bonamassa's playing as well as on his interpretation of the song.
With the next tune, "Plynth (Water Down The Drain),"  Bonamassa plays with what sounds like a heavy influence from Billy Gibbons. Raw. Gritty. Dirty.
Next, Beck's "Spanish Boots" is presented in a Led Zeppelin meets Black Sabbath kind of way mixed with classic Bonamassa exactness and smooth feel. This cut definitely earned its fair share of repeated listens. It's that good.
Closing out the first disc of British Blues Explosion Live is a tremendous cover of Clapton's "Motherless Children." Because of how Bonamassa plays it, I had to look up the history of the song to see if it was originally a Delaney and Bonnie song. It isn't but their influences seem to surface through Joe's performance.
Opening up the second disc is a gem from Cream's album, Disraeli Gears. Bonamassa cranks out, "SWLABR" with its full-bodied sound that projects both power and energy. This blues titan cracks yet another explosive tune with soulful vocals and fiery soloing.
Bonamassa and the band then serve a helping of
Zeppelin
by way of "Tea For One/I Can't Quit You Baby" (the latter being yet another Willie Dixon tune covered on this set). Like the original "Tea For Two," Bonamassa stomps on this with hints of Latin flavor. Instead of singing the lyrics, Bonamassa seamlessly segues into "I Can't Quit You Baby." The guitar work is lightning-fast and played with unparalleled intensity.
A special treat on this collection is the way Bonamassa and the band perform, "Little Girl," which was a great number Clapton did back in his days with John Mayall and the Blues Breakers. I dare say, however, Bonamassa's playing on this tune sounds more like Clapton than the original.
Probably the most pleasant surprise on this 2-disc treasure chest is Bonamassa's take on Clapton's "Pretending" – which is nothing short of spectacular.  While the song is immediately recognizable with Wynans' keyboard intro, Joe makes the song his own with his laser-like axe work, complete with intricate and free-spirited riffs and signature tone.
The set closes out with "Black Winter/Django" and "How Many More Times" – both done in a manner that leaves the listener's head spinning. It also reminds us of Bonamassa's brilliant live work on Live From Nowhere In Particular with its majestic, Middle Eastern influenced sound.
One just has to wonder what it would be like should JB, Beck, Clapton, and Page perform together on stage (or, at least, in the studio). I'm not sure that will ever happen but in the meantime, we have British Blues Explosion Live to satisfy us.
British Blues Explosion Live will be available on CD/DVD/Blu-ray and vinyl.
For more information:
Website: https://jbonamassa.com
Facebook: https://www.facebook.com/JoeBonamassa
Apple/iTunes: https://itunes.apple.com/us/album/british-blues-explosion-live/1360352454