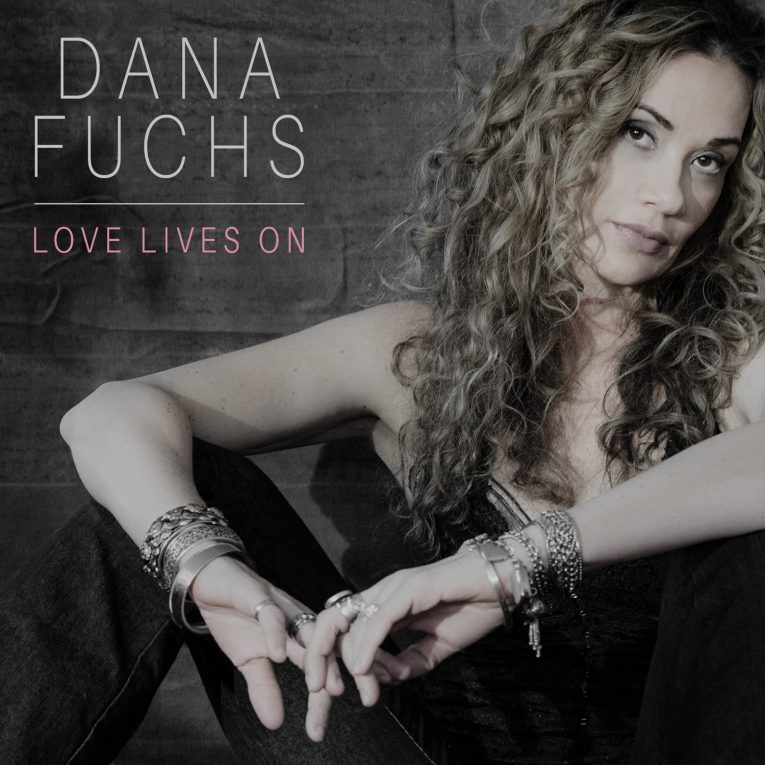 By Tom O'Connor
With the release of her seventh song collection, Love Lives On, on her own Get Along Records label, the fiercely talented Dana Fuchs continues to prove that where there's a will, and no small amount of passion, there is always a way. Love Lives On is out May 18th.
An easy way to judge the caliber of any blues singer is to look at the company she keeps. In addition to guitarist and long-time collaborator Jon Diamond, Dana Fuchs has no trouble attracting the talents of in-demand session killers such as organist Charles Hodges, Stax bona-fided Steve Potts on drums, Jack Daley on bass and some additional keys by Glenn Patscha. Scott Sharrard is also on-board for some songwriting credits.
The album opens with the straight-ahead bass driven groove of "Backstreet Baby." Fuchs' growling vocals are complimented by the "dooo-ooop" background vocals and horn stings. The funk jauntiness continues on "Ain't Nobody's Fault but Mine" firmly rooted by the classic horn sounds as much by the tried-and-true laments of a character who knows they've been their own worst enemy, but they're still kind of OK with that. The Motown vibe gets fully realized in "Callin' Angels" as the track builds from Fuchs' soul-powered vocal accompanied by subdued organ and guitar to a horn-fueled shout to the heavens.
Dana and the band shift gears a bit on "Sittin' On," a tale of real regret with a sad but wonderful in just-that-way chorus. The tune is the perfect prelude to the title track "Love Lives On" which hits with the authority that only real pain and personal loss can inject into the heart of a performer. You feel it here. A bit of the swagger and defiance that keeps hearts beating returns on train song "Sad Solution."
We are taken all the way back to church on "Faithful Sinner" where Fuchs lays bare the soul of every broken trespasser who knows they still have much to atone for, even though they did their best. Hard news that she knows is going to hurt for a while. The intense vibe continues on the hard-hitting "Ready to Rise" where the funk and soul vibes take a back seat to straight-up blues rock pain and catharsis.
Stripped down acoustic number "Fight My Way" sounds like a back porch country-folk number that would be at home on any Bonnie Raitt album. The song also signals a climb out of the heaviness and damage of the previous three or four songs… because in the end, this album is really about redemption and the resilience of hope. We're all fighting our way back to life, this song (and this album, really) is the right soundtrack for it, but we're not out of the woods yet, good people. Things get personal, real and brutal on "Battle Lines." Hidden behind the lush backing vocals, smooth chorus and healing organ fills, Fuchs tells some of her truth and it is enough to make any fellow-survivor nod quietly in agreement and respect.
Hope comes roaring back on "Same Sunlight." The simple, galloping rhythm bounces you back to life while giving the horn section the foundation it needs to lift you, heart and soul, to your reward, and if all that isn't enough, the guitar break will run a current through your spine. When Fuchs testifies that "We're all livin' and breathin' and tryin' to stay alive" it sounds so obvious, you have to wonder why we all have so much trouble remembering it, especially the part about how everyone is battling something, every day.
While "Same Sunlight" makes perfect sense as an album closer, the addition of the "Ring of Fire" at the end is still a nice bonus. At this point in its long history, a song like this is really a chameleon that takes on the shape of the performer, so of course the Dana Fuchs version will be simple, and musically understated to make room for her seemingly boundless vocal expression. Eyes will get misty even before the pedal steel kicks in.
Even though Dana Fuchs has been putting out great music for more than a decade, this powerful album still feels like a kind of arrival.
For more information on Love Lives On by Dana Fuchs:
Website: https://www.danafuchs.com
Facebook: https://www.facebook.com/danafuchsverified/
Apple/iTunes: https://itunes.apple.com/us/album/love-lives-on/1348462964