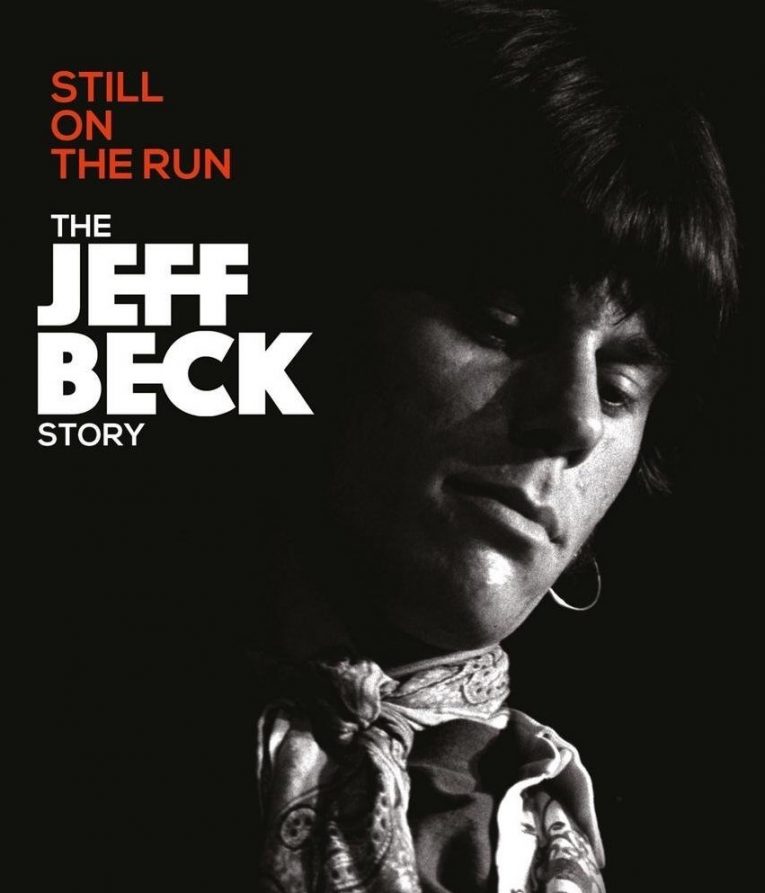 By Kevin Porter
Still On The Run: The Jeff Beck Story, is a documentary about the legendary and extraordinarily innovative British guitarist, now available on DVD and Blu-Ray. The movie traces Beck's 50-plus-year career from the Yardbirds in the 1960s to his iconic solo career today, and features interviews from a who's who of musical legends such as Eric Clapton, Jimmy Page, Rod Stewart, Slash, Joe Perry, David Gilmour, Ronnie Wood, Beth Hart, and Jan Hammer. Two passions of Beck's are covered throughout the movie: his guitar and the hot rods that he lovingly builds and restores. The film is directed by Matthew Longfellow.
It's hard to describe an eight-time Grammy Award-winner, a two-time inductee into the Rock 'N' Roll Hall of Fame, and one who is rated #5 on Rolling Stone's list of all-time great guitarists, as under-rated, but Beck clearly has not had the commercial success or public notoriety of some of his peers, such as Clapton and Page. Certainly, a large part of it is his mercurial switching of musical styles over short periods of time, from heavy blues-rock (Truth and Beck-ola) to jazz-fusion (Blow by Blow and Wired) to rock/electronica (You Had It Coming) to swing (Rock 'n' Roll Party, his tribute to Les Paul) and just about everything in between. Essentially, Beck is rock's version of the weather in some parts of the world—if you don't like it now, wait a little bit.
A related contributor is Beck's detours of his musical career at times, such as leaving the Yardbirds just before the band achieved popular success, and Beck's disbandment of the Jeff Beck Group, with Rod Stewart on vocals and Ron Wood on bass, just before the band was scheduled to play Woodstock. Still another reason is Beck's willingness to drop out of the music business for years at a time, content to work on his cars, if he felt the music industry was not receptive to the music he wanted to make. In sum, Beck has consistently strived for artistic integrity and self-satisfaction at the expense of commercial success, something much remarked upon by several of the interviewees in the film.
After a general introduction, the movie starts with Beck's childhood. His mother was a piano player and wanted Beck to follow in her footsteps, but to her chagrin, Beck gravitated towards the guitar. Les Paul was an early influence, particularly "How High the Moon." Beck also cites Gene Vincent, Ricky Nelson and James Burton as other early influences. He struck up a friendship with Jimmy Page, and the two intensely studied guitar solos and riffs from artists such as Elvis Presley and Buddy Holly. After attending the Wimbledon School of Art for two years and playing with local bands such as the Tridents in and around London, Beck joined the Yardbirds in 1965 as a replacement for Clapton, at Page's recommendation. Although Beck was with the Yardbirds for less than two years, the band recorded many of its best-known songs during that period, including "The Shape of Things" and "Heart Full of Soul." For "The Shape of Things," Beck uncorked one of the many groundbreaking and unforgettable solos, emulating Ravi Shankar's sitar playing on electric guitar.
Jeff Beck left the Yardbirds after the band agreed to do the Caravan of Stars tour sponsored by Dick Clark, at Beck's dismay. Beck's musical career might have ended there had he not struck up a friendship with Rod Stewart.  The two formed the Jeff Beck Group with Ronnie Wood on bass and Micky Waller on drums, and made the album Truth in 1968, a certifiable classic.  The album emphasized re-interpreting classic blues tunes with a heavy rock vibe, such as "Let Me Love You Baby" by Buddy Guy, Muddy Waters' "You Shook Me" and Howlin' Wolf's "I Ain't Superstitious." Truth is regarded as one of the foundations of heavy metal because of this fusion of blues and hard rock. Beck-Ola, released in 1969, followed a similar blueprint but with the addition of Nicky Hopkins on piano. Although Beck-Ola is also well regarded, the larger-than-life personalities of Stewart, Wood and Beck clashed, and as noted earlier, the band disbanded shortly before its scheduled appearance at Woodstock. As Beck ruefully noted in the movie, Stewart and Wood went on to enjoy success with Faces.
Beck continued his maverick ways, releasing two more Jeff Beck Group albums with different supporting musicians, and a one-off collaboration with Tim Bogert and Carmine Appice of Vanilla Fudge.  Beck then became smitten with the playing of John McLaughlin and Mahavishnu Orchestra.  Beck was uncertain he wanted to record another album with a vocalist—"there are no more Rod Stewarts on this planet" Beck has said. On a whim, he had his manager reach out to famed Beatles producer George Martin to produce a guitar-focused instrumental album, a nearly unheard of action at the time. To Beck's surprise, Martin said yes, and the results were sublime—1975's Blow by Blow and 1976's Wired. The two albums reinvigorated Beck's career and remain staples of Beck's live shows.
A nice feature of this documentary is their focus on one or two songs from nearly all of Beck's albums. For Blow by Blow, for example, the focus is on a remake of Stevie Wonder's "Cause We Ended as Lovers." Beck talks about how he discovered the song and his approach towards playing it. Beck has not played with a pick since his days with the Yardbirds, and he displays his mastery of playing intricate melodies just with harmonic tones, something he did to great effect on Charles Mingus' "Goodbye Pork Pie Hat" on his album, Wired. Mingus was so impressed that he sent Beck a complimentary letter, as displayed in the movie. Another song receiving special treatment is "Scatterbrained," also off Blow by Blow. The song features a very fast series of scales on the guitar and originated from a riff a nervous Beck would play before his live shows. Keyboardist Max Middleton and Beck then worked the riff into the song.
It is impossible to cram a 55-year music career into a nearly 90-minute movie, and as such, the movie races through Beck's musical output and the many twists and turns of Beck's musical career, never diving too deep into any one particular aspect but not skipping anything, either. The movie would have to be at least doubled in length to do full justice to Beck's career. That said, the movie is accompanied by a blistering set Beck recorded in 2007 at the Montreux Jazz Festival and is a nice bonus.
You should see for yourself. Still On The Run: The Jeff Beck Story is a fascinating portrayal of a guitarist that several of the interviewees call one of the most influential players of our time. Beck turns 74 in June and is embarking on a short U.S. tour this summer, accompanied at some stops by Paul Rodgers of Free/Bad Company fame or Ann Wilson of Heart fame. It may be your last chance to see Beck, and if you do, you can count on him to unleash some jaw-dropping solos and sound effects.
To purchase Still On the Run: The Jeff Beck Story:
https://www.eaglerocklinks.com/jeff-beck-story