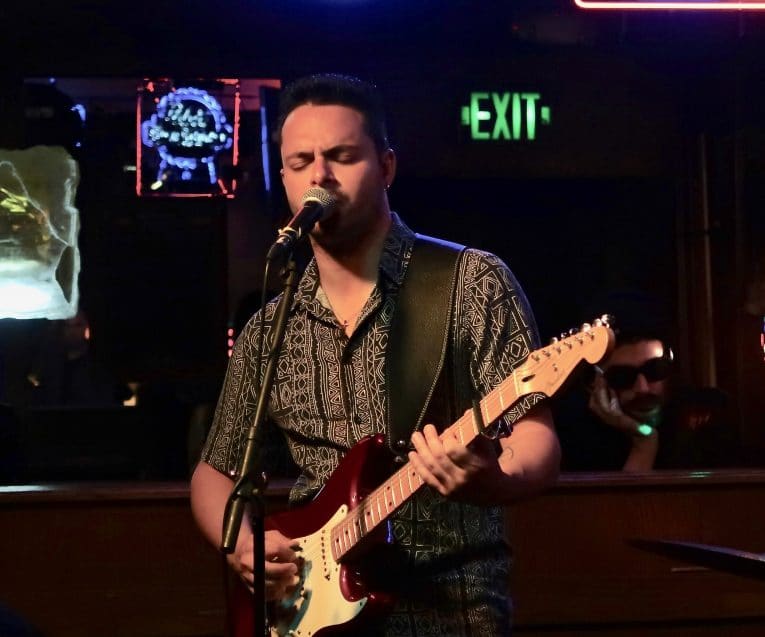 By Martine Ehrenclou
Dany Franchi, a soulful blues rocker from Italy, was joined by equally extraordinary talent on May 28th, at the Maui Sugar Mill, in Tarzana, CA. Dany Franchi's new album, Problem Child is so good, I couldn't miss this local show. And besides it was supposed to be a Blues Guitar Summit with Kara Grainger and Tommy Harkenrider. I was prepared for a good time, but not for the kind of outstanding performances that night. It was a guitar and blues feast—a double wallop for those of us that love both.
The Blues show was presented by Cadillac Zack Presents. We are forever grateful to Zack for bringing blues shows to Southern California for the last 10 years.
After a fun and memorable set of blues-roots music with nice harmonies, courtesy of two great guitar players/singers, Barrett & Lewis, Dany Franchi appeared on stage, candy apple red Strat in hand, along with guitarist Tommy Harkenrider, bass player Steve Nelson and Jerry McWorter on drums.
It had been a while since I'd been to a small local blues club, of which there are few in Los Angeles, and at once I felt at home. Maui Sugar Mill is intimate and comfortable, not unlike someone's living room. And even though Dany Franchi and the band were in close quarters up on stage, nothing took away from their outstanding blues-rock-soul set.
Among the tunes performed, were several from Franchi's new album, Problem Child, an album I must admit, I love. For a 27 year old from Italy, the Blues is his home for sure. Franchi's vocals and guitar work sounded just as good, if not better, live. Being accompanied by the likes of Tommy Harkenrider didn't hurt either. Both traded licks and solos and wowed the crowd ten times over.
Old school blues with a very fresh take sums up Franchi's music. Throw in some boogie-woogie, soulful vocals and exquisite guitar chops by Franchi and you have a unique combination of blues. He's definitely studied the blues masters—you can hear it clearly in his playing but with his own modern twist.
Franchi and the band performed "She's 19 Years Old." Thanks to Lynda LaHue for the video. For her YouTube page see here.
Franchi was as welcoming as any musician can be and asked us to join in on a few choruses of songs. He has a way of connecting with the audience, looking you in the eye as he's playing an astounding blues solo. I wondered if he was actually looking at the front row or if the music was so intrinsic to his being that he was in fact deep inside the sound of those 6 strings.
Allowing for another top-shelf guitarist (Harkenrider) to play solos and mind-bending licks on his Vintage Gibson hallow body guitar, showed Franchi's love of the music, his love for putting on a great show. Not every musician with top billing would be so gracious as to let a guitarist like Harkenrider share the spotlight, but Franchi did. And the crowd loved it.
One of my favorite tunes off of Problem Child, is "Sen Sa Shun" a refreshing and fantastic interpretation of the Freddie King song. When Franchi and the band started in on this one, I grabbed my camera. A knockout performance by all and with that kind of rhythm, the band had to be super tight. They were. Franchi's guitar playing was fresh, and in one word, exquisite.
Dany Franchi then called up singer, songwriter, guitarist, Kara Grainger to the stage to join them. Talk about star power, a killer voice and guitar skills. She said to the band as much to the audience, "I think tonight, we'll just play some blues." Playing slide guitar, Grainger began with rootsy blues, her voice full-bodied with plenty of soul. There was clarity there too with that unmistakable bell tone mixed with grit.
We were in for some serious musicianship with Kara Grainger. Her vocals packed a punch and she played monster guitar solos that had the crowd whooping and clapping. Nice to see a female musician kick some a** like that.
For Grainger to hold her own on stage with Dani Franchi, Tommy Harkenrider and the band, was pretty impressive. But she certainly had the skills, and in fact, she owned that stage. Mid set she switched to an electric guitar with substantial bite. Talk about tone.
After a few numbers, Grainger left the stage to allow Dany Franchi and the band close out the evening with his tune, "Problem Child." It's a darker original song, a rootsy blues number with more spare notes. He gave into it. The room loved it and gave Franchi, the band, and Grainger, a standing ovation.
What a night of outstanding blues and guitarists. I'm definitely going back to this club. And to think all this time that Maui Sugar Mill has almost been in my own backyard.