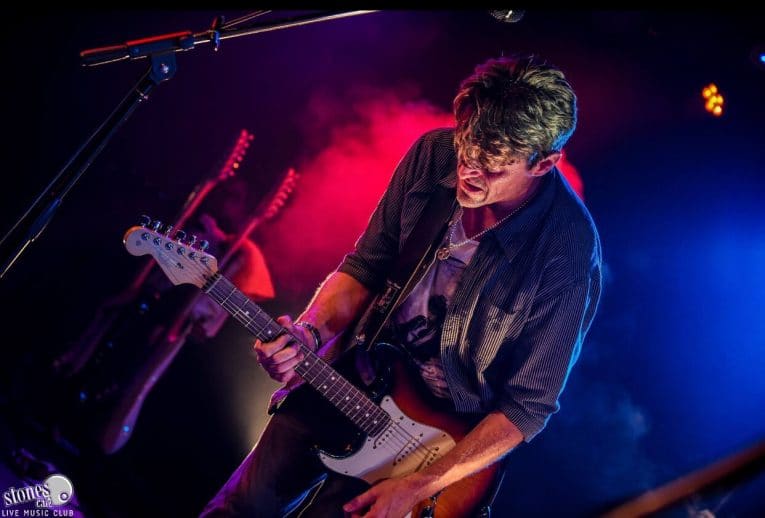 By Martine Ehrenclou
With a new blistering blues-rock album, Pain Passed Down, five studio albums, and as a long-running guest opener for the Grammy-winning blues legend, Robert Cray, Shawn Jones is a virtuoso guitar player, soulful singer and songwriter with some serious skills. Hailed as a true original by Waylon Jennings, Shawn Jones' blues, roots, rock and Americana music has taken the world by storm. He's shared billing with BB King, Robert Cray, Buddy Guy, Bonnie Raitt, Waylon Jennings, Willie Nelson, Leon Russel, Derek Trucks, Robben Ford, Joe Bonamassa and many others. He's also written songs for TV and movies. Currently on a European tour, Shawn took the time to talk to us by phone.
Martine: I knew nothing about you before a friend mentioned that I should listen to your music. Two days later, I walked into the Canyon Club to see Robert Cray perform and there you were opening for him. I couldn't believe it. You're a great singer, guitar player, songwriter and you put on an amazing show.
Shawn: Thank you. That's awesome. I'm going to have to do this for at least another week since you're saying all this. [Laughter]
Martine: [Laughter] I'm totally sincere.
Shawn: I know, and I appreciate that so much. This is not an easy business and my brain goes in a lot of different directions sometimes. It's a blessing and a curse, you know?
Martine: Yeah, I get that. The music business is brutal in some ways.I'm wondering how you became a virtuoso guitar player and great performer. How did all that come about?
Shawn: Well, it's all backing tracks, smoke, and mirrors. [Laughter]
Martine:  [Laughter] Yeah, right. I saw that trio.
Shawn: I started out as a kid in the choir– for singing anyway. I was in the honor choir, became the section leader, sang harmony and vocals and was in show groups as a kid. I've been making a living playing music since I was 15.
Martine: That's pretty impressive. Was there something that drew you to playing the guitar and singing?
Shawn: Well, I grew up in a really rough part of town. The one thing is the guitar saved my life because I got beat up by a gang on the way school every day.
Martine: Yikes.
Shawn: When I was 12 years old, I started carrying my guitar to school because I loved it so much. I stopped getting beat up.
Martine: Because of the guitar?
Shawn: Yes, because of the guitar. People wanted to hear me play. It was like my shield. And so I carried it at school. If I just skateboarded around without carrying my guitar, kids would steal my skateboard, and Mexican gangs would beat me up. I got involved in a jazz band at school, it became a thing. Teachers would take me out of class so that I could do assemblies and travel to different schools. The guitar became my life. And it was always to back-up to my voice because I learned how to sing first. It was about songs. The guitar kind of saved my life. That's why I have to stand by it.
Martine: That is an amazing story. No wonder you are so committed to it.
Shawn: My first gig I played at two Italian restaurants in San Bernardino when I was 15 and I worked at a record shop part time. That's how I learned, with some records and jamming with musicians. Some of them were street musicians, some of them worked at the store.
And my father – I'm leaving out the most important part. My dad played guitar and sang, and we had a piano in the house. He played acoustic and sang old country songs. Christmas of '73, my dad gave me his guitar and strung it up left handed for me, and I started playing that day, I never stopped. I used to harmonize with him on old Hank Williams tunes and he'd always say, "Take it, Son," when the solo part came. I would just butcher it until I finally figured out how to do solos and then I just kept going. He died in 2003. I've lived in L.A. for a long time and lived in Nashville for a while. It's been quite a journey so far, and I'm still going.
Martine: How did you get into playing the blues considering your father  was into country music?
Shawn: My father brought me up on country. Then there was my grandmother's neighbor and he played blues, and he started showing me. He saw that I knew how to play "I'm So Lonesome I Could Cry" and other Hank Williams stuff. He showed me some blues changes, which to me was almost the same thing, just a little different rhythm because of the chords. It transferred over for me and I just didn't see a line between it really. My stepmother gave me a Jimi Hendrix record. He was left handed like I am. It just completely blew my mind and opened up the whole musical world, of all the colors in the music, because Hendrix was just so limitless. I started playing stuff like Purple Haze. My dad was a country boy but he loved it when I played that stuff, and we'd sit around the campfire sometimes, and he played some Jimmy Reed. I would play the blues, he'd play country, and then he'd jam along.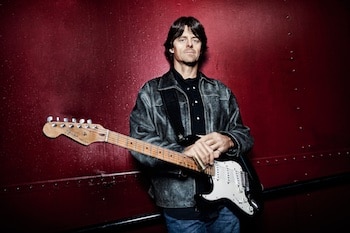 Martine: That's cool that you played with your dad.
Shawn: Yeah, yeah. There's a record I put out in 2005. I dedicated that album to my father. There's a song in there called "My Best Friend." People who come to my acoustic shows always request that tune and if the room's quiet, I'll play it. There's a hidden track at the end of that record of my father. I didn't have any recorded music of my dad until I found a cassette in his desk drawer when I was cleaning it out after he passed away. There were all these songs that he recorded on a little cassette, and I transferred it into Pro Tools and cleaned it up and made a CD for my family of my dad.
One of those songs ended up as a ghost track on my CD, and it was actually the very first thing that was played of mine on the BBC in Ireland. The very first thing they played off of my album was of my father.My dad got on the radio before I did.  It was great.
Martine: That's very cool.You have a new album, that's calledPain Passed Down. Did you write all the music? I love the song, "69 Coupe De Ville."
Shawn: I wrote all the songs except for the very last song, it's a Robert Johnson remake, but the other nine I wrote. "69 Coupe De Ville" was written by myself and a good buddy, Ed Berghoff. Ed and I both played for Deana Carter. I played for her for nine years. We do some gigs together from time to time, but we write together a lot too. The album was done over three sessions in Hollywood at the ReadyMix studio.It was a collection of songs, some new ones and some that go back 25 years. I was just cherry picking from the most bluesy stuff I'd written. We did live rhythm tracks and saved almost every single thing that we recorded.
Martine: You've written a few songs for TV and movies too, right?
Shawn: Yeah, it's been a while but "Mystery, Alaska," the Russell Crowe movie.  "Tumbleweeds" with Janet McTeer, and then "Dawson's Creek," the hundredth episode. I haven't been in film and TV stuff for a while, because of my life journey. I've kind of fell out of the loop with music supervisors but I aim to jump right back into it again very soon. And one of the first Americana records that was ever released commercially, was a soundtrack on RCA that had Johnny Cash, Lyle Lovett, Lucinda Williams, Big Sandy & His Fly-Rite Boys, Buck Owens and my band, but they didn't get proper clearance on Johnny's stuff so they had to pull them from the shelves.  It was such an amazing record to be on. I still have copies of it.
Martine: You played with Waylon Jennings didn't you?
Shawn: Waylon managed me. He had a management company and I was his first artist. They were just managing me and trying to get me a record deal. I went on to play with him and do a record with him. I went out and recorded at the iconic Woodland Studios in Nashville. It came out in winter of 1995.
Martine: And the name of that album?
Shawn:  It's called Right for the Time. And then that next summer of 1996, while we're in the studio, he got a call from James Hetfield from Metallica. He was a huge Waylon Jennings fan. He said, listen, we're doing Lollapalooza. He offered the whole tour to Waylon, but Waylon became ill and had to pull back and only do the four of the shows. So we did four Lollapalooza's with Metallica, Soundgarden, Ramones, Rage Against the Machine, all these crazy bands. It was the end of the run, and I finished up the record with Waylon, and we finished our last show in New Orleans, and that was great, and I saw him a few times after that. I could never totally get comfortable working with Waylon because he was such an icon and I respected him so much.
Martine: I get that.
Shawn: I got a publishing deal with Chrysalis and they were taking me around to the different labels in Nashville trying to help me get a record deal. They helped me get a few of those filming TV cuts. I moved back to Nashville, lived there for a couple of years, and just as I was starting to get a foothold, my dad got cancer and I moved home to help him get through that. That was around 9/11. My father passed away and then I went to Iraq and played for the Troop's that summer.
Martine: What was that like?
Shawn: It was right after the war started. We were staying in Saddam Hussein's mistress' palace.
Martine: That's a story unto itself.
Shawn: Yeah. So the Ba'ath Party met us there – that's where we stayed. It was in the Ba'ath Party palace in a room with eight of us and three Special Forces guys. They were mercenary dudes. They'd go out and come back with a lot of lira with blood on it. It was really surreal.
Playing for the Troops was great. I really support them. It was the budget tour because it was funded by the Germans. It wasn't a USO tour. We flew over to Kuwait and went over to Baghdad in the Green Zone. Basically, I was in charge of five bands and three comedians while we were coming over, so when we landed, I issued everybody flak jackets and Kevlar helmets. We played three camps and on the last camp on the 4th of July, mortar came in and hit the camp. And then they waited until it got dark and shut all the lights out. They flew us home the next morning.
Martine: Wow, that's crazy. Let's shift gears. You seem really at home performing on stage and it's not always like that for musicians. You seem to enjoy connecting with your audience. Has it always been like that for you?
Shawn: Well, it isn't always that way. I played a gig last night and thought, oh, that's crap. But everybody comes up and says, that was a great show, and even the bass player said, we rocked it tonight. And I thought to myself, hmm, sure, we did. And the thing is, there's always a little inner battle going on.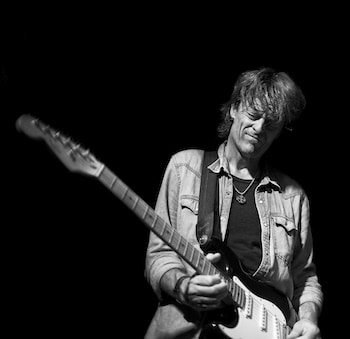 Martine: I can't imagine that being a virtuoso guitarist and soulful singer.
Shawn: I suppose I have a certain level of demons going on in my head telling me I suck, and that's horrible. Or when you really think you're really rocking and you're like, okay, don't overdo it. It's about staying in the present, staying in that moment and being aware of what's going on in the room, having a little bit of interplay with the audience. We're all just a bunch of people in a room together. It becomes a big living rom. We're having some fun together. I try not to take myself too seriously. Some think they have to overly impress people but that shows. If you make a mistake, laugh at yourself and say, okay, I didn't mean for that to happen. It's all part of the deal.
Martine: And most people wouldn't pick up on mistakes anyway.
Shawn: Yeah. I suppose. Sometimes you kick it back a couple of notches and maybe that's where your center is. There is a sweet spot in everything we do in life whether it's lovemaking, having a conversation, playing the guitar, driving your car, whatever it is. Mixing an album, where everything's kind of grooving and it sits just right, and the drummer's carrying a groove. I'm always shooting for that sweet spot.
Martine: If you're shooting for the sweet spot, does that take you away from being in the moment?
Shawn: No, that is being in the moment.
Martine: I get it. Can you tell me about your guitar collection? You told the audience about your Guild at the show the other night.
Shawn: Yeah. Three of them were up on stage with me that night. One is made by Bill Asher, the Asher Guitar Company out of Culver City and that was a T-deluxe and he built that one for me and it's kind of a deluxe telecaster design that he came up with. I use that a lot on my slide work. It's actually too good to just be a slide guitar, but it's the best-sounding slide guitar I have. And then there was a real pretty Les Paul guitar that is number eight of a new line of instruments that George Lowden builds, Lowden Guitars out of Northern Ireland. And that is the GL-10 model. I'm one of their endorsees. He's been building acoustics for 44 years now and he is just started building electrics. I also do clinics for them and play at the NAMM show every year for them.
Martine: Do you have a number one guitar?
Shawn:  The number one guitar is my dad's Martin D-18 that he bought himself when he gave me his first guitar. That one only leaves the house once in a while. I use it on recordings. Recently we had fires in Ventura, so we were close to evacuation. I was watering the roof down until three in the morning and I was ready to evacuate and that would have been what I took with me.
Martine: I can understand why.
Shawn: My dad's guitar is my prized possession. It's got all my dad's scratches on it.
Martine: You've played with some amazing artists. I read you played with B.B. King, Buddy Guy, Derek Trucks, Robert Cray, Jimmie Vaughan, Willie Nelson, Eric Johnson, Robben Ford, Johnny Winter, Bonnie Raitt–
Shawn: Those are all opening slots. A few of those I actually played with but most of those were slots where I was on before them and of course I got a chance to meet them except for B.B. King. I didn't get a chance to meet B.B. I bonded pretty well with Robert Cray. I've done 21 shows now with him.
Martine: And went on tour with him to Europe too, right?
Shawn: I did his 2015 tour. We went to all of the UK. There are beautiful theaters there. Just me and my Gretsch and amplifiers, opening solo for him in front of 2000 people a night. That was amazing. Really amazing.
Martine: Sounds magical.
Shawn: Yeah. It's cool. And I love Bonnie.
Martine: She's the best.
Shawn: I would have to say if there was one mentor that encapsulated everything, Bonnie Raitt is it. I love Clapton but Bonnie is such a great slide player and she gets folky, and she's bluesy, she's swampy, and her band members, George Marinelli and Hutch the bass player, are friends of mine as well. I just love what she does. I love her style. Bonnie is the business.
Martine: I'm with you. Tell me about your tour and what's next for you.
Shawn: I'll be doing 35 shows, about seven a week. I have a small label deal with ZYX Records in Germany. I got to them through my agent, Klaus Steigmeier at Breaking Blues, in Germany. For a while, they represented Kirk Fletcher and Josh Smith.
Martine: Fantastic players.
Shawn: This is my second tour in Germany, and we did one tour back last summer. One of my 27th tours I've done in Ireland. It started back in 2004. We come up with a handful of dates. A few dates in northern Italy, and I'm playing the 20th Annual Blues on the Bay Festival in Warrenpoint. And I'm doing a handful of acoustic shows on my first part of the tour in Belfast and Northern Ireland up around Portrush and Castlerock.
Martine: It sounds great. I wish you the best with your tour and your new album. Thanks for making the time to talk to me. It's been a pleasure.
Shawn: Thank you. It was a pleasure for me too.
For more information on Shawn Jones: