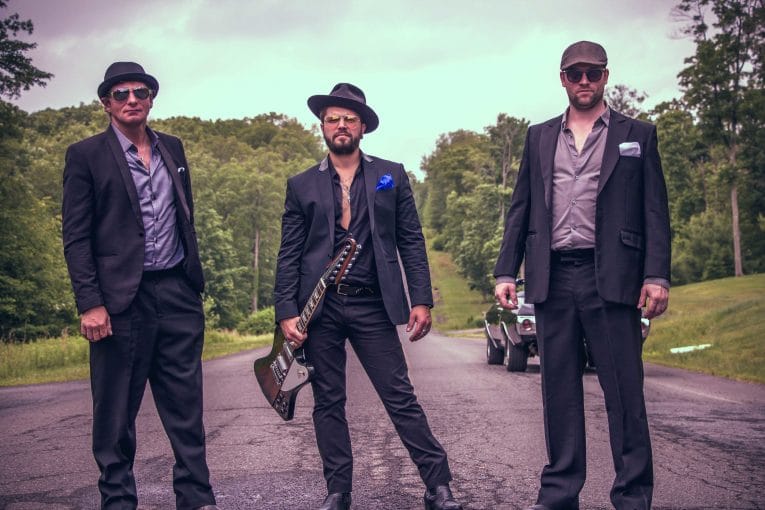 By Martine Ehrenclou
A captivating blues rock trio from Pennsylvania, Dustin Douglas & The Electric Gentlemen released their sophomore album, Break It Down, on June 1st. The album follows the band's 2017 EP, Blues 1 and their self-titled debut album in 2016. It's co-produced by Dustin Douglas and Paul Smith.
Hard rocking blues with groove is the foundation for this super-tight trio that infuses flavors of 60's and 70's rock into a modern blues sound. Led by guitarist, singer, songwriter, Dustin Douglas (Lemongelli, The Badlees) he is joined by Tommy Smallcomb on drums and Matt "The Dane" Gabriel on bass.
Trios have to be tight or you can hear gaps in the seams. Dustin Douglas & The Electric Gentlemen zip it up on every tune, in sync with each other, the beat, each note. With stellar musicianship from all three members, and a unique blend of funky grooves, hard driving blues rock, and a dash of roots music for good measure, this trio has released a solid and interesting album with a sonically fresh take.
Break It Down is a diverse album with a 60s/70s vibe and nods to some of the greats from those eras. Not unlike the band Vintage Trouble that features outstanding musicianship with varied musical styles, Dustin Douglas & The Gentleman have a similar cache—top quality musicianship and songs that draw from past decades but with a contemporary spin.
For example, the opening track "A Little Bit" beckons the past with screaming guitar licks and effects but pumps it up with a modern emphasis on the drums. Douglas rides the beat with his soulful vocals, drawing not just from blues and rock but R&B as well. It's down and dirty fun but contemporary too.
"Destiny" is a standout on the collection of 12 all-original songs, written by Douglas and the band. A complete turnaround from the first track, it's a funky rock tune with great groove. Offering catchy guitar riffs, this is one fun song with interludes of rock from the 60s/70s. The guitar solo, over some tight drumming and bass playing, is inspired. Douglas adds some outstanding vocals on this track.
This is a trio with an edge. They will rattle your cage. There is a certain rawness and intensity to their music, as if all three of them are throwing themselves full throttle into each tune.
Retro guitar and effects slide into the picture on tracks like "Turn Around" creating a vintage mood. And there are others, "Goodbye" and "Hold Me" that hold strong in the rock genre. In case you've been thinking that good rock music doesn't exist anymore, think again—DDEG pulls it off with the feel of experience and confidence. And with a unique and sometimes dissonant twist.
Pure blues rockin' funkiness surfaces in "My Time is Precious." The rhythm guitar pulls this tune into the present. Have a listen to the licks and the solo—some fine guitar playing here. Now, a trio can't play rhythm like this unless they're completely in sync with one another–DDEG has it down.
To round out a diverse album, the Southern rock ballad "Aint No Denying" rolls in on acoustic guitar and supports rock vocals slightly reminiscent of Steve Perry from Journey. It's a moving song about coming together for the common good. The guitar solo in the bridge gets dirty with finesse and plenty of emotion.
"Your Face Is Stunning" draws us back into a hard rocking beat, courtesy of the same tight drumming, bass lines, and rhythmic guitar licks that permeate much of the album. This could be a hard rock song by a respected rock band with a killer vocalist, but the mid-section branches out into a retro feel and then swings back to the rockin' guitar riff and bass line.
Closing out this musically refreshing album is "No More Tears," a rootsy blues tune, also featured on the band's EP, Blues 1. It opens with a haunting vocal and guitar riff. There's some nice slide guitar work featured here and the song has a definite Blues/Southern rock sound. You can hear that Douglas is feeling it on this one.
This is one rockin' trio with a very bright future ahead of them.
Check out the blues rock video "No More Tears To Cry" below.
For more information on Break It Down by Dustin Douglas & The Electric Gentlemen: