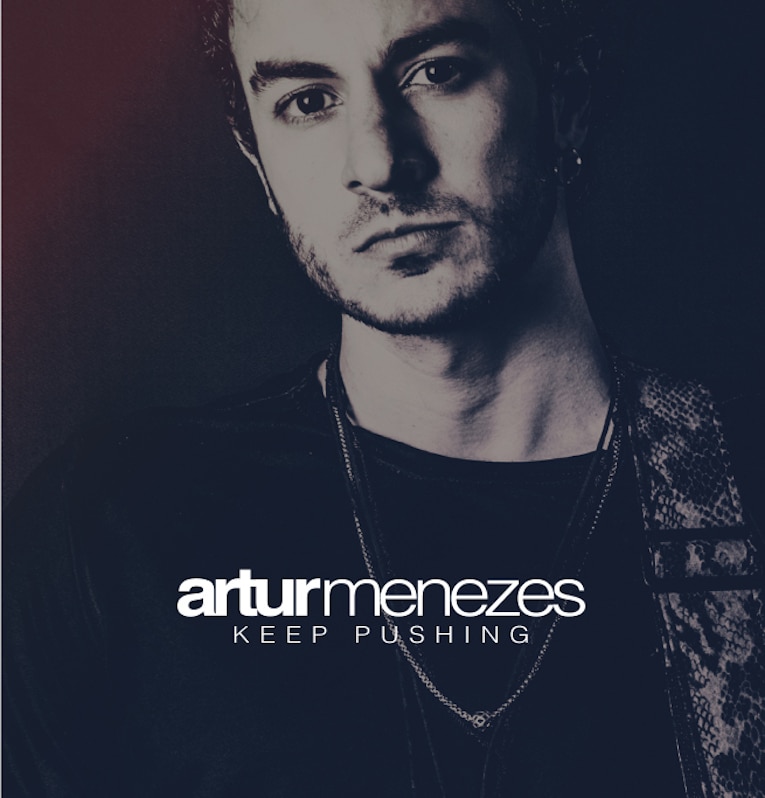 By Martine Ehrenclou & Kevin Porter
Winner of the Gibson/Albert King Award for "Best Guitarist," Brazilian guitarslinger, singer, songwriter, Artur Menezes blasts the blues-rock scene with his fourth album, Keep Pushing, produced by the highly respected guitarist, Josh Smith.
An eclectic mix of musical styles, Artur Menezes' 10-track album of original songs ranges from Chicago Blues to heavier blues-rock to jazz. A stunning guitar player, Menezes shows his versatility not just in song choice, but in mastery of guitar styles. His vocals, on a number of tunes, are smoky and packed with feeling.
Album opener, "Now Is The Time" is an up-tempo, breezy blues shuffle that features Menezes' affinity for sweet guitar licks, not unlike the blues master himself, BB King. With a full horn section and a tight, tight band, this full-bodied, catchy tune is the perfect invitation to a strong album. Menezes' licks, pristine but moving at the same time, support the buoyancy of this tune.
A chugging 12-bar blues tune with a contemporary twist, "Keep Pushing" is packed with Menezes' delightful guitar chops. It's a rock and roll monster about wanting to make the world a better place despite life's challenges. It's a toe-tapper that includes a few double-stops to punch it up. Like others on the album, "Keep Pushing" has a certain energy to it, powered by Menezes' vocals, which at times are edgy but soulful.
"Come With Me" is a head-turner for the album, and a real standout. It's blues-rock with plenty of crunchy guitar with growling riffs and solos. Menezes means it when he sings, "I know I'm wrong, but let me talk." It's not a request but a demand. Just the right vocals that a song like this calls for. Similar to Gary Clark Jr, some psychedelic rock graces the track, with stellar guitar work by Menezes. The last 52 seconds of the song is a psychedelic rock fan's dream.
Thanks to Phil and Natasha for this video. To see their other videos see 1AnitrasDance here
Back to sweeter than ever guitar licks courtesy of Menezes on "Any Day, Any Time." It's a blues standout. He slows it down to a sultry blues love song. Again, I believe him when he sings, "If you ever think of me, just say my name, I'll run as fast as I can, cause you know I feel the same." His voice is soulful, smoky, and he's feelin' it. Backed by Gary Frank on organ, and the rest of this stellar band that includes Daniel Aged on bass, Gary Novak on drums, Carey Frank on Hammond/keyboards, Jamelle Adisa and Dan Boisey on horns, and
Josh Smith
on rhythm guitar. The guitar solo, played by Menezes, is simply beautiful. Tone, feel, breath between the notes, and some lightning speed fingering on the fretboard.
Another standout blues tune, "Give Me My Money," features Menezes' strong vocals. A swingin' blues tune about demanding money back from a lover gone wrong. Menezes plays the guitar solo with equal emotion. This musician has exquisite guitar chops. We're not talking shredding prowess, but if you listen to Menezes you know he could effortlessly shred if he wanted to–this is soulful, masterful playing.
Closing out a versatile album, "Til The Day I Die" is a rocker with a frenetic intro which then transforms at minute 2:19 into a heavy rocker. The guitar and bass share a uniform riff, not unlike Hendrix when he played with Band of Gypsies.
It's no wonder blues legends like Joe Bonamassa are enthusiastic about Artur Menezes. Along with other young musicians in this genre, Menezes is the future of modern blues.
For more information about Keep Pushing by Artur Menezes: