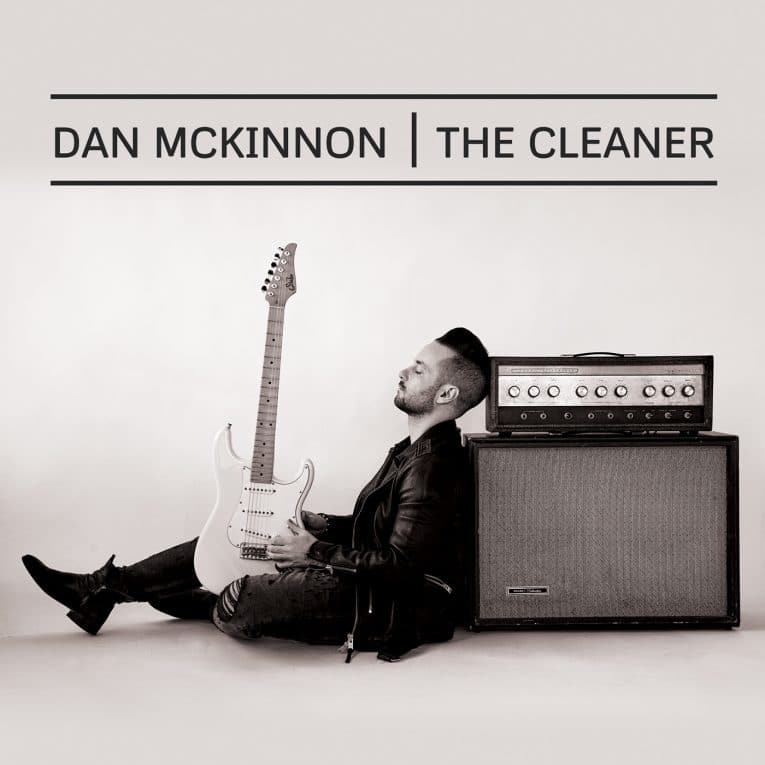 By Dave Resto
Toronto-based guitarist/singer/song-writer Dan McKinnon's new album The Cleaner was released through Alcool Records in May of this year. Preceded by his self-released debut, As Sharp As Possible in 2013, this latest ten-song collection of raw, energetic blues/rock is a welcome follow up from this rising Canadian artist.
McKinnon has a growing list of accolades to his credit, including 2017 Toronto Blues Society Talent Search Winner. With The Cleaner, which was recorded live to tape, he and his band, bassist Peter Eratostene and drummer Michael Carbone deliver a solid combination one-two punch of late-60's/early-70's-inspired blues and stripped-down, modern rock.
Beginning with the foreboding crackle and hum of an amplifier, "Storm" unleashes a powerful, distorted opening riff, before McKinnon warns, "Look out, she's on the way; Try to find cover, here comes the pain." His voice is every bit as commanding as his guitar playing but his singing is smooth, in stark contrast to his fuzzed-out axe. There-in lies one of the secrets to McKinnon's easily likable sound: the juxtaposition between his singing voice and his guitar voice. They complement and contradict each other. Together, they are his signature, to be found throughout The Cleaner.
That said, it doesn't take McKinnon long to break form, opting to distort his voice on "Walk That Aisle," an admitted nod to the sound of the White Stripes. Eratostene's bass and Carbone's drums are appropriately primitive, crashing and pulsing to accent the heavy riffs, rhythms and leads McKinnon throws down. It's so simple, it's simply great.
Shifting gears again, McKinnon's guitar cleans up nicely, as he pays tribute to the fiery passion of the great Albert King on "17 Years." The lead work has a satisfying sting and the accompanying rhythm chording (the album's only overdub) walks the blues/jazz line with perfect balance.
McKinnon delivers two blues shuffles on The Cleaner. The over-driven, heavy-handed "King Baby," where both his vocals and his guitar have more than a little dirt rubbed onto them, and the sweetly sophisticated "More Than Enough," which features one of his smoothest performances on vocals and guitar.
McKinnon's voice is in top form again on the soulful blues ballad, "Til You Come Around." Showcasing another of McKinnon's strengths, which is a gift for blending traditional and contemporary music, it'd be easy to imagine this track being performed by either the late Bobby Bland or by McKinnon's modern blues/rock counterpart, Laurence Jones.
There's a genuine hip-shaker to be found with the lyrically and musically suggestive "One Track Mind." McKinnon wails, "I've got a one-track mind when it comes to you; no one else gets in my view" as the swinging guitar riff harkens back to the early Mod days of Ray Davies and the Kinks. The bass plugs along at the bottom end as the snare drum double-cracks on beat two all the way through, until hammering quarter notes to drive the song home hard.
For the raucous finale "WOWOWOW," McKinnon again straddles past and present, as this song sounds like part Ray Charles spiritual-turned-love-song (one of his most clever songwriting tricks) and part Black Keys electrified swamp-boogie. The stops and starts between verses work to let the energy build and then explode, and the guitar solo is pure Reverend Horton Heat raunchy. It's clear by this album's end that his musical tastes and the direction in which he steers them are completely frank and uncontrived.
With the release of The Cleaner, it would seem Dan McKinnon's days as one of Canada's finest emerging blues-rockers are numbered – that's because he'll very likely be stepping out as one of the world's finest.
For more information on The Cleaner by Dan McKinnon: