By Dave Resto
Rock and Roll Hall of Fame inductee and seven-time Grammy Award-winner, Buddy Guy, is back with his newest album, The Blues Is Alive And Well, released by the Silvertone label on June 15th. With two-time Grammy Award-winning producer and accomplished session/touring drummer Tom Hambridge at the helm, it features guest appearances by Jeff Beck, Keith Richards, Mick Jagger, James Bay and the Muscle Shoals Horns.
It was a life-time ago when the Lettsworth, Louisiana native followed his dreams and moved to Chicago to make his fortune. There, he worked as the house guitarist at Chess Records where he formed musical alliances with Muddy Waters and Junior Wells and went on to influence generations of legendary guitarists. Today, the 81-year-old Guy boasts a long list of accomplishments in the music industry. The Blues Is Alive And Well is Guy's assertion that both he and the genre still have a lot to say.
Easing into this fifteen-track effort is the brooding "A Few Good Years." On it, Guy reflects upon his many years in this world and he asks the Lord for just a few more. His singing is nostalgic –"I've been mighty lucky; I've traveled everywhere…" and then pleading –"Please, please Lord; send a few good years on down." It's sobering to hear him acknowledge his mortality out loud but it's clear that by doing so, he chooses to own it, rather than fear it. Guy's guitar burns slow but hot over the unhurried, minimalist instrumentation.
Tracks like "Cognac," featuring Jeff Beck and Keith Richards, and "Whiskey for Sale" are saturated with tasty guitar licks, giving Buddy Guy fans exactly what they're listening for. "Cognac" delivers a top-shelf triple shot of soloing throughout, with Beck's inventive blasts, Richards' traditional turns and Guy's power dives stepping in and out of the spotlight. "Whiskey for Sale" gives us a stiff swig of well-aged funk/blues. We get some groovy chicken-pluckin' guitar and clavinet keyboards before Guy goes heavy on the wah-wah pedal. His voice is still powerful, and he doesn't hold back on his delivery.
Mick Jagger appears on the after-hours, honkytonk ramble, "You Did the Crime." It's not his familiar singing voice we hear on this track (Guy handles the vocals) but his recognizable, raw-toned harmonica. Jagger is respectful in his accompaniment of Guy's vocals and guitar playing, using his solo spot to get loud and dirty.
"Blue No More" is a loungey track featuring James Bay, singing a duet with Guy. "One of these days, the road is gonna end," they sing, going on to say that at such point, they'll be "Blue No More." Guy's guitar has a smooth and sophisticated tone as he hits those rich, blue notes.
The title track is a soul/blues gem, featuring the Muscle Shoals Horns. Guy's voice is in excellent form as he emotes about his woman doing him wrong. The horns are perfectly orchestrated to accentuate both Hambridge's fat backbeat and Guy's vocals, and the guitar solo is haunting.
"Old Fashioned" also features the Muscle Shoals Horns, who punch up this raucous, big-town, blues-bender. As he sings the praises of having lived for so long, Guy uses his ever-muscular, six-string attack to sting his way right through the torrent of sound Hambridge orchestrates.
On "End of the Line," Guy laments the passing of his friends and promises that 'til the day he dies, "I'm gonna keep these blues alive…" but confesses, "I feel sometimes, like I'm the end of the line." There is sadness and joy in his voice and it's touching to have him share his thoughts on mortality with us. Backed once more by the Muscle Shoals Horns, his solo builds to a furious flurry of defiance, asserting that he's still standing and delivering.
Buddy Guy and the Damn Right Blues Band will be on the road in support of The Blues Is Alive And Well this summer. He still has that legendary power in his playing and his singing, and he can still teach us all a thing or two about a thing or two.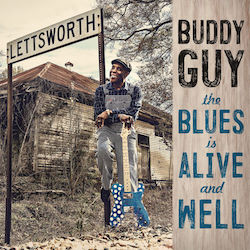 For more information on The Blues Is Alive And Well by Buddy Guy: