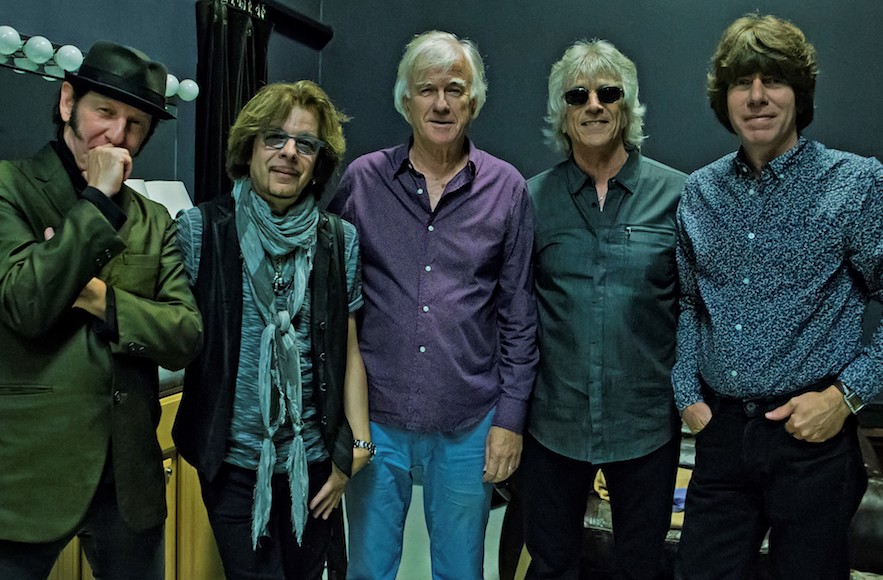 By Kevin Porter
The Yardbirds have their place in rock and roll lore if for no other reason than three of the best rock guitar players in history—Eric Clapton, Jimmy Page, and Jeff Beck—were members of the Yardbirds at one time or another. But the Yardbirds were more than just about having great guitar players, as they were responsible for releasing several songs that were certifiable masterpieces and have been famously covered many times by other bands—"I'm a Man," "Train Kept A Rollin'," "Shape of Things," "For Your Love," and "Dazed and Confused," among others. The Yardbirds are known as a rock and blues band, but their songs also had elements of jazz, folk, and Indian music. The band also pioneered the use of fuzz tones, feedback and distortion, and as such, were key contributors toward the rise of blues-rock, garage rock and heavy metal. All this occurred during a five-year stretch between 1963 and 1968. When the band broke up in 1968, Jimmy Page then formed a band he called the New Yardbirds before it was rechristened as Led Zeppelin.
The band reunited in 1995, not long after being inducted into the Rock and Roll Hall of Fame in 1992, and have been touring ever since. In addition to playing live, the band has been plumbing the vaults for unreleased material and live recordings, with the most recent being Yardbirds '68, produced and released by Jimmy Page.
Drummer, Jim McCarty is the sole original member still playing in the band. After the Yardbirds broke up, he went on to form Renaissance, a folk-rock band, and several other bands. He also launched a solo career, with his most recent album, Walking in the Wild Land, released in March of this year. He just co-authored a memoir, Nobody Told Me: My Life with the Yardbirds, Renaissance and Other Stories, with Dave Thompson. He was kind enough to talk to us by phone from a tour stop in Los Angeles.
KP: You've been doing this for over 50 years—it must have been quite a ride. Looking back, how would you describe it?
JM: (laughs) Well, the Yardbirds did have quite a break, as we broke up in 1968 and didn't play again until 1994, 1995 or 1996. But yes, it's been a bit of a roller coaster journey.
KP: You have a new autobiography that chronicles this time. What inspired you to write it?
JM: I was contacted by a writer from Oakland about three years ago, and we got started working on a book, but I didn't like the writing—I wanted it to be more readable and more fun to read. I ended up with Dave Thompson, who is from England but lives in Delaware, and who has written several rock books. It helped that he is English and knows London and England, and he has been through some of the same things as me. That helped me remember some of the stories. He also was really good at describing the time and what it was like and making you feel like you were there. He was fun to work with. I wanted to make it funny as well as describing the times, the different situations and the band. We finished about March or April. I'm still remembering stories that I would have liked to put in the book, but I obviously can't do that now. Things can never be perfect.
KP: I understand there's some discussion of a new Yardbirds record.
JM: We were thinking about it last year, but we just didn't have enough good songs to make an album. It has to be pretty special in terms of material for us to do a new album. The band is good and the chemistry is good. We can do a very good album, but it just wasn't the right time.
KP: Would you say you were about halfway there?
JM: Yes, that's about right. We could always use what we have and get a few more, so it's always possible.
KP: You could always do an EP of four or five songs. Seems to be all the rage now—when you have something, you put it out.
JM: That wouldn't be a bad idea.
KP: I wanted to talk about the current version of the Yardbirds. I'm a fan of guitarist Johnny A (John Antonopoulos). They're all Americans, right?
JM: Yes, they're all Americans. John Idan, one of the guitarists and singers, lives in Germany but is American. He sang on the Birdlandalbum. He left to go solo, then he came back. There's Kenny Aaronson, who's a fabulous bass player. Myke Scavone plays harmonica and sings. They're all very good. It's a great band, and we have good chemistry, too. They're big fans; they love the Yardbirds songs and they know them very well.
KP: When you guys play live, there seems to be enough classic Yardbirds material to fill up 2/3 of the show.
JM: Yes, it's a classic repertoire, and it's difficult to leave anything out. We more or less do all the hits, like "Train Kept a Rollin'." We do some blues covers as well. It's a pretty standard repertoire. We might change one or two songs, and there's always one or two songs that gets left out. "Still I'm Sad" is one we're not doing at the moment, although we have played it in the past. If we have 90 minutes to play, which is pretty typical, then we can play most of the classic Yardbirds songs.
KP: The blues covers—are they tributes to Howling Wolf or Muddy Waters, things like that?
JM: We've done "Smokestack Lightning" for years, and that's always a great song to play. We also do "Drinking Muddy Water." Those songs always come over very well.
KP: Tell me about the audience that comes to see the Yardbirds. Is it a multi-generational crowd?
JM: Yes. We're quite surprised. Quite a few young people at our Sacramento show. Sometimes there's three generations at the show, with a grandparent at the show. We're very pleased to see young people. They seem to trace us back via Led Zeppelin—a lot of people know Led Zeppelin and then they trace them back to us. They find out we play some of the songs Led Zeppelin used to play, like "Dazed and Confused." There's also a relatively new album, Yardbird '68, from a show at the Anderson Theater in New York City when Jimmy Page was still in the band.
KP: I was going to ask you about that—this was something Jimmy Page was involved with in producing, right?
JM: Yes. Jimmy was looking for the tapes 10 or 20 years ago. He thought I had them, but I never did. Jimmy eventually found the tapes, so he remixed it. He brought Chris Dreja and I in to have a listen, and it was very good—we were pleased. It came out towards the end of last year.
KP: Didn't someone want to put it out as a Jimmy Page record, and Jimmy said no?
JM: It was more like the Yardbirds with Jimmy Page. It was very poorly done, not very well mixed, and had a terrible audience dubbed onto it that sounded really phony. Jimmy got rid of that. I thought the band would sound a bit jaded because we were about to break up, but it actually sounds very good. It has a lot of energy and inspiration.
KP: How did the Yardbirds get so many famous guitar players in the band?
JM: We were all living in the same part of London. They all knew each other, and Jimmy Page and Jeff Beck were friends anyway. They all lived within a few miles of each other, in Surrey. We were all going to the same places and the same pubs, just hanging out. We got together and started working as a team, just loving the music. I suppose we were lucky in that they all turned out to be really good (laughs.) We wanted Jimmy to take over when Eric Clapton left, but Jimmy was busy doing recording sessions, so he recommended Jeff. Jeff was Jimmy's understudy—Jimmy would recommend Jeff if he couldn't do a session.
KP: These guys were all pretty competitive with each other, right?
JM: When Jimmy and Jeff were both in the band, yes, that was true, they were highly competitive with each other. They were very friendly with each other off-stage, but as soon as they got on stage, you could see what was going on. Jimmy and Jeff were totally different personalities: Jeff was unpredictable and you never really knew what to expect, while Jimmy was the opposite—he would have everything all worked out in advance.
KP: Where was Eric along that spectrum?
JM: Eric is quite precise. He was very enthusiastic and worked very hard. He worked things out more like Jimmy.
KP: Eric left after the Yardbirds released "For Your Love"?
JM: Yes. He thought it was too commercial, and he didn't really like it. There was a little disagreement within the band as well; Eric didn't quite see eye-to-eye with the band. There was more to it than just disliking this particular song, though.
KP: What caused the band to reform in the 1990s?
JM: We had gotten voted into the Rock and Roll Hall of Fame, and that gave us some confidence. I was playing in a blues band, and we were playing a pub in Shepherd's Bush in Southwest London. I met John Idan, who had come over from America and was living in England. Chris (Dreja) called and said there was a promoter north of Lancashire that wanted to know if we wanted to play, and it took off from there.
KP: I understand Chris had to drop out because of health reasons.
JM: He had a stroke, actually, in 2011 when he was on stage. He's not able to fly or travel.
KP: Any other treasures in the vault like Yardbirds '68 that might be released someday?
JM: The people doing the best work now is Repertoire Records, the German label, and they're bringing out a lot of stuff that hasn't been out before. They do a really nice job. I think they have an album of us with Jimmy Page from the BBC (The Yardbirds Live at the BBC).
KP: Do you have a favorite line-up of the Yardbirds?
JM: My favorite would be the Jeff Beck line-up. That was when we first came to America. It was a very exciting time. We had a couple of hits with "I'm a Man" and "Heart Full of Soul."  We did "Shape of Things" that was recorded in Chicago at Chess Records studio. I was very pleased with how that came out.
KP: I wanted to ask you about your solo album that just came out. It's very different stylistically from the Yardbirds.
JM: It's more natural for me to sing in a softer way. It's also like the style of music Renaissance made. I love to sing, and I'm thinking of melodies all the time. I get a lot of inspiration by going outside and being with nature. The album was recorded in Toronto; I have a lot of friends there. To me, Toronto is now what London used to be in terms of the music scene. I worked with a producer named Terry Brown, who worked on a lot of Rush albums. He also mixed the album, and he did a good job making my voice sound good, which is important to me. I'm quite pleased with it. I don't have that type of bluesy voice. They used to call it "psychedelic folk" (laughs.)
KP: That has to be a pretty narrow category—I wonder how many people would fit into that category.
JM: I could be #1 in psychedelic folk! (laughs.)
KP: In listening to the record, I was really struck that you were trying to impart some life lessons, like "Stop Living in the Past."
JM: I like to be autobiographical with my lyrics, the things I've been through. I also like to be strong and positive.
KP: Another song I liked is called "Charmed." I wasn't sure whether you were talking about being charmed by certain things in life, or that certain people charm you, or all of the above. Could you tell me what that song is about?
JM: That was about feeling really lucky. I feel like I've gone through life without too many problems.
KP: I know you've done some live performances with your solo catalog. Are you thinking of doing anymore?
JM: It's a bit difficult for me, with playing for the Yardbirds. It's difficult to get that organized and to get people in seats. People don't know what to expect. We did a gig in Toronto a couple of months ago, and it was quite enjoyable. People seemed to like it.
KP: Thank you for taking the time to talk with us and to share stories about the Yardbirds.
JM: Thank you.
For more information on Jim McCarty and the Yardbirds: