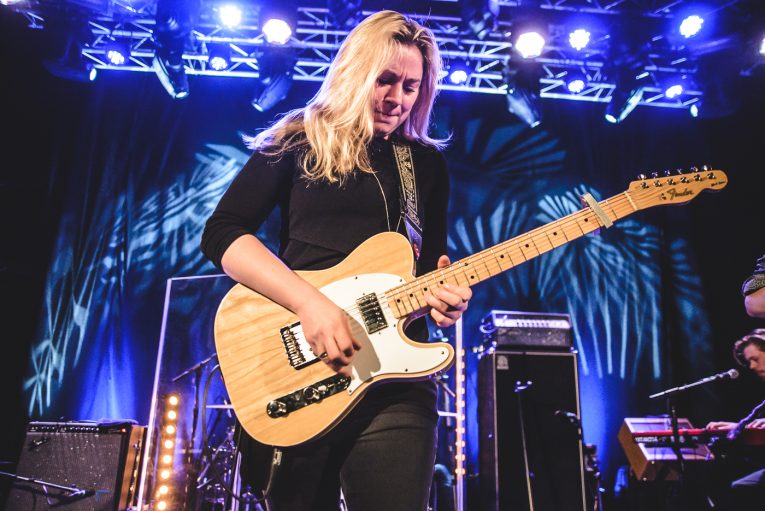 By Martine Ehrenclou
If you ever doubted that the Blues are alive, one listen to Joanne Shaw Taylor's big, soulful voice and rockin' guitar licks will soothe your fears. This outstanding British singer, songwriter, guitarist, is considered the UK's number one star of the blues-rock world.
Joanne Shaw Taylor has released five critically acclaimed albums since her debut release, White Sugar in 2010. She won "Best Female Vocalist" at the 2010 British Blues Awards and won the same award at the 2011 British Blues Awards, as well as "Songwriter of the Year" award for "Same As It Never Was" from her album, Diamonds in the Dirt. Her latest album, Wild (2016) gave this talented artist her first top 20 album and garnered world-wide recognition.
The good news for the Blues and for Joanne Shaw Taylor doesn't stop there. She has just signed her first major label contract with Sony Music and their recently re-launched Silvertone imprint that will include three albums and reissues of her two most recent albums, Wild and The Dirty Truth, which received limited distribution in the USA. Both albums are available now digitally. Her new CD will be released in Spring of 2019.
If that wasn't enough to convince you that blues-rock isn't going anywhere, Joanne Shaw Taylor is touring the USA in support of her albums re-releases, hitting the Northeast, South and Midwest during August and September of 2018, and performing to sold out audiences too. Sold out shows are nothing new to this world class musician who splits her time between Michigan and the UK. From lead guitar player for Annie Lennox's band at the Diamond Jubilee Concert in London, Dave Stewart's (Eurythmics) supergroup he was forming at the time, to playing alongside some of the biggest names in blues-rock, Joanne Shaw Taylor lends fire power to the Keeping The Blues Alive movement.
Joe Bonamassa described Joanne as "a superstar in waiting."
Joanne Shaw Taylor was kind enough to talk with us as she embarks on recording her new album and getting ready for her USA tour.
ME: Do you already have plans for your new album on Sony/Silvertone?
JST: Yeah, we're working on it at the moment, just in the writing stages, but I'm really looking forward to getting back in the studio. This has been the longest break I've had between albums, so I'm excited.
ME:  Do you have a stack of songs you've written that you are itching to record or will you write new material for the album?
JST: I've been writing specifically for this recording. I tend not to write too much in between albums but I had quite a big break from touring at the beginning of the year (3 months), so it's been really great to sit down and get back to it.
ME:  You recorded your album, White Sugar and others, with legendary producer Jim Gaines. Do you think you might pair up with him again on future recordings?
JST: I've done 3 albums with Jim now and I'm fond of all of them; The Dirty Truth is probably still my favorite. I love Jim, he's a dear friend and clearly we work well together and enjoy working together, so yes, I'd really like to think we will get back together at some point and do another.
ME:  You're considered an extraordinary singer and guitarist. Which did you start with originally?
JST: Well, thank you, I started as a guitarist. I always wanted to be a singer, but unlike the guitar, nobody in my family sang, so I wasn't sure it was something I would be able to do. I was a little less confident, but I'm growing in confidence now I think. I just had professional vocal training this year, so I'm still working on it.
ME: Tell me about how you became such a kick *ss guitar player. Lessons? Musical family? Daily practice?
JST: Ha – thanks! Practice really. I still have a lot of work to do. I'm not quite where I want to be yet, but yes, like most things in life, practice is the key.
ME:  You have an outrageous voice. Who did you grow up listening to? Which singers do you listen to now?
JST: I love Mavis Staples! A lot of soul voices, Betty LaVette, Aretha, Etta James of course, also Koko Taylor was a big early influence. In terms of more recent artists, I love Brittany Howard from the Alabama Shakes and Mollie Marriott in the UK is kick ass.
ME: Do you have a songwriting process?
JST: Not really. I used to be a lot more anal about it, possibly because I was always nervous about doing an album. I just sit down with an acoustic really and see what music comes that sounds good.
ME: How did you get into blues-rock?
JST: My dad was a guitarist and a big blues fan, so that was how I was exposed to it. My mom was a dancer and a big Motown and northern soul fan, so there was just always music in the house.
ME: Have producers/labels tried to talk you into focusing on other genres to gain more popularity?
JST: Not really, I think they know that would be a losing battle. Some labels in the early days tried to push me in a less guitar-oriented, pop/rock route, but I have a pretty good compass for what's me and what's not. Plus, I just believe honest work will always attract more fans.
ME: Please describe your guitars. Do you favor Telecasters?
JST: Yeah, Teles are my fave really. I'm still pretending I'm Keith Richards! My main guitar "Junior" is a 1966 Esquire that's been modified. He has a humbucker at the neck position.
ME: Thank you so much for making the time to talk with me. Good luck with the upcoming USA tour and your new albums.
JST: Thank you.
For more information about Joanne Shaw Taylor:
Joanne Shaw Taylor  USA Tour Dates
Wed, Aug 22                      Cleveland, OH                   Music Box
Thu, Aug 23                       Rochester, NY                    Anthology
Sat, Aug 25                        Sellersville, PA                   Sellersville Theater
Sun, Aug 26                       Pawling, NY                       Daryl's House
Mon, Aug 27                      New York, NY                     City Winery
Wed, Aug 29                      Annapolis, MD                  Rams Head on Stage
Thu, Aug 30                       Washington, DC               City Winery
Fri, Aug 31                         Richmond, VA                   Tin Pan
Sun, Sep 2                          Nashville, TN                    City Winery
Tue, Sep 3                          Asheville, NC                     The Grey Eagle
Wed, Sep 5                         Atlanta, GA                        City Winery
Thu, Sep 6                          Athens, GA                         The Foundry
Sat, Sep 8                           Charleston SC                    Pour House
Tue, Sep 11                         Ponte Vedra, FL                 Ponte Vedra Music Hall
Wed, Sep 12                       Boca Raton, FL                 Funky Biscuit
Fri, Sep 14                          Melbourne, FL                  The King Center
Sat, Sep 15                          Stuart, FL                          Lyric Theater
Sun, Sep 16                        Clearwater, FL                  Murray Theatre
Video about the Making of Wild