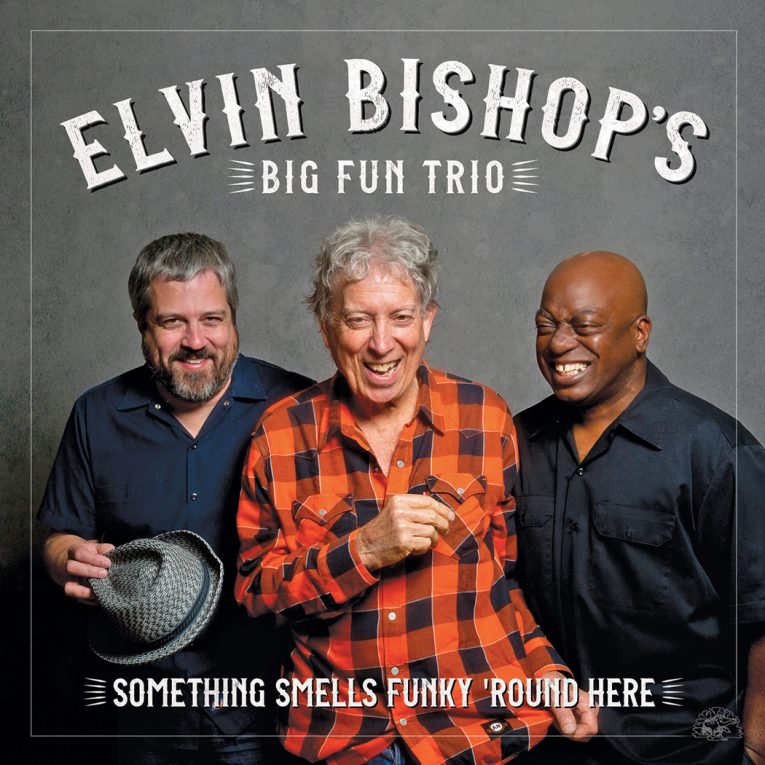 By Dave Resto
Elvin Bishop's Big Fun Trio are back with a new album, Something Smells Funky 'Round Here, released July 13th on Alligator Records. Featuring Bishop on guitar and vocals, Bob Welsh on piano and guitar, and Willy Jordan on cajon (a Peruvian, wooden box, hand drum) and vocals,  the album is produced by Bishop and Steve Savage. It is the follow up to their award-winning Big Fun Trio, which also received a Grammy Award nomination in 2017.
A fixture of the music industry for decades, Elvin Bishop has been blazing his own trail since he began playing guitar with the legendary Paul Butterfield Blues Band in 1963. He formed the trio in 2015 with Bob Welsh and Willy Jordan. The Rock and Roll Hall of Fame inductee has enjoyed success – perhaps a bit too much at times, by his own admission – as a session player, band leader, songwriter and performer, working with some of the biggest names in the blues, rock and Southern rock. Bob Welsh is an established session and touring musician; Willy Jordan is a first-call percussionist and vocalist, as well as a band leader in his own right.
The album opens with the title track "Something Smells Funky 'Round Here," featuring Bishop and Jordan sharing the chorus and trading verses in an unforgiving, yet good-natured rebuke of a dysfunctional Washington D.C., with lines like, "…funky, like a bad pot of chicken/Funky, like some old, rotten politician." Set to a slow-grinding rhythm, powered by twin, vamping electric guitars and thundering cajon playing, it's a good introduction to the relaxed vibe found throughout the record.
A stripped-down cover of Jackie Wilson's "(Your Love Keeps Lifting Me) Higher and Higher" remains faithful to the upbeat tone and tempo of the original, while giving it a front porch, down home make-over. Jordan's powerful, joyful falsetto singing and Bishop's fret work, where he shifts smoothly from finger-picking, to slide, to whammy-bar, is worthy of repeated listens.
"Right Now is the Hour" is a cover of one of Bishop's songs from his 1978 , "The Skin I'm In." It's a feel-good tune about living in the moment. Just as Bishop and Jordan sing the lyrics together, their guitar and cajon play in rhythmic unison, with rollicking keyboard flourishes, provided by Welsh.
Big Fun Trio pays respect to Fats Domino, covering "Another Mule." Bishop and Welsh nicely interweave their guitar playing and Jordan plays it with a light touch.
"That's the Way Willy Likes It" is a funky, bluesy romp with an infectious sing-along chorus. Toward the end of this syncopated gem, Jordan calls out, "Let me get some!" before taking a short, booming cajon break and then singing, "Play your 'gitar,' Elvinnn!" before Bishop plays into the outro chorus.
There are two instrumentals on "Something Smells Funny 'Round Here." The up-tempo "Bob' Boogie" features Welsh delivering a finger-blurring, barrel house, piano boogie. "Stomp," a dirty-toned, slide guitar and finger-picking romp, was originally done on Bishop's album That's My Partner in 2000.
The poignant "I Can't Stand the Rain" is a cover of the Tina Turner classic. Again, Jordan delivers a solid vocal performance, set to the back drop of some super-funky bass, soulful keyboards and spot on slide guitar accentuation.
"Looking Good" is an entertaining, grizzle-voiced, spoken-word reflection by Bishop about living a hard but rewarding life. Set to a slow, piano-saturated, blues stroll, Bishop shares a few brief anecdotes about some of his colorful friends from his hard-drinking days.
Carried by accordion and piano, and driven by Jordan's cajon, the bouncing, bayou blues number, "My Soul" closes the album. Bishop's guitar tone and playing sounds as raw and biting as it did back in the 60s.
Once again, Elvin Bishop's Big Fun Trio lives up to the promise of their name. "Something Smells Funky 'Round Here" is an unpretentious masterpiece, thanks to its simplicity and its heart.
For more information about Something Smells Funky 'Round Here by Elvin Bishop's Big Fun Trio: