By Martine Ehrenclou
This is Part Two of our interview with Grammy-winning guitarist, record producer and songwriter, Paul Nelson, who was the guitarist for legendary blues-rock icon, Johnny Winter. He produced several of Johnny Winter's albums, including Step Back, which won Nelson a Grammy for "Best Blues Album." He executive produced and appeared in the Johnny Winter documentary, Down and Dirty and also appeared in the documentary Sidemen: Long Road to Glory.
Martine: You spent years touring with Johnny Winter and you were close friends. This is a question from something I read about you. Could you tell me about the time you were with Johnny Winter getting your first tattoo in Japan? Sounds like there's a great story there. [Laughter]
Paul: [Laughter] Yeah, I always wanted one, but the problem was I never had that story that everybody has with tattoos, like my tattoo reminds me of my beloved pet that passed away or some other big event. People always have a story about their tattoo, and I had no story. So, I'm in Japan with Johnny and he said, "Look, if you get a tattoo, I'll go with you." I'm like, here's my story! It's like going to a tattoo parlor with Hendrix. He said he was going to get one too.
Now, we're in a really good place, one of the best in Japan. I didn't know what tattoo I wanted. I thought, I've been to Japan, and we're going to China, I've pretty much traveled the whole world–I should just get something that shows that I've circumvented the globe. Maybe a picture of the earth, and how about a little something around it, and some kind of musical reference. So, I tell the guy this, and he didn't speak a word of English–
Martine: Uh-oh. [Laughter]
Paul: [Laughter] He sketches something out and I look at it, and it's a planet, and there's a circle of flame around it with a musical note pierced right through the planet earth. Well, that's perfect. Let's go for that. Johnny is looking on, it's looking good as far as I can tell, and then it's done. When it's healed, I'm looking at it– wait, what planet is this? [Laughter] There's all these land masses everywhere–where's the United States? And then I look at it again and I go, oh, no, he did it from the Japan perspective. [Laughter] Their center of the universe is right in Japan, so everything – yeah, of course. The U.S. is like a little teeny bit of California, maybe in the corner. Oh, brother, so now I got a great story. Japan is right in the middle. I didn't even recognize it. You're in the U.S. so long, you just think that everything gravitates around that, which is wrong. At first, I thought it was Pluto, but whoa, Pluto isn't blue, so that was that. [Laughter]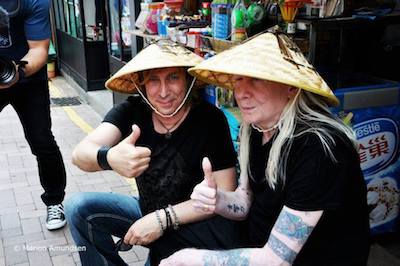 Martine: [Laughter] That's a great story. You produced the documentary about Johnny Winter's life, Johnny Winter: Down and Dirty. Can you tell me about that experience and what prompted you to do it?
Paul:  Well, Johnny was getting healthier and we were going through a lot of stuff, a lot of changes. I had fired his management and the guy passed away, it was a real bad scene. I knew that Johnny had kind of written himself out of history because he was in such poor shape. When it came time to do interviews about Muddy Waters, about Woodstock, and all the things that he had lived through, he wasn't there, you know, physically and mentally. He just didn't do interviews, so history was being rewritten and he was being written out of it. Now that he was healthy, I knew it was time to document him. No one had done anything on him.
I told the record label at the time, I said, look, I want to do a documentary on Johnny, just put the word out. Two seconds later, Greg Olliver's name comes up and he's just finished and released the documentary on Lemmy of Motorhead. When I saw the DVD, it was the best editing, the best interview, the closeness, the quality of the film and the way it was put together, I'm like wow. In a Blues setting, Johnny would be perfect with this.
I contacted him (Oliver) and we hit it off. I said to him, the only thing is, you need to come on the road with us. So, I made him part of the crew. He was with us everywhere, he was in the mix. What he got was the closest footage of any documentary I've seen. He followed Johnny and I to Japan, to China, when he and I did David Letterman, when we did Jimmy Kimmel, to Johnny's house in Texas. He interviewed Billy Gibbons, Clive Davis (who signed everybody, including Johnny,) Edgar Winter, Warren Haynes, Joe Perry, Susan Tedeschi and Derek Trucks, and he followed us everywhere for three years. It came out, Johnny saw it and loved it. It got all kinds of awards and it's still going strong.
Martine: Sounds amazing. I just got a copy.
Paul: Down and Dirty is deep. It talks about Johnny's lineage, it talks about our time together, how I got him off the drugs, his association with Muddy Waters, Hendrix, all those musicians and his whole life, starting off from Texas and being Albino. It covers a lot of stuff about him being a young rocker, it covers Woodstock. It came out really well. I'm really happy with it.
Martine: That's excellent, congratulations.
Paul:  Thanks.
Martine: You won an award for Johnny's album, Step Back.
Paul: Yeah, that was Johnny's first Grammy ever.
Martine: I think that's awesome.
Paul: I got the Grammy as well. Johnny heard the mixes but unfortunately, he passed away. Johnny never got a Grammy for his own solo stuff. He got awards for the music he produced for Muddy Waters, all those brilliant albums. He brought Muddy back, but he never got a Grammy for his own album. He turned to me in the studio when I'd finished the mixing and says, "You know, if you and I don't get a Grammy for this, they're nuts." [Laughter] I go, "Well, you don't do it for that, but it would be nice, let's see what happens."
Martine: Was he around to at least learn about the Grammy?
Paul: No, but he heard the mixes and then he passed, and the album came out two months later. And it was hard, it had to be tastefully released because it was so close to the passing. I told the label I didn't even know if we should release it. They said it has to come out. I said we really have to watch the fans' response because I don't want it to look like this was just shoved out. This was planned, and he just happened to unfortunately pass away. It's still doing really well. There's performances from Johnny and I, Clapton, Billy Gibbons, Dr. John, Ben Harper, Joe Perry.
Martine:  That's quite an all-star cast.
Paul: And Roots before that, which I produced and played on. That was Johnny and I and Vince Gill, Sonny Landreth, Warren Haynes, Edgar Winter, Derek Trucks. Those are big recordings.
Martine: You also did "WinterFest" shows. You produced them, performed and toured with WinterFest.
Paul: What happened was, the album came out and there was no band to support the album. And a legend had just passed. And everybody in the "Hendrix Experience," they have tours around that, BB King passed away, and BB King Allstars got together. I said, Johnny is just as important as the rest of them, so he needs this stuff for him. I worked closely with the estate. They said, "Paul, you need to do this. You're the only one to do it." I assembled musicians that had played with him, and as long as I was part of it, playing, there was a part of Johnny there. We geared up. I had Warren Haynes, Debbie Davies, Joe Louis Walker, Sonny Landreth, Popa Chubby, Mike Zito, Samantha Fish and everybody joined at one point or another and we did a big show at Buddy Guy's place. I presented the Johnny guitar for their famous wall there. That's still going on. I wanted to keep his name alive.
Martine: That's cool. Are you going to be doing more WinterFest shows?
Paul: Yeah, I'm doing the World Café in Philadelphia on the 9th, and then another one at the Chrome Lounge in the Mid-west.
Martine: Glad to hear it's still going.
Paul: There's all the Johnny fans and we tell stories and they hear Johnny music, it's—
Martine: Sounds intimate.
Paul: Exactly. There's millions of Johnny fans. There's a lot to talk about. A lot of the shows that I was part of. That was pretty cool.
Martine: Let's shift gears if you don't mind. What's next for you? We've talked about your next album, the sequel to Badass Generation. Anything else you want to mention about the Paul Nelson Band?
Paul: The big thing right now is my own tour, that's a biggie, that's going to go for a long time, it's about 100-150 shows a year.
Martine: Wow, that's a lot.
Paul: That comes from doing 180 with Johnny, so it's nothing. I'm excited.
Martine: Congratulations.
Paul: I'm very fortunate. I've been able to do everything that I've set out to do. Now, it's just more and better.
Martine: Thank you so much for such an interesting interview and for making the time to talk with me.
Paul: Thank you. I really appreciate it.
For Part One of this interview please see here
For more information on the Paul Nelson Band:
Website: http://www.paulnelsonguitar.com